Sometimes, when you try to install a program in Windows 11/10, you may receive the following error message and you will be unable to proceed with the installation:
Another installation is already in progress, Complete that installation before proceeding with this install.
What is a software Installation?
It is a process where a new program is added to the Windows PC or any OS. During the process, new files are copied to the targeted location, DLLs and services are registered, and so on. Once the process is complete, it can automatically launch or keep running in the background. Everything depends on the nature of the software. Lastly, every installer also comes with an uninstaller registered with the OS.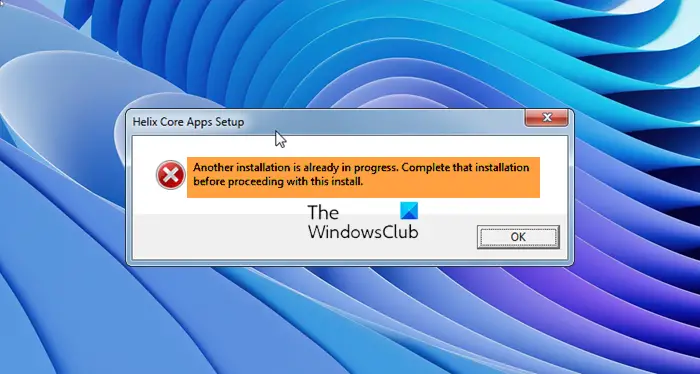 Another installation is already in progress
If you receive this message, the probable cause could be that another installation, repair, or uninstallation process would actually be running. If this is the case, wait for it to complete and try again. If no such process is running, here are a few steps you may want to try:
Restart PC and try
Clear Disk Space
Scan PC for malware
Check the status of Windows Installer Service
Install in Clean Boot State.
Let us take a look at them.
Programs won't install
1] Restart PC and try
Restart your computer and try to install it.
2] Clear Disk Space
Run Disk Cleanup utility or CCleaner to clean up temporary files.
Related: Cannot install or uninstall programs in Windows
3] Scan PC for malware
Scan your PC with your anti-virus and anti-spyware.
4] Check the status of Windows Installer Service
If you still receive the same error message, do the following:
Type services.msc in the Start menu and hit enter to open Services Manager.
Scroll down to the Windows Installer Service and double-click on it.
Stop the Service and then Restart it.
5] Install in Clean Boot State
Perform a Clean Boot and try to install the program.
Now try to install the program. It should help.
Related reads:
Why is my software not installing in Windows?
The primary reasons for the software not installing on your Windows PC include compatibility problems, architecture differences (32bit vs. 64-bit), insufficient permission to install software, corrupted system files or installer, etc. Apart from this, it could be specific to software as well. If these are not the problems, you can always connect with the developer to determine if additional or supporting apps need to be installed.