If you ever need to print a list of files in a folder on your Windows 11/10 computer, here are a few ways you can do it. You can use the Command Prompt, Paint or a free software.
Print list of files in a folder in Windows 11/10
You can use any of the following methods to print a list of Files in a Folder in Windows 11/10.
Run the Dir List command
Via Explorer Ribbon
Use Paint software
Use a freeware.
Let us see these methods in detail.
1] Using Command Prompt
Open the folder whose list of contents you want to print. Hold down Shift and right-click to open the hidden context menu items. You will see Open command window here. Click on it to open a command prompt window.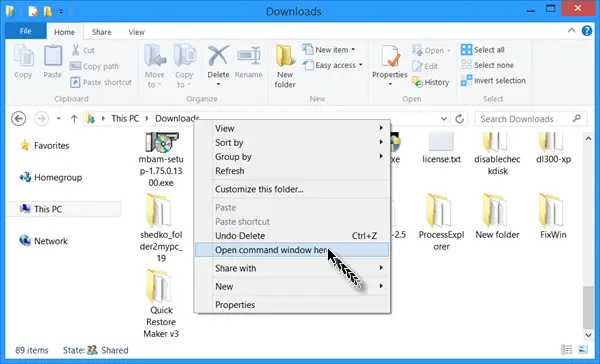 Else simply type CMD in the address bar and hit Enter to open the command prompt window there.
In the CMD type the following and press Enter:
dir > List.txt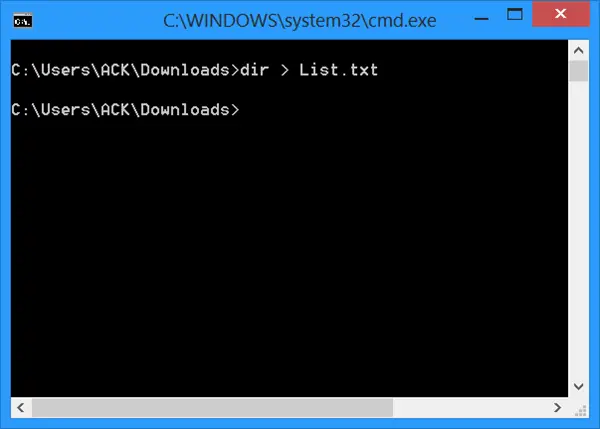 A notepad text file will be immediately created in this folder. Open List.txt, and you will be able to see the list of the files in this folder.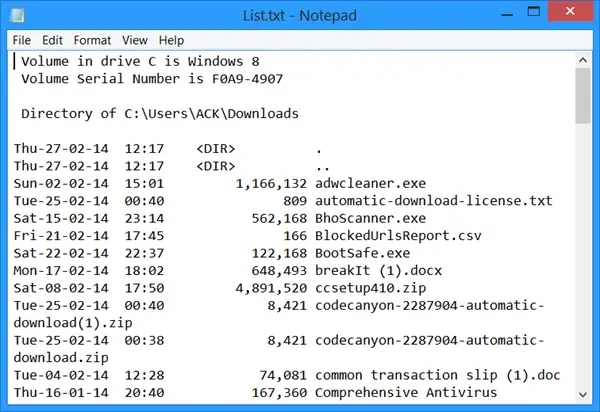 Alternatively, you could also use the cd command to change the directory from the User directory to Downloads directory as follows:
cd C:\Users\ACK\Downloads
You can also follow this way instead:
Navigate to that folder
In the Address bar of File Explorer, type cmd and hit Enter
This will open Command Prompt in that folder
Paste this command into Command Prompt and hit Enter
dir /a /s /b > List.txt
When that command completes, close Command Prompt
There are other options available like using the Explorer itself – if you just wish to just copy the list of file and folder names to Clipboard.
TIP: Using tree >list.txt will give you a better-formatted list.
2] Via Explorer Ribbon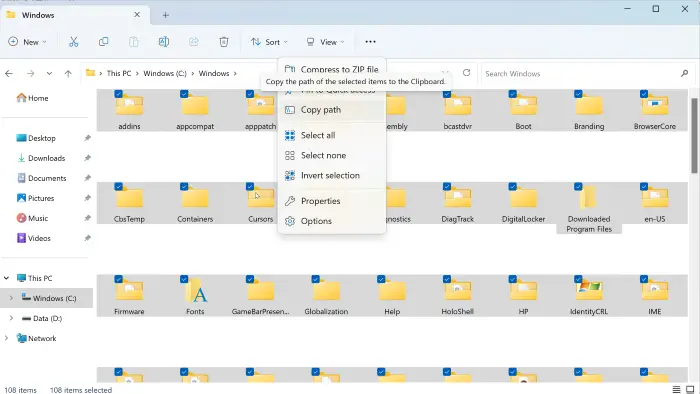 To print a list of files in a folder:
Open that folder
Press Ctrl + A to select all files
On the Home Ribbon, click Copy Path
Paste that into a Word Document or Excel Spreadsheet
Print the document.
Alternatively, you can Select all the files, press and hold the Shift key, then right-click and select Copy as path, paste it into a document and then print it.
3] Using Paint
Open the directory whos contents list you want to print. Select the Lists view. Press Alt+PrntScr. Next, open the built-in Paint application. Click Ctrl+V to copy-paste the contents of the clipboard here.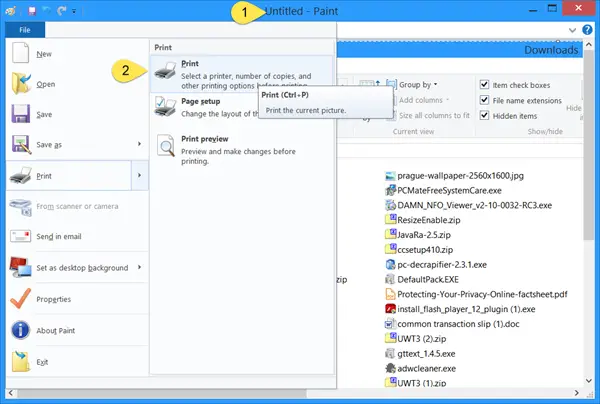 Now from the File menu of Paint select Print.
4] Use a freeware
A) You can print the name of every file on a drive, along with the file's size, date and time of last modification, and attributes, Read-Only, Hidden, System, and Archive, with Karen's Directory Printer. You can also sort the list of files by name, size, date created, date last modified, or date of last access. You can download it from its home page at karenware.com.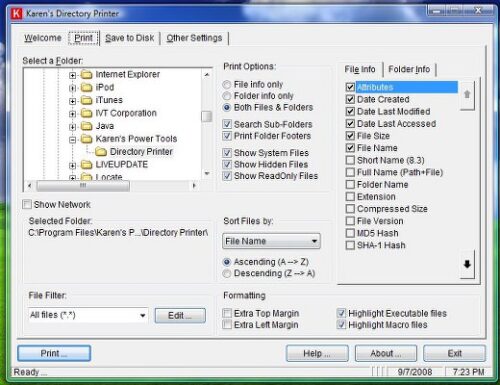 B) Simple File Lister does the function of DIR command for Windows OS to get a list of files in a directory and save them with their attributes to the user, in chosen .TSV, .CSV or .TXT formats, which you can then print. You can also select the File Attributes to be printed.
C) InDeep File List Maker lets you create and print a list of files in your folders, drives, and even in your DVDs/CDs.
D) Find Hidden is another similar tool.
E) Startup Discoverer is a portable freeware application, which lists start-up files & program locations and allows you to save and print them.
Related reads: