Have you ever felt the need to know what files are there in your DVD/CD or in a particular drive or folder of your system? If yes, then you must try a File List Maker, a small application that creates a list of files in your folders, drives, and even in your DVDs/CDs. For those who don't know, the programs allowing you to create a list of the files in your folders/drives are termed as 'File List Makers' or 'File Listers' sometimes. Such programs are very helpful in terms of keeping a track of your files in your entire disk.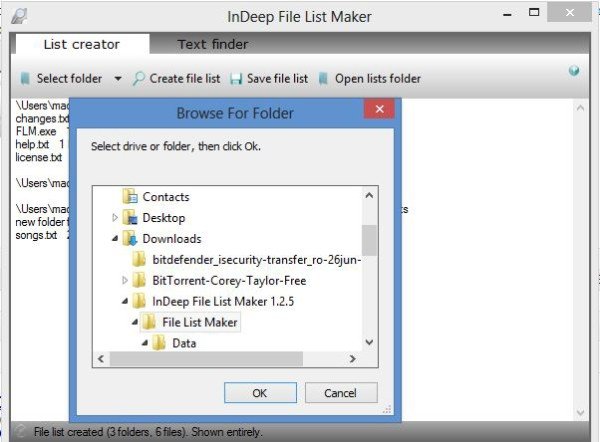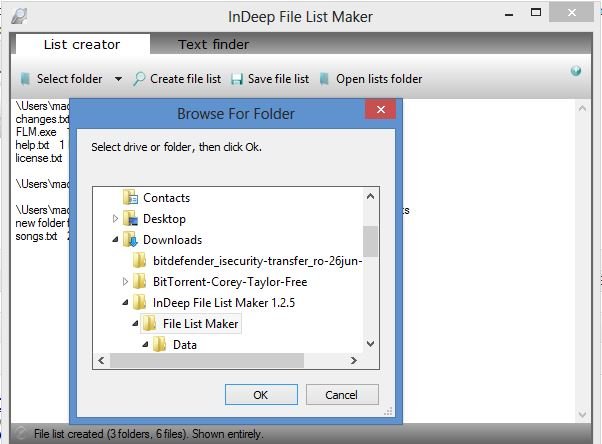 InDeep File List Maker for PC
InDeep File List Maker is the program I am reviewing today. There are various File Listers available on the web, but not all of them include the feature of saving the list. InDeep File List Maker is one of the advanced File List Maker programs which allow you to save and print a list of Files in Folders. Furthermore, it also includes a 'Text Finder' allowing you to search for a particular file. The program creates the list in plain text so that you can save it, mail it or send it as a text document to anyone. It creates "simple lists" by default, containing the name of the file with its extension and size of the file.
List files & folders on your Windows PC
InDeep File List Maker is a lightweight yet powerful tool that allows you to create a list of any set of files stored on your hard drive making your task much easier. The program works just what its name says and can create file lists, and then find files and folders in those lists. You can make lists of your files in any folder on your hard drive. It helps you create catalogs of any file type and saves them as data files in your computer system.
The latest version of File List Maker comes with some advanced features giving you better functionality.
It might sound a bit weird, but before I learned about this wonderful application, I used to create screenshots to keep a list of files in my folders and DVDs. Thankfully now I have File List Maker which allows me to save a text-based list of all the files in my folders and drives.
Download InDeep File List Maker from indeepsoft.blogspot.com and use it to save the list of your files & folders as a Notepad file.