If you receive the message Please wait for the GPSVC when shutting down the Windows computer, it simply means that the Group Policy service is taking longer than expected to update the settings and complete its tasks. But at times, your computer may regularly see this screen and remain stuck on it for a long time. In this post, we will discuss how you can troubleshoot the issue.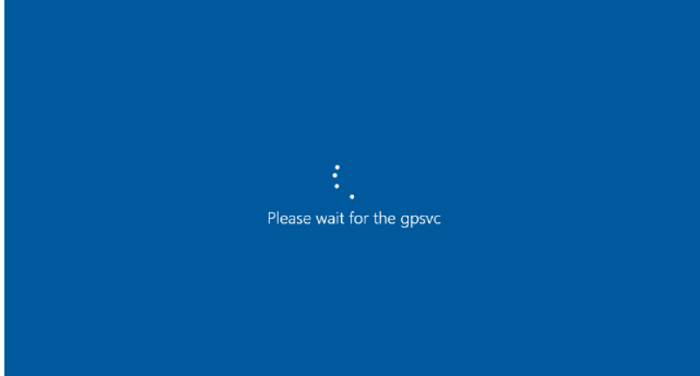 What is GPSVC?
GPSVC stands for Group Policy Client Service. It is responsible for applying group policy settings to a local computer or computers on a network. If it gets disabled, settings won't be applied, and the system will have trouble managing applications and components. As many components and applications depend on the Group Policy, they may malfunction or stop working if the service gets disabled.
What does Please wait for the GPSVC mean?
The error message Please wait for the GPSVC indicates that your operating system is currently applying the Group Policy settings. This is because the Group Policy Settings are usually applied when a device starts or a user tries to log into it. This message is a very common group policy application process and doesn't indicate any problems. However, sometimes your device may get stuck on the error message. If that happens frequently, then it could indicate a problem that needs to be addressed.
Please wait for the GPSVC message when shutting down Windows Computer
Now that you know what this error stands for, the next question is how to solve it. Well, if your Windows 11/10 computer is frequently stuck on Please wait for the GPSVC message, then follow any one of these suggestions to fix the issue.
Force Shutdown Windows
Boot into the Safe mode and take these steps
Run System File Checker and DISM commands
Repair Windows Installation
Now let's see these in detail.
1] Force Shutdown Windows
Your first step should be to force the shutdown of your Windows PC. As you are stuck on the logout screen, there is nothing else that you can do. So if you are using a laptop, press the power button, and your laptop will turn off in a few seconds. If you use a PC, you can either long-press the power button or press the restart button.
2] Boot into the Safe mode and take these steps
Boot your device in Safe Mode with Networking.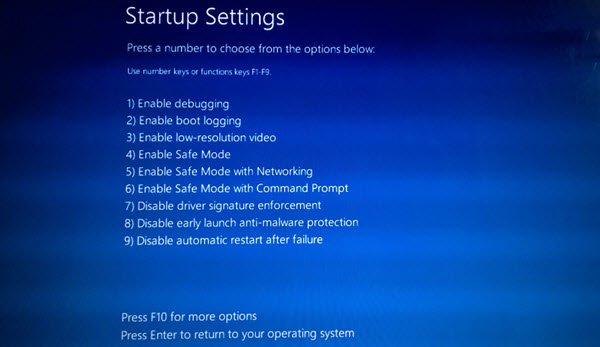 Once your device starts, then download gpsvc.dll from the Microsoft site and re-register the DLL file.
You can also get a good gpsvc.dll from a similar system where the issue doesn't exist. You need to look for the file under C:\Windows\System32 or C:\Windows\System64 and then copy the file, paste it on your system, and re-register it.
Next, open Services and navigate to the Group Policy Client service.
Right-click on the service, select Properties, and navigate to the General tab.
The default Startup type should be Automatic. If it is not, then change it using the command line by executing the following command:
sc config gpsvc start= auto
Exit Safe Mode, and boot your device into normal mode.
See if this has helped.
Read: Windows is stuck on loading some screen or restarting
3] Run System Restore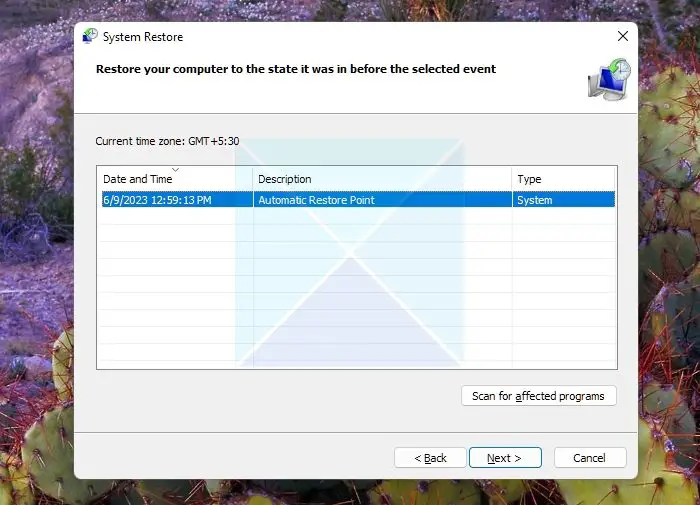 If you face the same error every time you shut down your computer, restoring your system would be the only solution. However, this method would only work if you had created a system restore point earlier.
If you do, then follow the below steps to boot up your computer from a System restore point:
Open Run prompt using Win +R
Click Next, and it will reveal the list of restore points available for the PC
Finally, click Finish and confirm your action by clicking the Yes button.
Once done, check if you are still getting the same; please wait for the GPSVC when shutting down the Windows computer error or not.
4] Run System File Checker (SFC) and DISM commands
SFC stands for System File Checker, a built-in utility that comes with Windows. Using SFC, you can quickly scan and restore corrupted or missing system files on your computer. So in case the GPSVC file is corrupted or damaged on your system, the SFC command will help you fix it.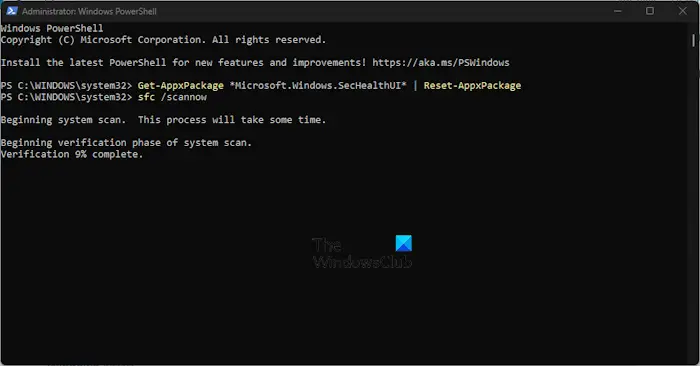 If you wish, you can also scan & repair a single file using System File Checker.
Follow this procedure if you want to run System File Checker in Safe Mode, Boot Time, or Offline.
Similarly, you can try running DISM commands. DISM stands for Deployment Image Servicing and Management, a command-line tool for servicing and managing Windows images, installations, updates, and repairs.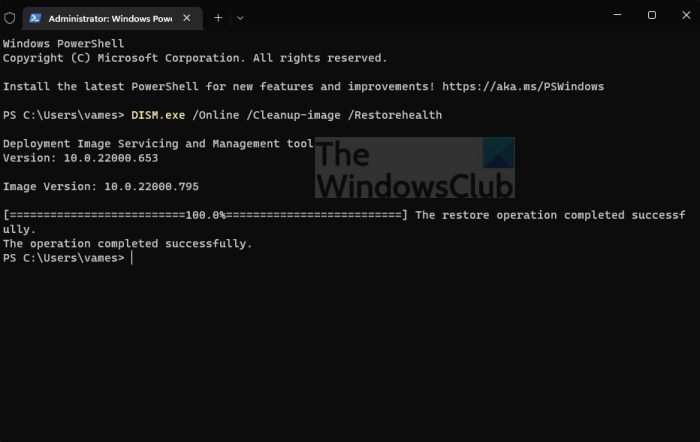 So both the commands will help you repair Windows and any of its corrupted or missing files and can eliminate the error.
4] Repair Windows Installation
If none of these methods could help you, repair the Windows OS using the Installation media. Here's how you can do it:
Download Windows ISO and create a Bootable USB or DVD drive
Boot from the media and choose Repair your computer.
Under Advanced Troubleshooting, select Advanced Options > Troubleshoot.
Now click on Startup Repair and follow the instructions on-screen.
We hope these suggestions were helpful.
Is it safe to disable the Group Policy client?
It is not recommended to disable Group Policy Client. Even Windows itself doesn't allow you to do so. The GPSVC is essential for your Windows system, as it applies and enforces group policies. The Group Policy Client Service is installed by default, and its startup type is Automatic.
How do I fix GPSVC service failed the sign-in?
The GPSVC service failed the sign-in error indicates an issue with the Group Policy Client service and occurs if the universal unique identifier (UUID) type is not supported. To fix it, reset the Group Policy settings and log in using a different user account, and also perform a DISM and SFC scan.
Related: The Group Policy Client service failed the logon
How do I fix Windows couldn't connect to the Group Policy Client Service?
To fix the Failed to connect to a Windows Service error on Windows devices, make modifications to the gpsvc key in the Registry Editor and disable fast startup. However, if that doesn't help, disable your antivirus software and try troubleshooting in clean boot mode.
How do I start GPSVC service?
To start the GPSVC service, open the Command Prompt as an Admin. Then execute the following commands: sc config gpsvc start= auto and then sc start gpsvc.
What do I do if my computer is stuck on Please wait?
If your device is stuck on the Please wait screen, try restarting it into safe mode. However, if that doesn't help, perform a system restore and try repairing the Windows installation.