Reading is the most popular form of content consumption on any smartphone. And an ecosystem is efficient and competent enough if it offers a satisfying reading experience in addition to other multimedia consumption alternatives. Over the past few years, eBooks have taken over the print literature as they offer a lot of advantages over physical book copies. However, to get the most out of eBooks, you need a reliable eBook reader app. They are a convenient way to read, consequently catching up on the trends.
PDF & eBook Readers for Windows 11/10
If you own a Windows device and into reading, you may already know by now that how hard it is to find a good eBook reader application. To help you with finding the best eBook reader apps, we've combed down the store and brought plenty of useful eBook reader apps for Windows to read a variety of formats easily. Just go on and read the article to know about these awesome apps-
Bookviser eBook Reader
Nook eBook Reader
Sumatra
Icecream Reader
Calibre
Cover.
1] Bookviser eBook Reader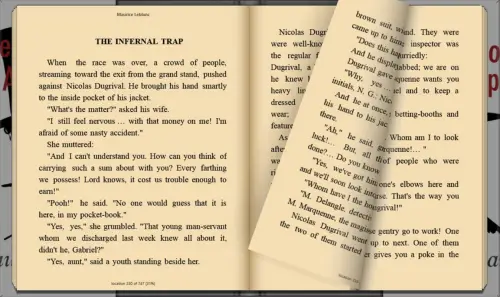 Bookviser is an eBook reader UWP is meant for Windows 11/10. This app offers an intuitive, elegant, and clean UI with a variety of customization options available for readers. It has a unique interface that makes it look exactly like a book further enhanced with realistic page-turning animation.
It supports various reading formats like TXT, EPUB, and FB2. From bookmarking to adding notes, changing fonts, changing the background color, highlighting certain text, it has almost every bell and whistles you'll ever need from an eBook reader. Download it from Microsoft Store.
2] Nook eBook Reader
This eBook reader app is one of the best user-friendly reader apps, which gives you access to a lot of smart functions, options, and controls that provide the user with better reading experience. This app supports highlights, notes, and bookmarks with a built-in dictionary for looking up words. Nook eBook reader uses ePUB as well. Hence, you can import your own EPUB and PDF files into the app for reading.
You can directly browse the Nook store from the app itself; the results are well categorized so that you can find what you are looking for easily. Even if you are not pretty much familiar with the technology, you'd still be able to use it. Download it here.
Read: Best free ePub Readers for Windows.
3] Sumatra
Sumatra is a popular and free eBook and portable PDF reader for Windows. This eBook reader app doesn't have the most beautiful UI, but it is simple, easy to navigate around, has a small app size. It's fully functional panel makes it a no-nonsense choice for most readers.
Being such a stand eBook reader app, it also supports dozens of formats, including PDF, EPUB, CBR, CBZ, XPS, and lot more. The best thing about Sumatra eBook reader app is that it is also available as a portable app. That means, you simply have it in your USB stick and can use it on any PC without installing it. However, there's one drawback as well that it lacks some necessary features like highlighting and bookmarking, etc. Download it from here.
TIP: YAC Reader Comic Reader supports Multiple Comic File and Image Formats.
4] Icecream Reader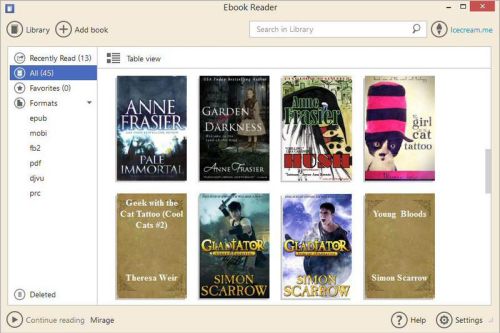 Icecream eBook Reader certainly doesn't look delicious as it sounds, but it performs so many necessary functions at once that it deserves to be on your Windows desktop. Besides some popular eBook formats like .mobi and .EPUB, it also supports FB2 and PDF, etc. The free version of the app lets you add bookmarks, take notes on a specific section of the books, categorize eBooks, track reading progress, and lets you change the font type as well.
Apart from these, some more worth mentioning features include fullscreen mode, night mode, and themes that can be changed to customize your reading experience. If you are a regular reader that doesn't mind a flat yet intuitive UI, do give it a try and see if this eBook reader app fits your need.
TIP: CDisplay Ex is a free Comic Book Reade
5] Calibre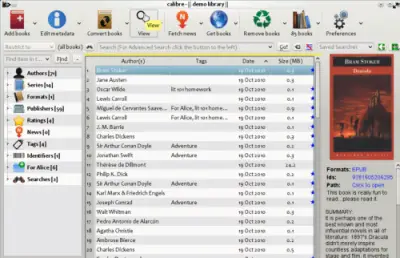 Calibre is one of the best eBook reader apps for Windows that lets you easily organize your library, help you convert your eBooks into different reading formats, and also enables you to sync your eBooks with your device. It is indeed a complete package that even helps you to find the books you want at the lowest prices. The reading experience is flawless, and UI is quite responsive.
What makes it more than just an eBook reader app is its portability and cross-platform compatibility. That means you can use it in different ecosystems such as MacOS, Windows, and Linux. Hence, it is one-stop solution to your best eBook reader app query.
TIP: Martview is a free animated eBook reader for Windows.
6] Cover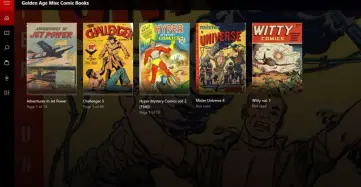 This eBook reading app is mostly dedicated to comic books; however, it does a decent job reading EPUB files as well. Besides furnishing a great comic book reading experience, it also supports formats like CB7, RAR, EPUB, PDF, and supports image-based books as well. Users can easily open up almost every format and can enjoy excellent styled smooth UI.
Comic books require a slightly different reading experience from an eBook reader app, and no way Cover falls short of awesomeness. This is undoubtedly the best comic book reader app made for extreme comic fanatics. Download from Microsoft Store.
Read next: Best eBook readers for Windows Phone.
There are hundreds of other eBook readers, but we've picked some of the best eBook reader apps for Windows. These eBook reader apps top around their category and provide potential features inside. We hope that you picked out the best one for you after reading this article. Do let us know in the comment section below if we have missed on any of your favorite eBook reader apps for Windows.