E-Books and e-book readers are probably one of the best things to happen over the past few years. They don't only let you carry too many books around in one device but also let you do your part in the conservation of the environment. ePub is a digital file format meant for e-books, and here in this post, we've discussed some of the best ePub readers available on Windows 11/10.
Free ePub Readers for Windows 11/10
We have covered some desktop freeware as well as some Windows Store ePub readers here. Let us take a look at them.
1] Calibre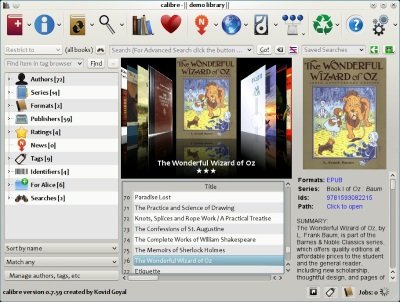 Calibre eBook Reader is probably the best e-book library management tool you can ever have. And also if you own an e-book reader like Amazon Kindle or the likes, this software comes to your rescue. It lets you maintain a digital library of books and also lets you sync them across the devices. It can convert e-books to various other formats including the .txt and .pdf formats. The support for plugins lets you add more functionality to the tool and do a lot more.
2] FBReader
FBReader or Favourite Book Reader is a multi-platform tool that lets you read ePub files on various devices. Other than ePub format, FBReader can work with fb2, mobi, RTF, HTML, plain text, and a lot of other formats. It is a simple yet amazing tool. You can customize your reading experience completely by adjusting the looks and the feel of the book. You can have custom color schemes and also create and save bookmarks in the book. Click here to download FBReader.
3] Bibliovore
Available to download on Windows Store, Bibliovore is a great ePub reader that supports Windows 10. It comes with synchronization features and uses Microsoft's OneDrive to share the same files across different devices with the same account logged in. Bibliovore comes with the features like Day/Night reading mode and the ability to edit metadata of the files. Also, you can adjust font parameters and set bookmarks. Visit Windows Store to download Bibliovore.
4] Bookviser
Bookviser is another e-book reading application available for Phone as well as PC. Bookviser gives you access to thousands of e-books available for free to download. If you are an avid reader, Bookviser may create an amazing bookshelf for you where the books are neatly organized and easily accessible. There are tons of amazing features available such as the instantaneous share button that lets you share clippings of text from books to various social networks. And the other features like text to speech and automatic backups make this tool more usable and advance. Bookviser comes with all the basic features such as Day/Night mode, bookmarks, etc. Visit bookviser.com to download Bookviser.
5] Freda
Freda is again a similar application available for Windows phone as well as PC. It lets you read ePub, TXT, HTML, and FB2 files. It offers free downloading of e-books from websites such as Project Gutenberg, Feedbooks, etc. You can look up dictionary definitions and translations while reading your book along with. Themes can be easily adjusted, and bookmarks can also be easily managed. Freda is dyslexic-friendly and includes OpenDyslexic font making it easier to read for people affected by dyslexia. Visit Windows Store to download Freda.
Tip: CDisplay Ex is a free Comic Book Reader for Windows.
6] Icecream Ebook Reader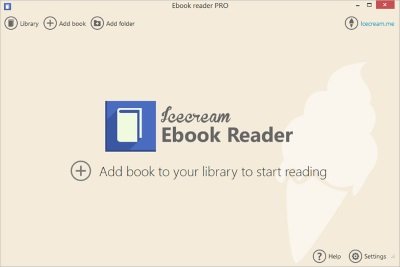 Another e-book reader with great features is Icecream Ebook Reader. The amazing UI and overall feel of this tool make it preferable. Comes with all the features of an e-book reader such as text themes, annotations, bookmarks, an inbuilt dictionary, and much more. A paid version of this application is also available which comes with more features and support. Icecream Ebook Reader is a fine e-book reader, and it does what it says.
7] OverDrive
OverDrive is another Windows Store application that lets you read ePub and other e-book formats on your computer screen. Other than e-books you can also listen to tons of audiobooks available on the internet. Moreover, you can even borrow e-books from digital libraries to which you have already subscribed, and you can automatically return titles to avoid any late charges or fees. You can create reading lists, wish lists, etc. OverDrive is a perfect tool for you if you have already subscribed to a digital library or of you have a digital library setup at your school or college. Visit Windows Store to download OverDrive app.
8] Books Bazaar Reader
It is a Windows Store application available for free to download. Books Bazaar gives you access to thousands of free titles available online. You can customize the entire reading experience by customizing themes and switch between Day/Night modes. The application also supports bookmarks, annotations, and highlights. Moreover, you can create reading lists and also share highlighted pieces of text from a book. Visit Windows Store to download Books Bazaar Reader.
9] Sumatra PDF
Sumatra PDF is basically meant to read PDF files, but it supports ePub and various other e-book formats as well. So you get the functionality of a full-fledged PDF reader with the ability to read ePub files too. Sumatra PDF is a fast, fluid, and portable application that you can carry around. Click here to download Sumatra PDF.
Read: 5 websites to download free eBooks legally.
10] Cover
Cover is a Windows Store application that was basically meant to read Comic books but you can for sure read ePub files and other e-book formats as well. All the basic settings can be adjusted, and you can edit your books/comics as well. A library is automatically created for you, and you can arrange your books properly in virtual shelves. You can highlight text, take snapshots and easily send them too. Visit Windows Store to download Cover.
Tip: Martview is a cool free animated eBook reader for Windows 11/10.
These were the ePub readers available out there for Windows 11/10. Did we miss out on any? If so, please mention them in the comments section below. Some of you may be interested in following this link – Free PDF and eBook Reader Apps for PC.
I happen to own an Amazon Kindle, and I use Calibre to continue reading books on Windows that I was reading on my device. Also, I sometimes edit the metadata for the documents that I create personally and Calibre can handle that part too pretty well.
Does Microsoft have an ePub reader?
No, Microsoft doesn't come with a native ePub reader tool. But, there are some good free ePub reader Microsoft Store apps that you can use to open and read ePub files on Windows 11/10. Bookviser Reader, Cover – Comic Reader, Real eBooks Reader, freda epub ebook reader apps, etc., are some good options to use.
Which browser can read EPUB?
Popular browsers like Chrome, Edge, Firefox, etc., aren't able to read ePub files. Earlier, users were able to open ePub files using Microsoft Edge, but the Edge browser no longer supports ePub format files. You need to use some free ePub reader extension or add-on for this purpose. Or else, the best option is to use some eBook reader software, a Microsoft Store app, or an online tool that supports ePub format files.