You can find loads of free comic books on the web that can be read on the mobile phone, tablet or computers. If you have a comic book in PDF, you can use either your standard web browser or a PDF reader to read that. However, if you have some digital comic books with extensions like .cbr, .cbz etc. you can install CDisplay Ex and start reading your favorite comic with ease.
Free comic book reader for Windows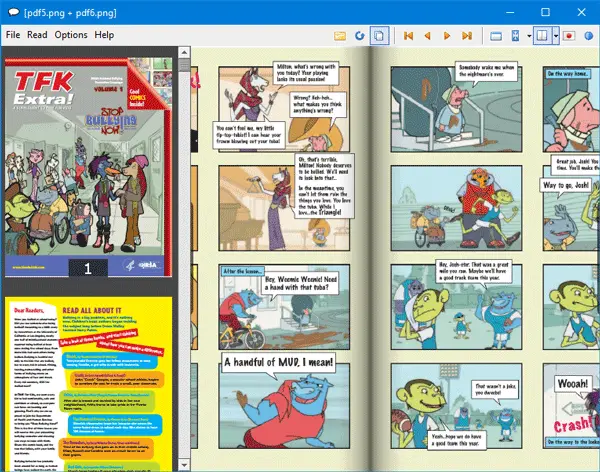 CDisplay Ex is a very useful, light-weight and free comic book reader that supports different formats including .pdf, .cbz, .cbr, .cbt, .cb7 and more. The user interface is neat and clean, and you will not have any problem while reading comics, since almost all the essential functions are included in this tool.
Features of CDisplay Ex
Several useful features are available in this free software. The following list contains some of them:
Leap Motion: It helps users to scroll up/down a page, get next page, etc. using a hand gesture. You need to enable it from the options.
Side-by-side pages: CDisplay Ex shows two pages at a time. Comic books come with more of images and less of text. Therefore, you do not have to scroll pages frequently since two pages can appear at a time.
Color correction: If you have a very old comic book, which doesn't have the right color, you can adjust the color using CDisplay Ex.
Open multiple comic books: It does allow users to open multiple comic books at a time. You should get thumbnails on your left-hand side to choose a particular book.
Save specific page as an image: If you want to share a page of your comic book with your friends, you can save that page as a picture. Right-click on a page > select File > Save to File. However, make sure you are not violating the copyright of the owner.
Automatic slideshow: If you do not want to use your fingers to move from one page to another, you can turn on the automatic slideshow. It will move your pages automatically after a certain time.
Thumbnail view: You can enable thumbnail view to jump from one page to another. No need to scroll down or up to find a page.
There are more other features included in CDisplay Ex. You can also use the drag & drop technique to open a comic book.
There is yet another feature that can help you to view images from ZIP or RAR file with extracting. Let's assume that you have 50 images in a ZIP file. If you want to see images consecutively, you cannot do so using Windows Photo Viewer or the new Photos app of Windows 11/10. But you can open the ZIP file with CDisplay Ex and view the images uninterruptedly.
How can I read comics on my computer for free?
As comic books do not generally come in PDF, you need to have a third-party tool to read the book on your Windows 11 or Windows 10 computer. Whether it is a tiny or big book with lots of content, you must use software, which enhances the experience and helps you read the book fluently. For this purpose, CDisplay Ex is quite a handy tool you can check out.
Is there an app to read comic books for free?
There are tons of free apps for Windows 11 and Windows 10 to read comic books in a friendly environment. Instead of reading the book in your browser, you can use a third-party tool like CDisplay Ex or something like that. It is freeware, and you can download it to read almost any comic book.
If you like reading comics, you can download this free comic book reader for Windows from here. You may see some 3rd-party offers, so be careful during the installations process, and decline the offers.
Some of you might want to take a look at Portable GonVisor and Free Manga Downloader too. Here are some of the best free ePub Readers for Windows 11/10.