If you have recently upgraded to Windows 11/10, you might have encountered a strange problem while working with Microsoft's email client Outlook. It just fails to send an email, showing at times the following error:
User account – Sending reported error (0x800CCC13): Cannot connect to the network. Verify your network connection or modem.
If you too are receiving this error, you may first try disabling your antivirus software temporarily, disable all Outlook plugins, recreate Outlook profiles, and so on. But if none of this works, here are a few ideas you may want to try.
Outlook Send/Receive error 0x800CCC13
1] Create a new shortcut to Outlook

This is a workaround. Create a new shortcut to Outlook on your desktop. Right-click on it and select Run As Administrator. Now see if you can Send or Receive. If so, you may create an elevated shortcut to always run it in that mode.
2] Perform Clean Boot
Start your computer in Clean Boot State and see if you can Send/Receive. If you can, then you may have to identify the offending program that is interfering with Outlook and disable it.
3] Create a new User Profile
Create a new User Profile? Does it work then?
4] Open Outlook in Safe Mode
Open Run box, type the following, and hit Enter to open Outlook in Safe Mode:
Outlook /safe
Does this resolve your issue? If so then some add-in is creating a problem.
Click File menu > Options > Add-ins > Go button besides Manage: Com-in Add.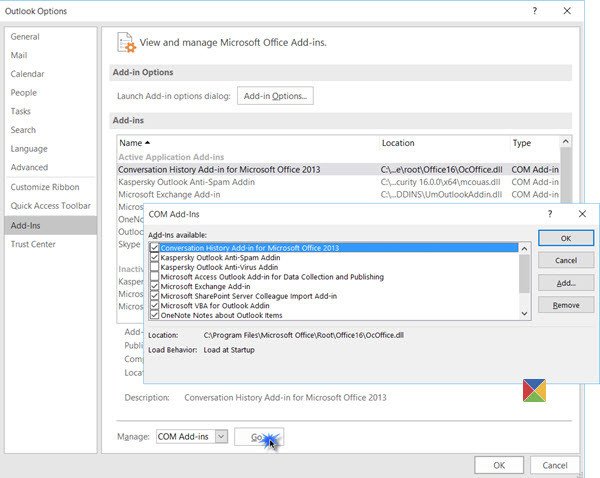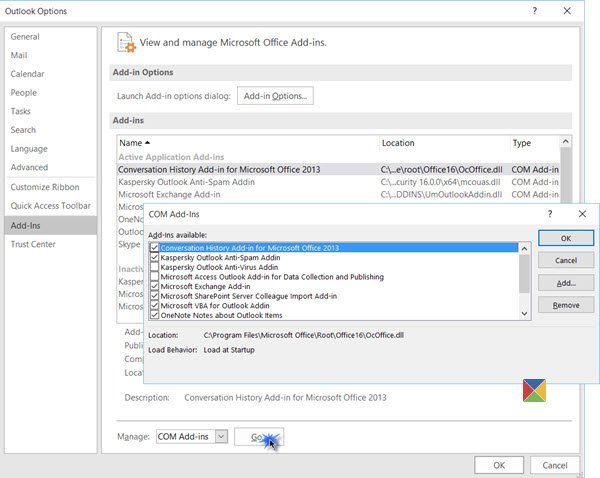 Try to identify the offending add-on and disable it. Restart Outlook and try.
Related: Outlook Send/Receive errors 0x80042109, 0x8004102A, 0x8004060c
5] Run the System File Checker
Run the System File Checker. The tool is capable of scanning and verifying the integrity of all protected system files and replace incorrect versions with correct versions.
If you are using Outlook, I advise you to close the application. Then, right-click on the Start button of Windows 10 and choose Command Prompt (Admin).
Following the prompt type sfc /scannow and hit Enter.

Allow the scanning to be completed. Normally, it takes around 15 minutes for a regular hard disk scan but can be reduced further if you have a fast SSD drive.
Restart your computer.
If nothing helps, maybe you need to Repair Office/Outlook.
See this post if you receive the Not Implemented error in Outlook.