Microsoft Outlook throws an error code 0x8004060c, which results in no incoming and outgoing email using the Outlook client. The problem is with the PST file, which has grown more than Office or Outlook can handle. The maximum limit on the PST file is 20 GB. If you have a lot of emails configured which uses the same PST file, then you may get this error. In this post, we will show you how you can fix Outlook error 0x8004060c during Send/Receive operation.
Outlook error 0x8004060c during Send/Receive operation
When the limit reaches, you will get a notification error message when you click on Send and Receive email or whenever it syncs. The error message says-
Task '[email protected] – Receiving' reported error (0x8004060C): 'The message store has reached its maximum size. To reduce the amount of data in this message store, select some items that you no longer need, and permanently (SHIFT + DEL) delete them.
The steps you can undertake are:
Delete Unnecessary emails
Run Mailbox Cleanup tool
Move Old Items into different PST file
Compact Outlook Data File
Increase Outlook PST Storage maximum size
It may not be relevant for accounts like Outlook, Live, Gmail, and anything that is using the POP3 type of connection. But if you are using anything else, then you can use it.
1] Delete Unnecessary emails
If it is possible, find out emails that are cumbersome and unnecessary.
Open Outlook, switch to the View tab
Then click on Arrange By and select attachments.
Now you need to filter out emails that are not necessary and delete them.
2] Run Mailbox Cleanup tool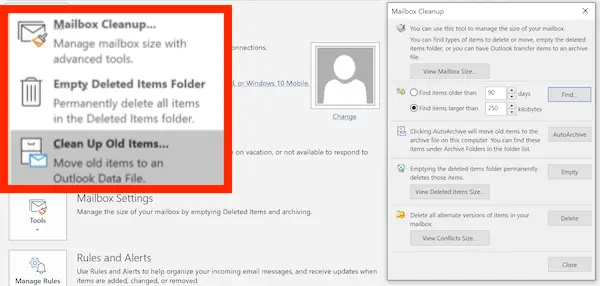 Mailbox Cleanup is an inbuilt tool which can help figure out large size emails easy.  Click on File > Info > Mailbox Settings > Tools > Mailbox Cleanup.
Here you can view individual Mailbox Size, Find ancient emails, empty deleted items folder and remove all the alternate versions of items in your mailbox.
3] Move Old Items into different PST file
At the same place, you have another tool–Clean up old Items. It helps you move old items to an Outlook Data file. So all those extra emails can be transferred to another PST file. It gives some breathing space for your existing PST file.
Click on Tools > Clean up old items > Then select which folder you want to archive, set date, and then set the location of the archive file or Archive PST file.
Read: Fix 0x800CCC90 Outlook error code
4] Compact Outlook Data File
Outlook reduces the size of PST files by compacting it. When you delete any email, the background process will make sure the file size of PST is also corrected by compacting it. You can also choose to start the process manually. However, there is a small condition. You cannot compact an Offline Outlook Data File (.ost).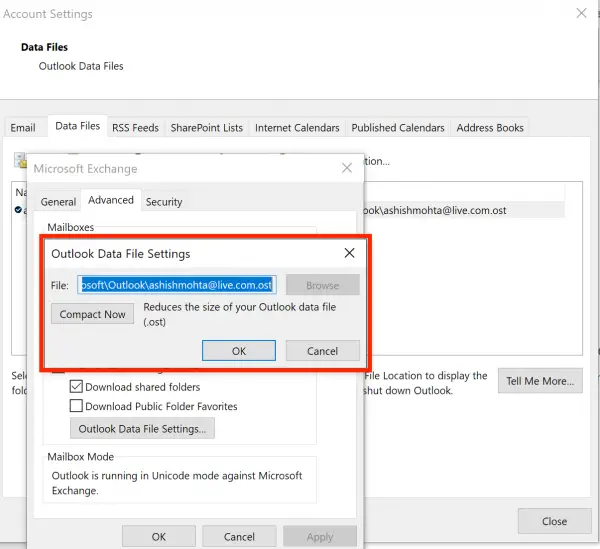 Go to File > Ingo > Tools > Empty deleted items folder forever.
Then again, to File > Info > Account settings. It will open the Account settings window.
Switch to the Data Files tab, click the data file that you want to compact, and then click Settings.
Click the Advanced tab > Outlook Data File Settings.
In the Outlook Data File Settings dialogue, click Compact Now.
Click Ok and the process of compacting the PST files will start
Make sure to check this to understand if the Outlook Error 0x8004060c Send/Receive is still there or resolved.
5] Increase Outlook PST Storage maximum size
Microsoft puts the limit because of some reason, but it can be changed. If you are not ok with moving files into different PST, then it's best to use this method to remove the limit.
The settings for Outlook 2016, 2019 & 365 is at:
HKEY_CURRENT_USER\Software\Microsoft\Office\16.0\Outlook\PST
If you have a different version, replace 16 with its number. E.g., Outlook 2013: 15.0, Outlook 2010: 14 and so on.
HKEY_CURRENT_USER\Software\Microsoft\Office\16.0\Outlook\PST
Right-click on the right pane, and create two DWORD

MaxLargeFileSize – It is the maximum file size of the PST file
WarnLargeFileSize – Warning message when the file size of the PST file reaches a certain limit.

You need to enter the value in terms of MB. So if the maximum limit is 50 GB, which is 5120MB, you need to set a value higher than this. You can set it as 80GB or 8192MB
For WarnLarge File Size, you need to enter 95% of whatever amount you set for MaxLargeFileSize.
We hope the steps were easy to follow, and you were able to send and receive emails in Outlook.