Outlook for Android has a notification system similar to the desktop version. But this notification system is more useful since the app is designed for your smartphone. Now, many people will download the app and use the system as is, but some folks want more than that.
Why use the Outlook for Android notification feature?
If you receive important emails quite often, then you'll want to know when they've arrived. The notification feature is the best way to stay on top of things and ensure you're rarely in a position where you've missed an email.
Outlook notifications are not working on Android phone
Fixing this problem is not hard, though it can vary due to the nature of Android, where certain aspects of the operating system differ due to versions and brands of hardware.
Restart your smartphone
Update Outlook for Android via Google Play
Turn off the Battery Saver Mode
Check if notification is turned on
Clear Outlook for Android's cache and data
1] Restart your smartphone
OK, so one of the easiest ways to fix a problem on Android, and even on iOS, is to restart the device. Perform this action, then go ahead and check if the notification feature is working as it should.
2] Update Outlook for Android via Google Play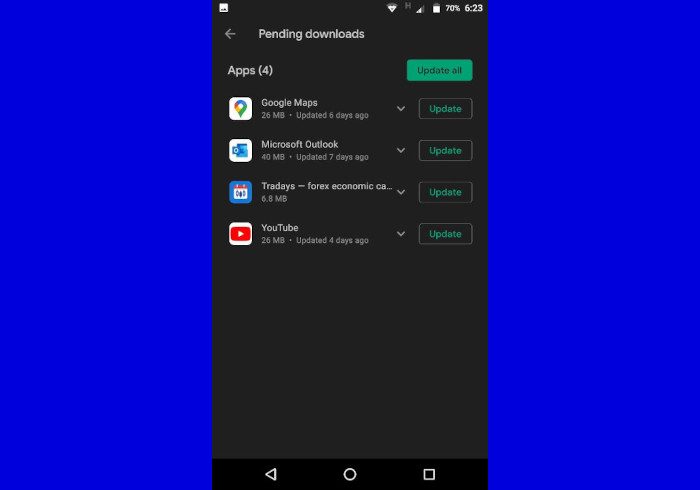 Chances are the Outlook app is acting up due to the need for a pending update. To set things right, you must open the Google Play Store and navigate to your profile photo at the top right corner of the screen.
Tap on the photo icon and select Manage Apps & Devices right away. You should see a section automatically checking for updates from there. If it finds anything, you'll see the number of apps that require an update, along with the Update All and See Details buttons.
Tap on See Details to see the list of apps. You can choose to update them individually if you want to. Or revert to Update All to perform a wholesale update across the board.
3] Turn off the Battery Saver Mode
Battery Saver mode ensures a longer-lasting battery life while out and about. However, this feature can hamper background apps from performing to their fullest potential. Now, to turn it off, navigate to Settings > Battery. Turn off the Battery saver or Adaptive battery.
For those who own a Samsung device, go to Settings > Device Management > Battery > Sleeping apps. Remove Outlook for Android from the list.
4] Check if notification is turned on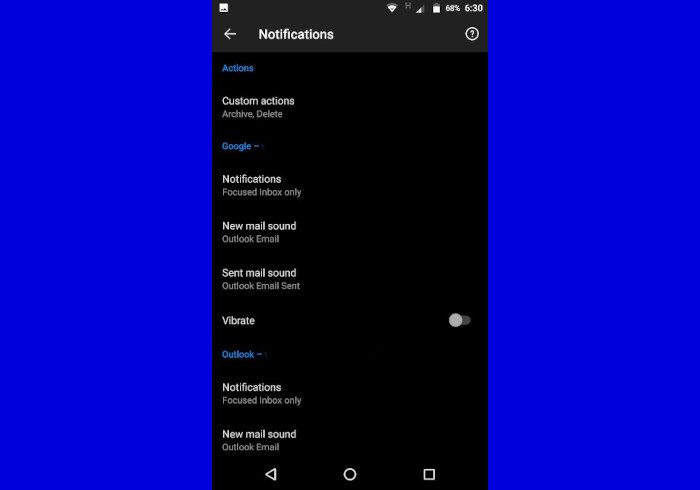 OK, so the next thing you will want to do here is to check if the notification feature is enabled from within the app itself. We can do this by opening the Outlook app, and from there, tap on either the Home button or your profile icon, then select the Settings icon at the bottom corner.
Please scroll down to Notifications and choose it right away. You can choose how notifications are triggered for each email account.
5] Clear Outlook for Android's cache and data
To clear the cache and data folder, you must long press on the Outlook icon, then click on App Info. From there, tap on Storage and select either Clear Data or Clear Cache. We suggest choosing both.
Once done, you can finally open Outlook to see if things are working as they should.
Why is Outlook not notifying me of new emails?
The reason behind this could boil down to several reasons and not just one. Maybe it's your version of Android, the particular smartphone you're using, among other things. These things can be a bit complicated where Android is concerned since the operating system is not the same across different brands of devices. You check Outlook settings to ensure the notifications are not disabled in the app settings.
Why is my phone not notifying me of emails?
Maybe the volume is turned down or muted. Therefore, you need to check if that is the case. Alternatively, we suggest checking if Do Not Disturb is activated. If it is, disable it, and you should be notified of the arrival of your next email. Lastly, check if notification settings are disabled on an app basis through Android settings. They can be disabled with a long press on the notification, but there is no way to bring it back the same way.
Read: Error loading message Outlook error on Android mobile.