Microsoft Outlook is a part of the Office suite that we generally use to send and receive emails. This application also helps in managing email and other communication. However, in recent days, some users reported an error 0x8004210A with Outlook in Office 365 Business.
The operation timed out while waiting for a response from the receiving server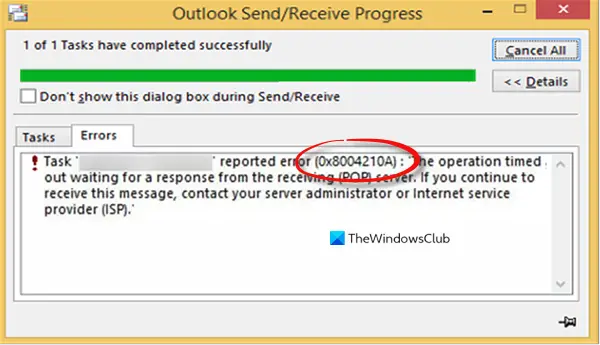 This problem typically occurs when Microsoft Outlook fails to set up a connection with the email server. If you're also facing the same issue, we suggest you try disabling your antivirus software temporarily and see if it works. In this article, we will explain the possible solutions that you can try to fix this issue.
Outlook error 0x8004210A on Windows 10
This guide shows you how to fix the Outlook error 0x8004210A on Windows 10. Follow the below suggestions:
Make sure that you are connected to the Internet
Create a new Windows User Profile
Clear the password caches
Repair corrupted PST file.
Before you begin, restart your PC and your router and see if that works.
1] Make sure that you are connected to the Internet
This error commonly occurs due to having a slower and sluggish internet connection. Therefore, before you apply the other solutions, check if your connection speed is good and working correctly. If possible change your ISP Internet Connection and check if that fixes the problems.
2] Create a new Windows user profile
Create a new Windows user profile and check if this will make any difference.
3] Clear the password caches
Clearing the Microsoft/Outlook credentials is another method you can try to resolve this issue.
To get it started, open the Control Panel first and make sure the window is view by Large icons.
On the following screen, scroll down and select the User Accounts option.
From the left pane, select the Manage your credentials link.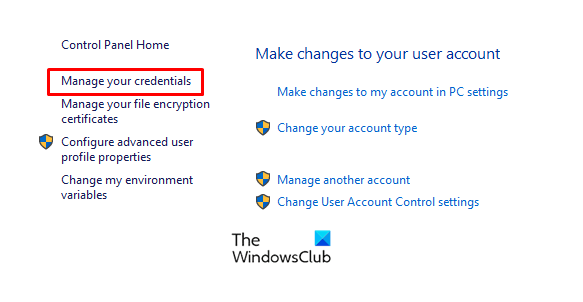 In the Credential Manager window, select the Windows Credentials and it will show you a list of credentials that have been saved for a network share or remote desktop connection.
Click on the drop-down menu of the credential you want to clear and then click Remove.
Then select the other credentials and remove them in the same way.
Once you're done, close the window and restart your computer. Then check if the error 0x8004210A still exists.
4] Repair corrupted PST file