In this post for beginners, we will see how to open the Control Panel in Windows 10. While Microsoft is taking steps to move most of the Windows settings to the Settings app, many users still feel the need to access the classic Control Panel, as most of the useful settings are still housed there. While there may many ways to open the Control panel, I will list below some of the convenient ways of doing it.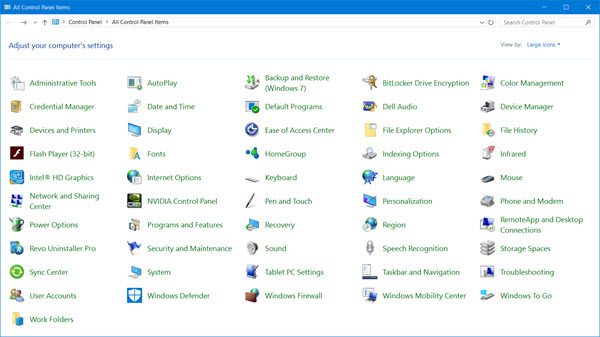 Open Control Panel in Windows 10
Here are some ways you can open Control Panel in Windows 10:
Using File Explorer
Computer folder
CMD
Run
Start Search
WinX
Desktop Shortcuts.
1] You may also type Control Panel in Start search and hit Enter to open it.
2] If you know how to create a desktop shortcut, then use the following command as the target location and place the desktop shortcut on your desktop so that you access it quickly anytime you need to.
explorer shell:ControlPanelFolder
You can instead, also use our portable freeware Handy Shortcuts to create & add desktop shortcuts in a click.
3] Another way to quickly open the Control Panel is to open File Explorer and click the on the small arrow pointing towards the bottom, just before This PC.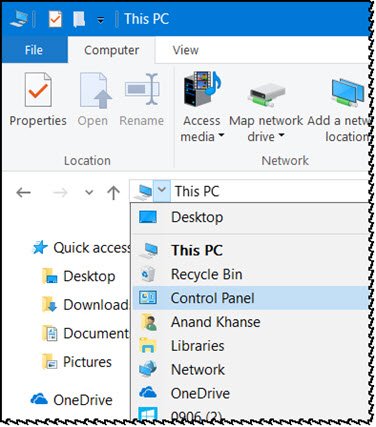 This will open a panel where you can select Control Panel and several other items.
4] Open Windows 10 Settings, and type Control Panel in its search bar.
You will see it in the results. Click on it to open the Control Panel.
5] There is another interesting way! Use our portable freeware System Folders Customizer to add not just Control Panel, but even the Control Panel applets which you need to access frequently.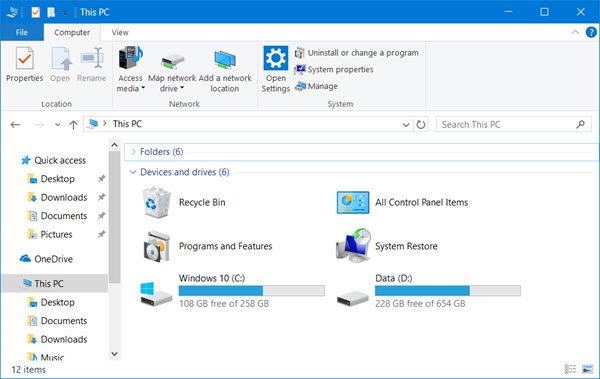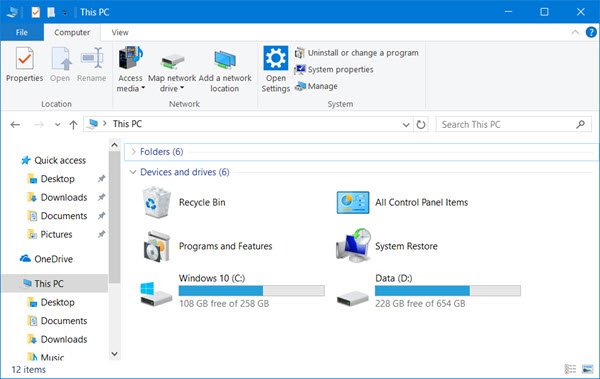 Once you do this, you will be able to see the items in your This PC folder.
6] You could open the Run box from the WinX Menu, type control and hit Enter to open the Control Panel.
7] You could also open a Command Prompt window, type control and hit Enter to open the Control Panel.
8] You could open the Control Panel via the WinX Power Menu.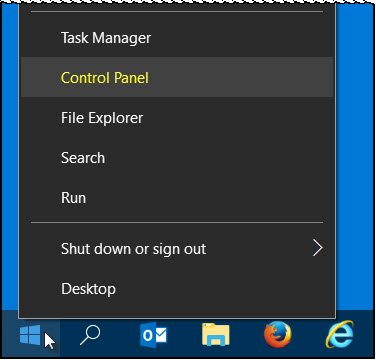 But the Control Panel entry has been removed from the WinX Menu of Windows 10 v1703 and later. So you cannot use this method now.
You can also use our Windows Access Panel to directly access important controls or the inbuilt Windows programs from a single interface.
Let us know if you use any other way to open the Control Panel in Windows 10.
These links may also interest some of you: