OneNote generally syncs notebook with your logged-in Microsoft account to facilitate notebook accessibility from anywhere. This is a bit similar to the OneDrive integration in Windows 11/10 or later. Thus sometimes it may happen that OneDrive has already sync your notebook and then if OneNote attempts to sync this book, syncing doesn't complete due to the following error: OneNote needs a password to sync this notebook. Click here to enter your password.
 OneNote error code 0x803d0005
OneNote needs a Password to Sync this Notebook
The following solutions will help you fix the "OneNote needs a Password to Sync this Notebook, error code 0x803d0005" on Windows 11/10.
Sign out and sign in again
Update Microsoft Office
Remove an account from Credentials Manager
Let's see all these fixes in detail.
1] Sign out and sign in again
This is the first thing that you should do. Sign out of OneNote and sign in back. This method helps fix syncing issues on OneNote. If this does not help, use the other solutions explained below.
2] Update Microsoft Office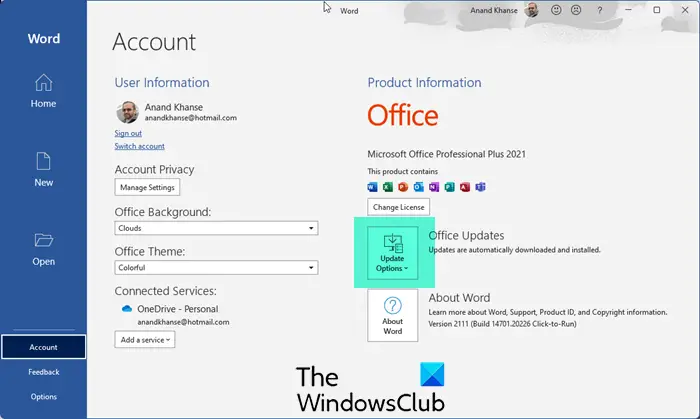 An outdated version of Microsoft Office can cause several issues. You should keep your Office apps up to date. Check for Microsoft Office updates manually. If an update is available, install it.
3] Remove an account from Credentials Manager
Thus it seems like sync from OneNote and OneDrive causes conflict and hence you experience such kind of error. The culprit behind this could be the credential manager for Windows, which manages your user account login details. Go through the following instructions.
1. Press Windows Key + Q, type credential in the search box, and hit Enter key. Click Credential Manager from the results so appeared.
2. Next, in the Credential Manager, click Windows Credentials first. Then here under the Generic Credentials heading, you'll find some credentials with MicrosoftOffice15_Data:live:cid=<16 digit key>. These credentials are causing the issues, hence you need to click them one by one and select Remove.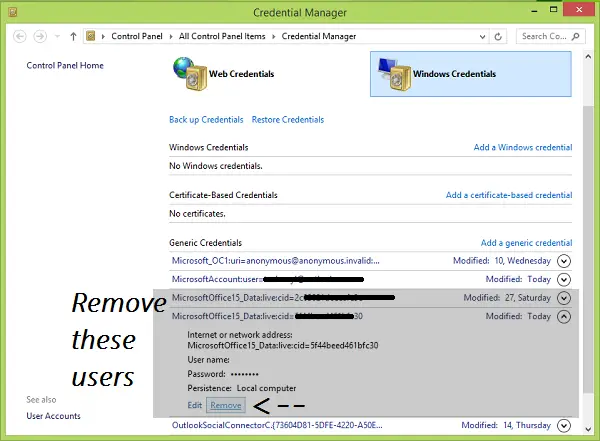 3. Since these are generic credentials, Windows Credential Manager will ask you the confirmation to remove the login details permanently. Select Yes here:

Once you've removed all the MicrosoftOffice15_Data:live:cid=<16 digit key> labeled credentials, close the Credential Manager and open OneNote.
Just sign in now with your Microsoft account, and the error should disappear now.
What is error code 0xE000005E in OneNote?
The OneNote error code 0xE000005E (ReferencedRevisionNotFound) is a sync error. Hence, this error code prevents OneNote from syncing your notebooks. According to Microsoft, this is a temporary error. Hence, you can wait for some time and check back again.
How do I fix OneNote sync issues?
To fix OneNote syncing issues, sign out of OneNote and sign back in. Other things that you can do are clearing the OneNote cache, force syncing your OneNote notebooks, closing OneNote, and opening it again, etc.
Hope this helps!
Read next: Fix E000283C OneNote sync error.