If Firewall settings or Browser plugins are blocking OneDrive from opening files on the web browser, you can find solutions here to get rid of this problem. If it appears, you won't be able to open any file uploaded on OneDrive or access OneDrive storage in any way. There could be various reasons why OneDrive displays such a message, and we have discussed almost every possible scenario here.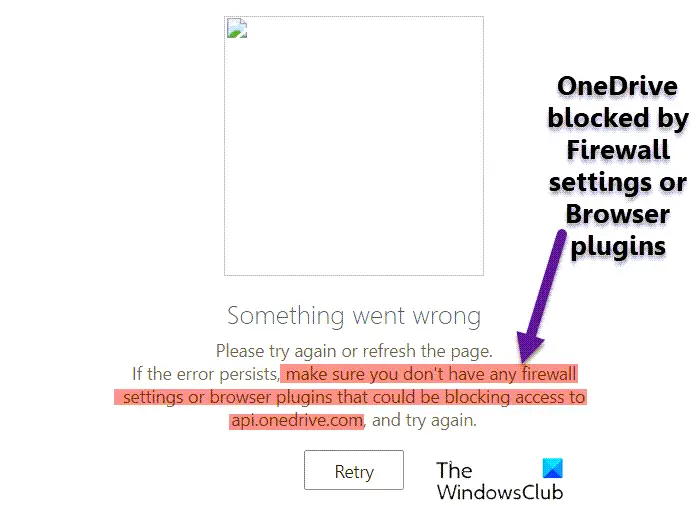 The entire message says:
Something went wrong
Please try again or refresh the page. If the error persists, make sure you don't have any firewall settings or browser plugins that could be blocking access to api.onedrive.com, and try again.
OneDrive blocked by Firewall settings or Browser plugins
If Firewall settings or browser plugins or extensions are blocking OneDrive, follow these steps:
Refresh OneDrive page
Disable adblocker extension
Check in incognito mode
Check if browser is blocked by Firewall
Disable third-party firewall
Disable all browser plugins
Clear browser cache and cookies
To learn more about these steps, continue reading.
1] Refresh OneDrive page
If you are getting the aforementioned error while accessing OneDrive, you must check this solution first. At times, a simple refresh could fix the issue within moments. Before following other solutions mentioned below, it is recommended to refresh the web page first. For that, you can simply click on the Retry button. You may also press CTRL+F5 to hard reload the webpage.
2] Disable adblocker extension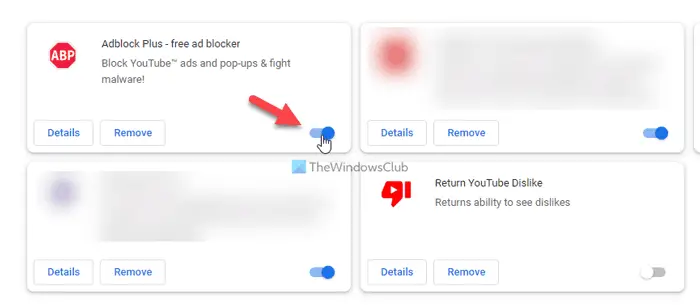 If you are using an ad blocker extension on your browser to remove advertisements, you need to disable such extensions before refreshing the page again. There could be times when OneDrive content may be blocked by your ad blocker extension. No matter which extension you use on your browser, it is possible to disable or turn it off temporarily. Therefore, do that and check if the issue remains or not.
3] Check in Incognito mode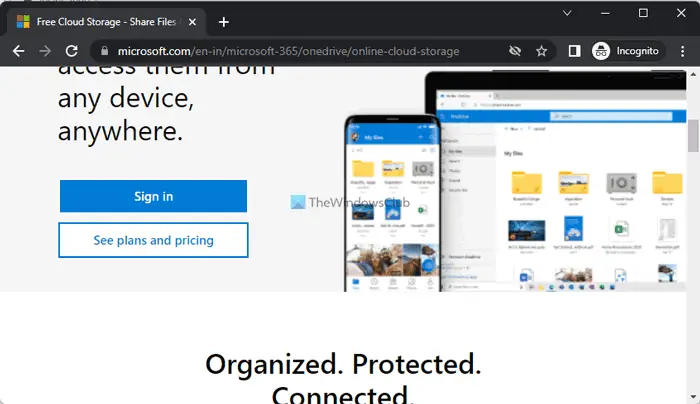 At times, your standard browser settings could be responsible for this issue. In case you set something incorrectly in your browser, it could cause the issue while accessing OneDrive or any other website. In such situations, it is wise to check the web page in incognito or private mode. For your information, you can find the Incognito or private mode in almost all the browsers, including Google Chrome, Mozilla Firefox, Microsoft Edge, etc.
4] Check if the browser is blocked by the Firewall
If your browser is blocked by Windows Firewall, you won't be able to resolve it by following other aforementioned solutions. In situations, you need to check if the Windows Firewall is blocking your browser or not. For that, you need to verify all the Inbound Rules and Outbound Rules one after one that is related to your browser. To do that, you need to open the Windows Defender Firewall app, click on the Advanced settings and choose the Inbound Rules and Outbound Rules one after one.
5] Disable third-party firewall
There are countless third-party firewall tools available on the market. Users often install them to get a better or more convenient interface than Windows Firewall. Some of those tools allow users to set things up automatically. If the problem started post-installation, it is recommended to disable the third-party firewall app or security temporarily. Then, check if you can access the same OneDrive page on your browser or not. If yes, you need to check each setting minutely before turning it on again.
Read: Best Free Firewall software for Windows
6] Disable all browser extensions
If you have installed tons of extensions in your browser and the problem started after that, the wisest solution is to disable them all. At times, multiple security plugins could cause the issue, as described above. On the other hand, if you have installed multiple VPN or proxy apps, it is recommended to disable them all. Then, try to enable one extension at a time to find the culprit.
7] Clear browser cache and cookies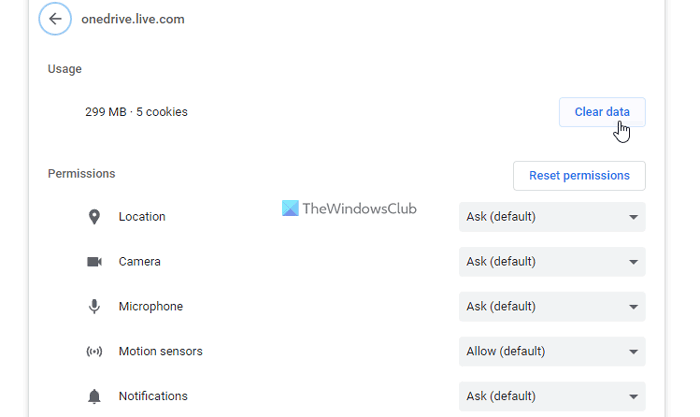 At times, old cookies and cache can be responsible for this error. If your PC was attacked by adware recently, it is suggested to clear your browser cache and cookies once. In case you do not want to remove them for the entire browser, you can delete cookies and cache for a specific site as well. In this case, you need to follow those steps for OneDrive's official website.
What ports need to be open for OneDrive?
If you are talking about the OneDrive desktop app, it requires you to open the TCP 80 and TCP 443 ports. There are several destination hosts that need these two ports to be opened on your computer. For example, *.onedrive.com, onedrive.live.com, login.live.com, etc., require TCP 80, whereas some other destination hosts require TCP 443.
How do I stop Firewall from blocking everything?
To stop Firewall from blocking everything, you need to configure Windows Firewall carefully. However, if you have installed a third-party firewall software, it is recommended to check if there is a conflict between the Windows Firewall or the third-party security shield. On the other hand, you can also check each setting in the firewall software to ensure the correct options.
Read: Your PC isn't connected to the internet, OneDrive Error Code 0x800c0005.