According to many users, when using Roblox, they are not able to hear any sound or the sound is jittery. If you face this issue, then in this post we will show you how to get back clear audio or sound in Roblox.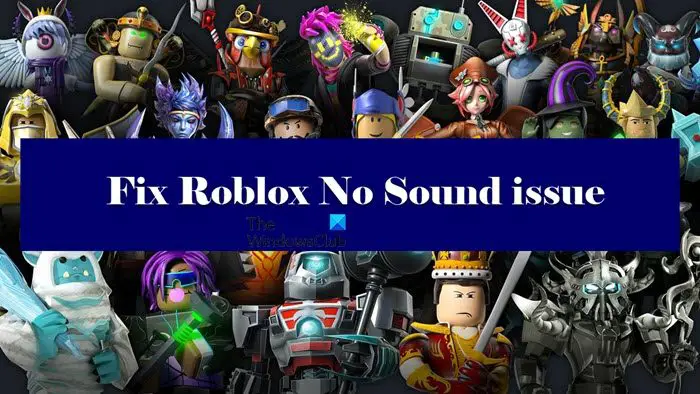 Why is there no sound on Roblox?
More often than not, if you are not able to hear anything in Roblox app then you are not dealing with an issue, it's just that, your sound is turned off. If that's the case, then enabling it can fix the issue. Other than there, any issue in your Network driver can cause this issue. The driver can be outdated, corrupted, or buggy. But luckily there is a solution for everything. The worst-case scenario is your speakers being malfunctioned. If that's the case, then you won't be able to get audio from any and all apps.
Fix Roblox No Sound issue
If you want to fix Roblox No Sound issue, first start by updating your computer. Sometimes, updating the system can bring back some lost drivers and resolve the issue. If after updating, the issue persists, try the solutions mentioned below.
Check Roblox Volume
Increase Volume of Roblox Client app
Run Audio Troubleshooter
Reinstall, Update or Rollback Audio drivers
Reinstall Roblox
Let us talk about them in detail.
1] Check Roblox Volume
A lot of people don't know this, but sometimes, your Roblox volume is turned down. To check that, you need to open the Volume Mixer. So, right-click on the Volume icon from the taskbar, and select Open Volume Mixer.
Now, check if Roblox's Volume is disabled, if it is, then you have to enable it, increase the volume and check if the issue persists.
2] Increase Volume of Roblox Client app
Increasing the volume from the Volume Mixer can sometimes not be enough. You have to see the Roblox Client app and increase its volume. Follow the given steps to do the same.
Launch Roblox and open the game that you are having the issue with.
Now, click on the Roblox icon from the top-right corner of the screen.
Go to Settings and increase the Volume.
Now, check if the issue persists. If it doesn't then move to the next solution.
3] Run Audio Troubleshooter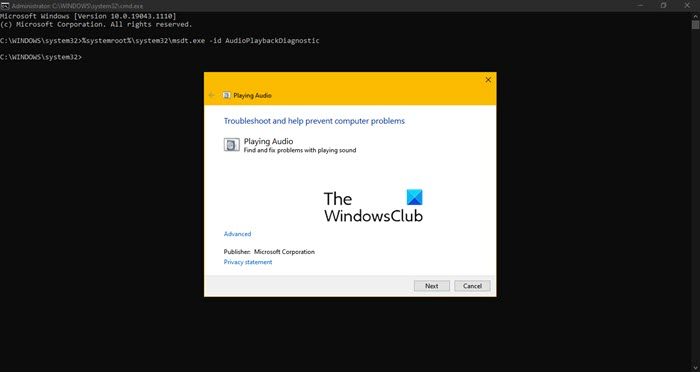 Windows has Audio Troubleshooter that you can run when you are stuck with some audio-related issue. To run the Audio troubleshooter in Windows 11/10, open Command Prompt as an administrator and execute the following command.
%systemroot%\system32\msdt.exe -id AudioPlaybackDiagnostic
Now, Audio Troubleshooter will pop up. Click Next, it will detect the issue that you are facing, select the speaker and then follow the on-screen instructions to troubleshoot the issue.
4] Reinstall, Update, and Rollback Audio drivers
As mentioned earlier, the issue can be because of some glitch in the Audio driver. It can be outdated, corrupted, buggy. Whatever the case is, it can be resolved. You have to Rollback, Update or Reinstall the driver and see if the issue persists. If it does, then move to the next solution.
5] Reinstall Roblox
If nothing works, then your best option to resolve the issue is by reinstalling the Roblox client application. To do that, first, you have to uninstall the app. Then download a fresh copy of the application and install it on your computer.
Hopefully, you are able to resolve the issue with the solutions mentioned in this article.
Related: No sound or audio in Windows PC.
Is Roblox OK for a 5-year-old?
No, Roblox has a rating of E10+, which means, Everyone 10 and up. So if your kid is 5 then you should not get them a Roblox. The fantasy games have violence and other content not meant to be consumed, let alone played, by a 5-year-old. So, you should refrain your child from playing Roblox if they are 5.
Read Next: How to fix Configuring ROBLOX Loop Error