ROBLOX users may find that their screen is stuck on Configuring ROBLOX or that it goes in a loop. If you see this error, then this post will be able to help you fix the problem.
Roblox is a popular platform that lets the users create and play games. It has gained popularity among gamers for this unique reason. They can create the game they want to play and build on their instincts and creativity easily with Roblox. There are some users who are reporting that they are seeing Roblox configuring loop error while trying to configure the app on their PC. A bad internet connection, the over-protective antivirus, geo-blocks, etc might be the cause of this loop error on Roblox. In this guide, we have a few solutions that can help you fix the error.
What does it mean when Roblox is configuring?
During the installation of Roblox on your PC, it shows configuring on screen. Roblox is actually settings itself up to your PC and the configuration for a better experience. It copies the necessary files and components onto your PC for the Roblox to run smoothly.
How to fix Configuring ROBLOX Loop Error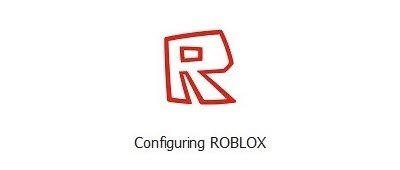 Roblox stuck in Configuring ROBLOX screen can be fixed in the following ways:
Turn off antivirus
Check your internet connection
Use a VPN
Clear the Roblox cache
Reinstall Roblox application
Let's get into the details of each method and fix the loop error on Roblox.
1] Turn off antivirus
Roblox configuring loop error might have been caused by the antivirus you have installed on your PC. It might be acting against Roblox program and blocking its configuration. Turn off antivirus for the time being and try configuring it again.
2] Check your internet connection
A bad internet connection can play its part in creating issues on Roblox. Roblox is a platform that relies on data transfers between your PC and its servers. You need to have a good internet connection with good speeds. Also, check if your internet connection is working fine without any trouble.
3] Use a VPN
Roblox's configuration loop error might have occurred due to geo-blocks that are in-place in your region. Use a VPN and try configuring Roblox. Even if your nearest server is down, using a VPN can help you connect to another server of the location you choose on the VPN.
4] Clear the Roblox cache
To clear the Roblox cache, press Win + R and type %Temp%\Roblox and hit Enter. Now press Ctrl + A and delete everything in the folder.
5] Reinstall Roblox application
Uninstall Roblox application from your PC and clear its cache and data. After that, reinstall Roblox and try configuring Roblox again. Remember, you must clear the cache and data before installing it again on your PC.
This is how you can fix Roblox stuck in configuring (loop error).
How do you fix a stuck Roblox update?
If the Roblox update is stuck, try installing the update by downloading it from the official site, clear app cache, check your internet connection, turn off antivirus until the update is installed completely.
Related Read: How to fix An error occurred while starting Roblox.