Netflix is a go-to platform for streaming movies, documentaries, features, and series. It is one of the most popular streaming online spaces that is available on the web and on the phone app. Users can use browsers like Google Chrome, Microsoft Edge, Mozilla Firefox, etc. However, some users have complained that Netflix videos on Chrome are low quality. In this post, we will at how we can fix Netflix streaming quality bad in Chrome on PC.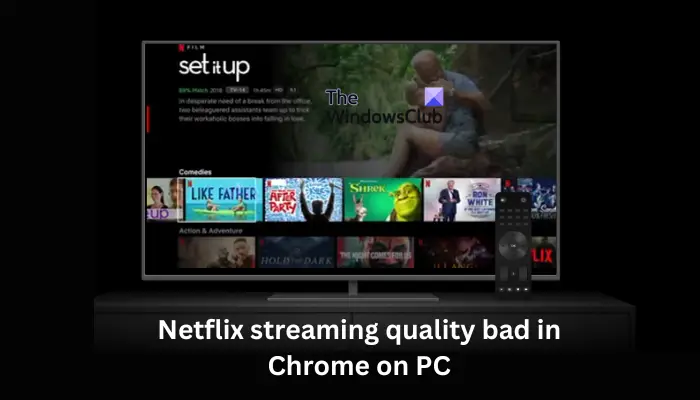 Netflix video standards can go beyond FHD 1080p (Full High Definition), but this depends on the package you are subscribed to, plus many other factors we will cover in this article.
The quality of the video in Chrome can be affected by browser issues or devices. The Netflix algorithms allow high-quality playback of its content on browsers with hardware-level DRM (Download Rights Management). However, it's good to note that the maximum resolution for Netflix videos on Chrome is 720p. This is relatively good quality, and if you are getting blurry or bad Netflix video quality, then you need to fix some issues. No one loves bad video quality especially when streaming their favorite shows, movies, series, etc. So let's see how we can fix this as quickly as possible.
Fix Netflix streaming quality bad in Chrome on PC
The quality of Netflix videos depends on the package you have subscribed to, and considering all other factors remain at their optimum levels. However, if you are getting bad Netflix streaming quality on Chrome, then there is a problem we need to fix. If you are getting bad Netflix streaming quality in Chrome on your PC, do the following;
Check Netflix package quality and settings
Check Chrome browser limit
Update Chrome
Disable Chrome hardware acceleration
Use Chrome extensions to boost quality
Disable Chrome extensions temporarily
Let us cover these solutions one by one in detail.
1] Check Netflix package quality and settings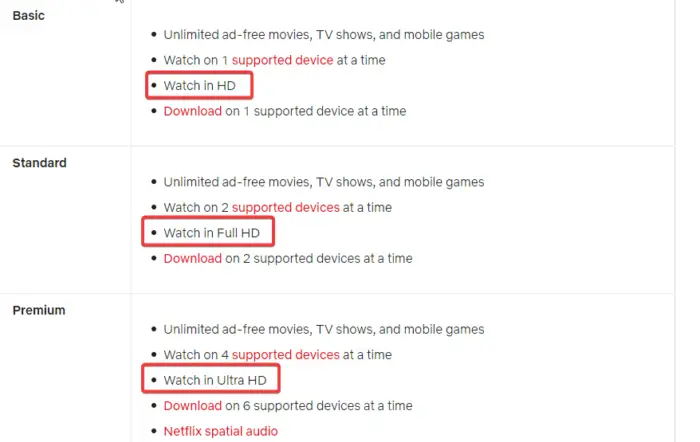 Netflix offers three plans with different video quality. Check the plans that you have and ensure you are getting what you have paid for. The three Netflix plans include a basic plan, a standard plan, and the premium plan. The basic plan offers SD (480p) video, while the standard and premium offer Full HD (1080p) and Ultra HD/HDR (4K) video quality respectively. If you are subscribed to a basic plan, don't expect higher quality video beyond 480p. You can change to a better plan in your Netflix account.
At the same time, you can change the video quality in the Netflix settings. Log into your Netflix using Google Chrome and head to your account at the top-right corner. In the Playback settings, click on the Change button. You will see different options under Data usage per screen; select High if your device can support high video resolution.
2] Check Chrome browser limit
Browsers have their video quality cap, which determines the maximum resolutions you will experience on Netflix. For instance, Chrome can only play Netflix video quality of up to 720p. So, if 720p is a bad quality to you, then there is nothing you can do. There is no fix to this unless you third-party extensions to force Chrome to offer better quality. You may also use another browser like Microsoft Edge which supports up to 4K video quality.
3] Update Chrome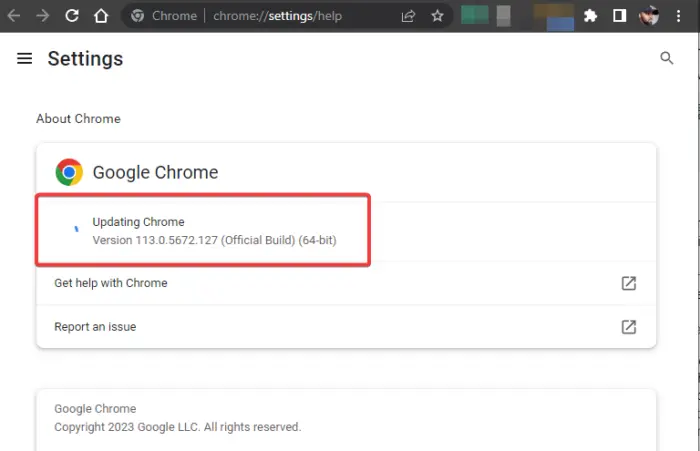 An outdated Chrome can have several issues including streaming bad Netflix video quality. If you have disabled the automatic updates, you can manually check for updates and install them to enjoy the optimum operations of Chrome. To check for Google Chrome updates, select the three vertical dots on the top-right corner next to your profile picture. Then, go to Help > About Chrome. Here, check if the browser is up-to-date. Usually, Chrome indicates at the top-right corner if there are any available updates for you to install. Once updated, check if you can play better Netflix video quality.
4] Disable Chrome hardware acceleration

Chrome hardware acceleration feature gives permission to the browser to utilize the user's device graphic hardware to enhance better and faster processes. However, the feature can lead to bad visual elements which will consequently affect Netflix video quality on Chrome. To disable hardware acceleration in Chrome, use the steps below:
Access the Chrome settings by clicking the three vertical dots at the top-right corner of the browser on your Windows PC.
Under the Settings window, click on System.
Toggle off the button next to Use hardware acceleration when available to disable the Chrome hardware acceleration feature.
5] Use Chrome extensions to boost quality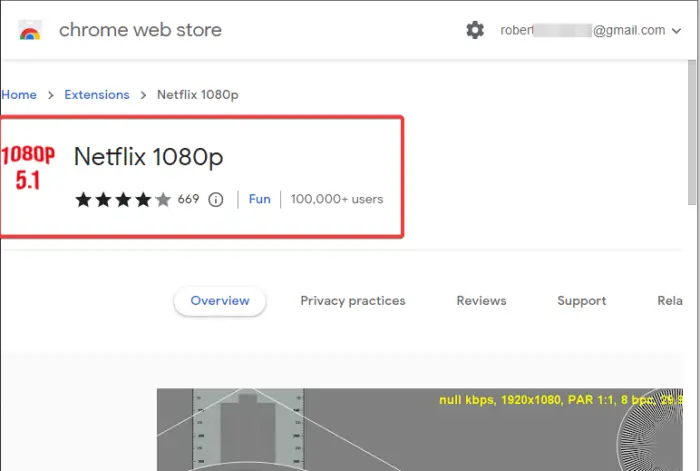 There are several Netflix extensions and add-ons that you can install in Chrome to force Netflix to stream high-quality videos. These are third-party extensions and may not work as expected. This should be the last-resort solution if all others have failed including using another browser like Edge or Safari.
Check for the extension review before installing them. Some of these extensions may include Netflix 1080p, Super Netflix, etc. Ensure that your PC supports the quality of video resolution you seek.
You can use these extensions to watch Netflix at 1080 resolution on Chrome.
6] Disable Chrome extensions temporarily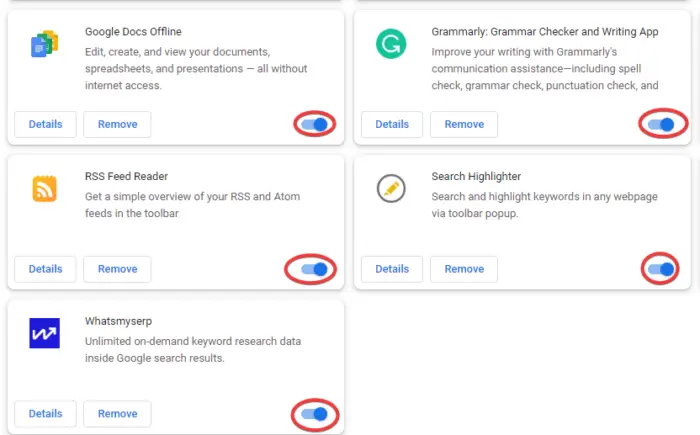 Some Chrome extensions may interfere with how the browser functions and the quality of video that streams in it like Netflix. The best solution is to disable them and see if you can get clear and better video resolutions.
To disable Chrome extensions click the three dots at the top-right corner of the browser and go to More tools. Select Extensions and toggle off the button next to each. Restart your PC and see if you can better Netflix streaming.
TIP: If you have internet issues or are traveling, you can download Netflix TV Shows and Movies to a Windows computer and watch them later at your convenience.
We hope something here works for you.
Next: Improve & enhance Netflix experience using free tools
Why is Netflix on the browser so low quality?
There are several reasons why Netflix is so low quality on your browser. This can be caused by your internet connection; if your Wi-Fi is slow or unstable you will get blurry or low Netflix video quality. Other reasons could be Netflix account settings, browser settings, add-ons or extensions, device issues, etc. You need to narrow down to the main cause to resolve the issue or apply solutions in this post to enjoy seamless Netflix streaming.
Read: How to turn off Netflix subtitles
Does Chrome limit Netflix quality?
Netflix allows Google Chrome users to enjoy streaming to a maximum of 720p resolution. However, it allows Edge and Safari users to enjoy maximum video quality on their PCs. The reason behind this is because of the hardware-level DRM (Download Rights Management) that Netflix uses to provide better quality without users risking screen recording. Netflix cannot use DRM on Chrome and Firefox but can use it on Edge and Safari.