If after you update or upgrade Windows 11/10 to a newer build or version, you notice that Miracast is no longer working, as in you're unable to cast to devices, then you can try the solutions presented in this post to resolve the issue.
Miracast not working after Update
If you're faced with this issue, you can try our recommended solutions below and see if that helps to resolve the issue.
Run Network Adapter Troubleshooter
Update device drivers
Ensure essential Services are running
Enable Network Discovery
Turn on Media Streaming
Let's take a look at the description of the process involved concerning each of the listed solutions.
1] Run Network Adapter Troubleshooter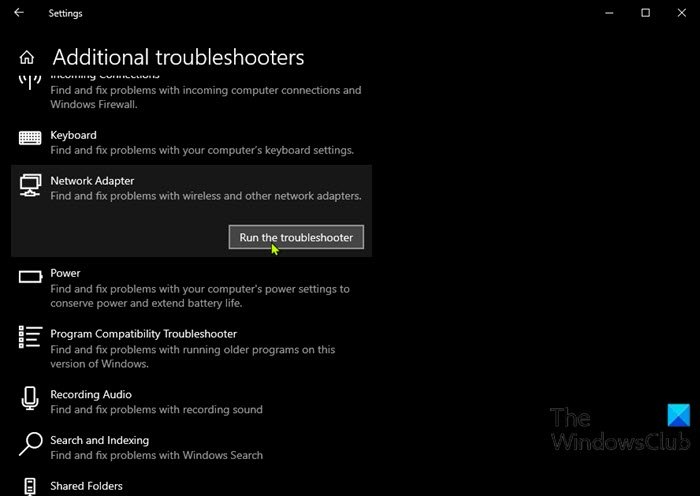 This solution requires you to run the Network Adapter Troubleshooter and see if the issue will be resolved. If not, try the next solution.
2] Update device drivers
This problem could be also due to an old network card driver. In this case, you can either update your drivers manually via the Device Manager, or you can get the driver updates on the Optional Updates section under Windows Update.
You can also download the latest version of the driver from the Network adapter manufacturer's website.
3] Ensure that the essential Services are running
Press Windows key + R to invoke the Run dialog.
In the Run dialog box, type services.msc and hit Enter to open Services.
In the Services window, scroll and locate the services below.

DNS Client
Function Discovery Resource Publication
SSDP Discovery
UPnP Device Host

If any of these services are not running, double-click on them one by one and click on the Start button under the Service status section.
Exit Services console.
Check if you can now cast to devices – if the issue persists, try the next solution.
4] Enable Network Discovery
To be able to cast to device, the network sharing feature has to be enabled on your Windows 10 computer. You can check if Network Discovery is enabled on your computer. Also enable File and printer sharing.
5] Turn on Media Streaming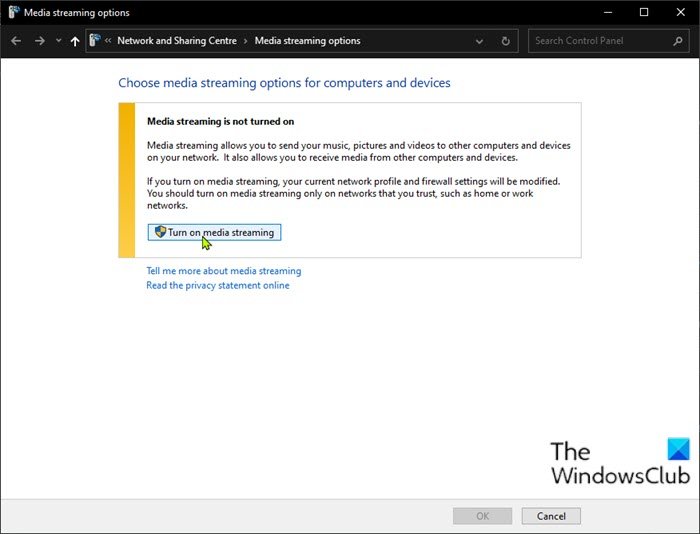 To turn on media streaming on your Windows 10 device, do the following:
Press Windows key on your keyboard.
Type Media Streaming Options in the search bar.
Select it from the result.
In the window that opens, click on Turn on media streaming.
Click OK.
Now, you should be able to cast to devices again.
Hope this helps!
Related post: Your PC doesn't support Miracast – Windows error