Occasionally, when you try to download some app from the Windows Store and click on the 'Get' button, nothing happens. The 'Get; button just flashes and then reverts back to 'Get' again. While there appears no known reason why the problem occurs, you can try a few methods if the Get button not working in Microsoft Store,
Microsoft Store Get button not working
If all the updates are installed and you have tried wsreset, switching to a local account or running PowerShell commands to reinstall the Store and still nothing works, do the following:
Run Windows Store Troubleshooter
Sign out and Sign-in your Microsoft Account
Bypass Get option via 'Add to cart' method
Read on to learn the details.
1] Run Windows Store Apps troubleshooter
Windows 11
Open Windows 11 Settings > System > Troubleshoot > Other Troubleshooters. Run the Windows Store Apps Troubleshooter that you see there.
Windows 10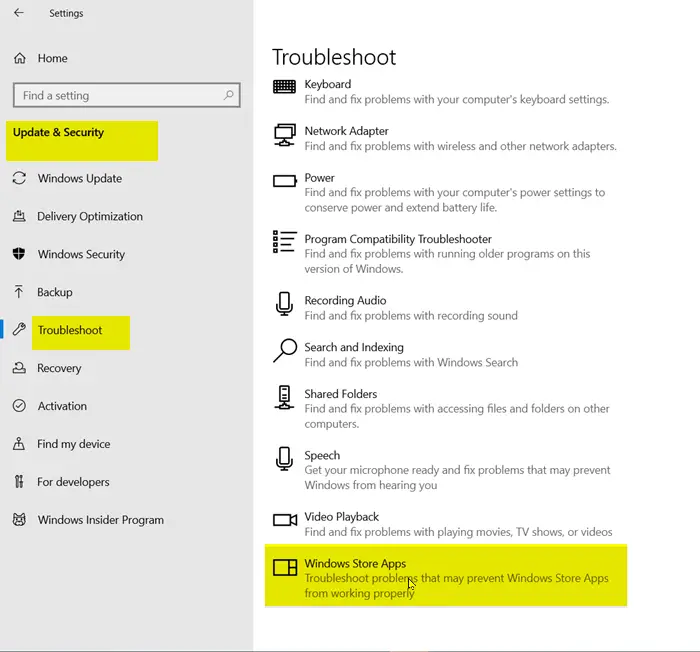 Press the Windows 10 Start button, choose 'Settings'. In the Windows Settings window that opens, select 'Update & security'
Under 'Update & Security' section, choose 'Troubleshoot'.
In the right-pane scroll down to the bottom and click 'Windows Store Apps'.
Hit 'Run the Troubleshooter' button and restart your PC once thr execution is over.
2] Sign out and Sign-in your Microsoft Account
Open the Microsoft Apps Store. Click on your profile picture, visible in the upper-right corner of your computer screen.
Choose 'My Microsoft' account and click on the 'Sign-out' link.
Once done, wait for a few seconds and sign-in back again.
Check if the problem persists.
3] Bypass Get option via 'Add to cart' method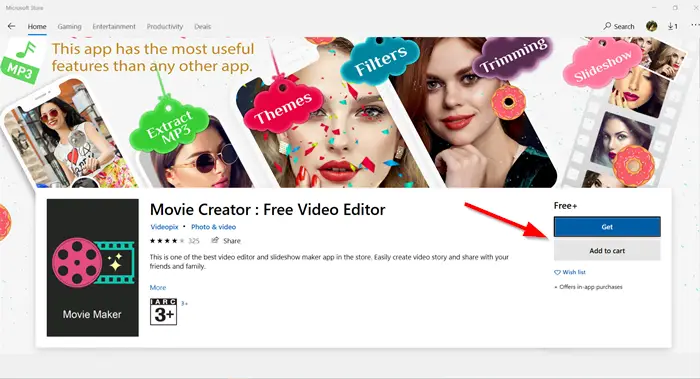 Launch the Microsoft Store app and go to the app you would like to install. Here' if you find the 'Get' button is not working, switch to 'Add to cart' option.

The app you are trying to install will be added to the cart. Now, proceed further and press 'Continue shopping' or choose 'View Cart' option.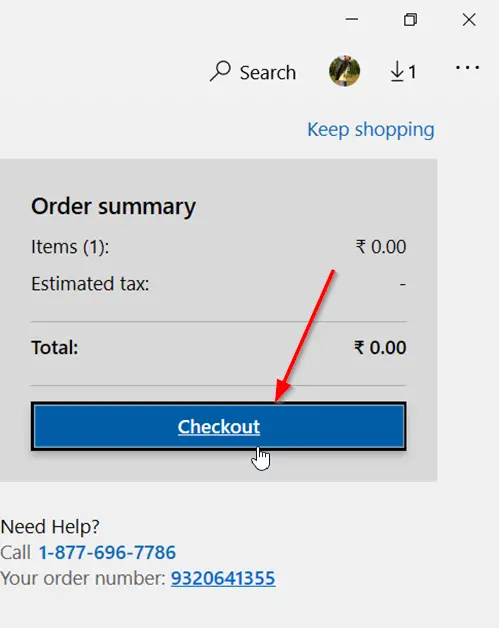 When inside the Cart window, hit 'Checkout' button under 'Order Summary'.
You should now be directed to 'Review and place order' page. Proceed to 'Place order'.
Confirm the order then, close and Exit the Microsoft Store app.
Relaunch Microsoft Store app and try looking for the app, you purchased recently.
When you go to the app page, you'll see 'You own this app' tag. Rather than seeing 'Get' button, you will an 'Install' option, bypassing the 'Get' option completely.
Hit the 'Install' button to begin downloading the app followed by its installation.
Let us know if this helped you.