Some users have reported that they are unable to install Microsoft Office Professional Plus and they get the following error – Microsoft Office 2021/2019/2016 encountered an error during setup. If you have received this error message, then this post will be able to help you fix the problem.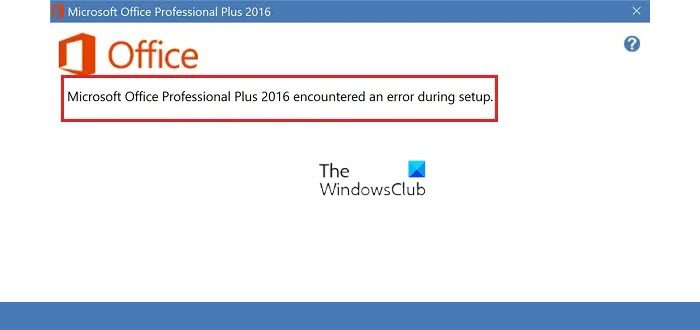 Interestingly, users usually get this error when the long setup process nears completion, which is very annoying. The exact cause cannot be commented upon, but most users report the issue while reinstalling Microsoft Office. An assumption is that the setup gets stuck because of issues with the Task Scheduler.
Microsoft Office Professional Plus encountered an error during setup
You could try fixing the issue by following these troubleshooting suggestions in a sequential manner:
1] Uninstall Microsoft Office program and remove traces in Task Scheduler
Since the issue is probably with leftover traces of the previous Microsoft program installed, it is advisable to uninstall the existing Office installation, if any. To completely uninstall Office installation, you can download the Fix It and run it to uninstall Office, or you can also use this new Troubleshooter from Microsoft that lets you completely uninstall the latest Office version from Windows 10/8/7.
Next, type Task Scheduler in the Windows search bar and hit Enter to open the Windows Task Scheduler.
Navigate to Task Scheduler Library > Microsoft > Office.
Select the Office folder in the left-pane and click on Delete Folder in the right-pane.
Reboot the machine.
Now try installing Microsoft Office. It should work this time.
2] Rename Microsoft Help folder
If the above suggestion didn't work, you could try renaming the Microsoft Help folder.
Press Win+R to open the Run window and type the command %programdata%.
In the folder that opens, right-click and rename the Microsoft Help folder to Microsoft Help.old.
Reboot the system.
Now try!
3] Remove traces from the Windows Registry
While the above solutions should work, at times they don't. In such a situation, we could try the registry method to delete the leftover traces of the previous version of MS Office on the system. Please backup your data before attempting any registry level fix.
1] Press Win+R to open the Run window and type the command regedit. Press Enter, and it will open the Registry Editor.
2] Navigate to the following registry key:
HKEY_LOCAL_MACHINE\SOFTWARE\Microsoft\WindowsNT\CurrentVersion\Schedule\TaskCache\Tree\Microsoft\Office
3] Right-click on the Office registry key and click on Delete. It should almost certainly delete the leftover traces of Microsoft Office on the system.
4] It will prompt for confirmation to delete the entity. Please click on Yes.
Having done this, see if you can install Microsoft Office now. You may also install Microsoft Office, in Clean Boot State. This has been known to help.

Related read: Microsoft Setup Bootstrapper has stopped working while installing Office.