Microsoft Defender is an in-built antivirus software of the Microsoft Windows operating system. This antivirus software scans the Internet browser and removes viruses, spyware, and malware from our computers. Some Windows users say when they want to open the Edge browser, Windows Defender firewall blocks Microsoft Edge. This is ironic as both these software are developed by Microsoft and are built into Windows Operating System.
Windows Defender Firewall has blocked some features of this app
Fix Windows Defender firewall blocks Microsoft Edge
Microsoft's own defender app protects your device from malware and viruses, however, sometimes it blocks some apps such as Microsoft Edge, hence causing the issue. There are various reasons such as the firewall deeming some aspects of the app as a threat and blocking it. However, more often than not, the primary reason for this error is outdated Edge or Windows or both. Because of incompatibility or lack of security patches, Defender is misidentifying your browser as malicious. So, if Windows Defender firewall blocks Microsoft Edge, follow the prescribed solutions.
Update Microsoft Edge
Update Windows OS
Restore Firewall to Default
Allow Edge through Windows Defender Firewall.
Let's try to resolve this issue using these methods.
1] Update Microsoft Edge
Updating Microsoft Edge adds advanced security patches that can scan, detect and remove viruses from your computer. New features are added and you will get better performance once updated. Microsoft Edge updates itself but If your Edge browser is not updated then this can be the reason behind the said issue. To update your browser follow the prescribed steps.
Click on the Start button
Type Microsoft Edge and press enter
Click on three-dotted lines upper right of the screen
Scroll down the screen and select the settings option.
On the left side of the screen, select About Microsoft Edge.
Under Microsoft Edge, Download and install the update.
Now you should restart the Browser and hopefully, your issue will be resolved
2] Update Windows OS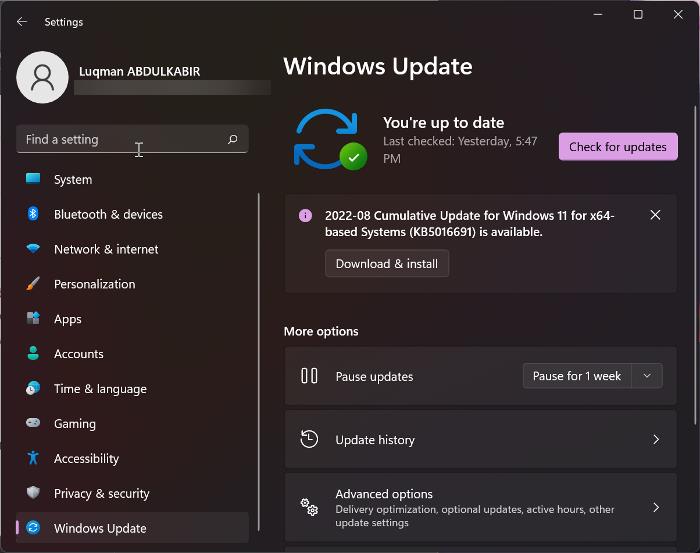 Running an outdated version of the OS can be one of the reasons that are causing the issue. In such scenarios, you can resolve the issue by simply updating Windows, doing so will not only resolve the issue but also boost your overall PC performance. To update your Windows Operating System follow the prescribed steps.
Click on the Start button
Then click on the Settings option.
On the right side of the screen, click on Windows Update or Update & Security.
Under Windows Update and click on Check for updates.
It will check for new updates, and then prompt you to download and install them.
Once your system and browsers are updated, check if the issue is resolved.
3] Restore Firewall to Default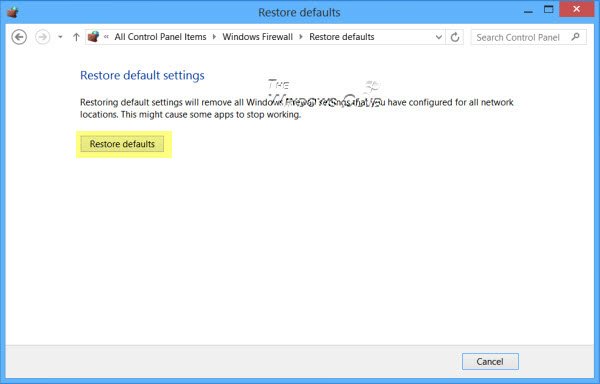 Restoring the firewall to the default state means that if you have made any changes in Windows Firewall settings earlier to connect to the Internet will be eradicated and the app will be restored to its default settings and resolve the issue in question. To do the same, follow the prescribed steps.
Click on the Start button.
Type Windows Security and launch the app.
Now click on Firewall & network protection.
Scroll down the screen and click on Restore firewalls to default.
Click on the Restore defaults button when prompted.
 Click on Yes to finish this process.
Now restart your computer and check your issue is resolved.
3] Allow Edge through Windows Defender Firewall.
Microsoft Defender Firewall is used to manage which apps and features are allowed to communicate with the network but sometimes Microsoft Defender blocks necessary apps. In this situation, you may need to allow the required app manually. Since Microsoft Edge is being blocked by the Firewall, we need to add it to the exception list. Do remember that, this is a workaround and not a solution, in order to resolve the issue completely, you have to wait for an update.
Follow the prescribed solution to allow Edge through Defender.
Click on the Start button.
Search for Windows Security and open the app.
Go to Virus & network protection.
Select Allow an app or feature through Firewall.
Click on the Change Setting button.
Look for Microsoft Edge and allow it through both Public and Private networks. In case, you can't find Edge, click on Allow another app option, enter the path for the app (mostly it is present in- C:\Program Files (x86)\Microsoft\Edge\Application, but if you are unable to find it there, you may have to do a little research), and add the exe file.
Check both the Private and Public options and click OK to finish this process.
Hopefully, allowing the app through the firewall will resolve your issue.