Although new mobiles and MP3 players support almost all standard audio formats, old devices may not be able to play AAC or M4A formats. Moreover, at times, we get files from different voice recorders which do not play on our Windows computer as well as our mobile phones. To solve this problem, a freeware called MediaHuman Audio Converter can help you, as it can convert multiple audios in bulk without losing quality. It also supports iTunes if you have it installed on your computer to access Apple devices.
MediaHuman Audio Converter for Windows PC
MediaHuman Audio Converter is a very simple audio converter. The strength of this free tool is that it can batch convert multiple files to a particular format at once. That means, if you have forty files to convert, you can convert them at once.
Here are some of its features in a nutshell:
Converts files in bulk
It does support iTunes on Windows
It can extract audio from a video and then convert it to any selected format
Available formats are MP3, ACC, FLAC, AIFF, WAV, OGG, WMA, etc.
You can select audio frequency. Either preloaded or custom
It loses the quality, but that is negligible
You can keep the folder structure. This is helpful when you have to convert tons of files based on album/artist/genre etc.
Search for cover art on Discogs, Last.fm and Google Images
Batch convert multiple audio files
To get started with this free audio converter for Windows, at download and install it on your machine. After opening it, you will see the following window: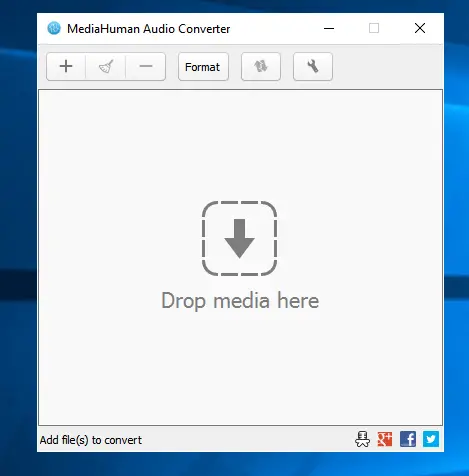 Now, select the audio files and drop them into the audio converter window. To choose the output format, open Settings, go to Output and select the Output format. It is also possible to select the audio frequency. There is a one-click solution as well that appears after clicking the Format button.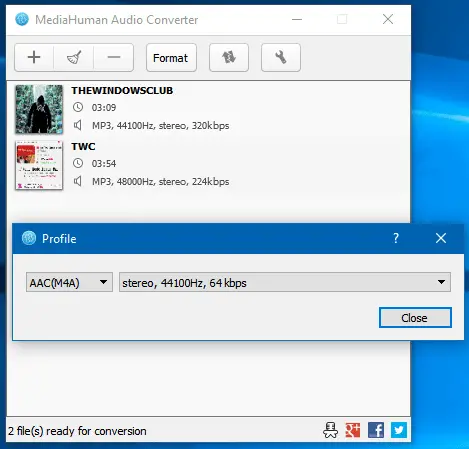 Having done that, come back to the main screen and click on the Convert icon which is visible just before the Settings button.
By default, the tool saves all the converted files in the following location:
C:\Users\<username>\Music\Converted by MediaHuman
If you want to keep the native folder structure of your source files, go to Settings > Output and select the Keep folder structure checkbox.
While converting files using MediaHuman Audio Converter, you should know that you can select as many files as you want but it converts only four files at a time. Queued files will be processed automatically.
It also has some options in the Settings pane, some of which are mentioned below:
Choose action after successful conversion: You can choose the action that will be executed after converting files successfully. For example, you can exit the program automatically if all the files get converted correctly.
Split by CUE: You can split audio files by CUE data in automation. For this, you need to enable it from Settings > General > Check Split by CUE automatically.
Remove source file: If you do not want to keep the source file after converting, you can remove it automatically. To do so, check the Remove source file option in Settings > General.
Considering all the features of MediaHuman Audio Converter, it seems to be a quite useful app for Windows. If you like, you can download it from here.
How do I convert multiple songs to MP3?
You can convert multiple songs to MP3 and other formats with the help of the aforementioned application. You can use the MediaHuman Audio Converter, which is compatible with Windows 11 and Windows 10. It is possible to work with AAC, MP3, FLAC, AIFF, WAV, etc.
Which is the best audio converter?
There are countless audio converter apps available for Windows PC. For example, you can download MediaHuman Audio Converter, VSDC Free Audio Converter, AIMP Audio Player, etc. It is recommended to use more than one converter to check which one suits you the most.
VSDC Free Audio Converter, TAudioConverter, AIMP Audio Player, Any Video Converter, Oxelon Media Converter, Freemake Video Audio Converter, Vixy Freecorder are some of the other free Media Converters available for Windows.