I have come around many users who have lost administrator rights on their Windows 11/10/8/7 PCs, and thus they were not able to manipulate their system or make changes to it. One common thing I found regarding the issue is that the users who have lost their administrator rights have only a single account on their system, which was, of course, the administrator account. As a result of losing the admin rights, you may have issues in using Windows Apps, making new or modifying Windows configuration settings in Control Panel, using Snap-ins, and several other problems on your system.
It thus becomes imperative for us to get the administrator privileges back anyhow if we want to run the system without road-blocks. But how do you get back these privileges since for every operation you have to carry out, requires the administrative rights itself, which we have lost, unfortunately? While performing a Refresh or Reset will fix the problem, you may want to try out our suggestion first and see if it helps you.
Lost Administrator Rights in Windows 11/10
1. Press WinKey + Q, type user accounts, and click on the result.
Then select your User Account > Click Manage another account.
In the following window, click Add a user account option.
2.  Now we have to create a local account user. So after clicking Add an account, click Sign in without a Microsoft account (Not recommended), then click Local account. Fill the details on the screen for adding a local account.
Click Finish when done.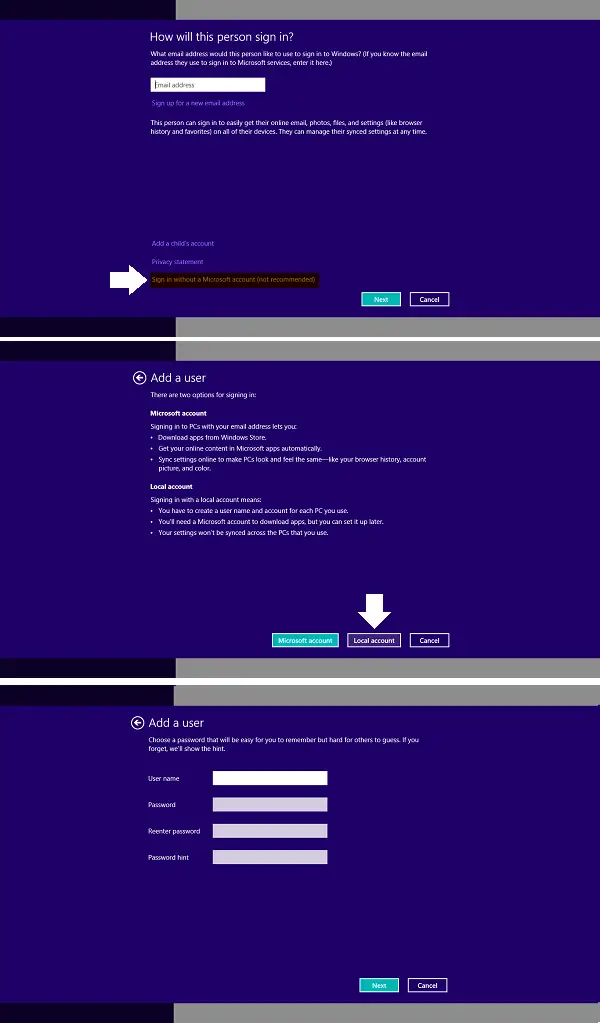 3. Press Windows Key + Q and type cmd, for the search results, click Command Prompt. Type the following the command and hit Enter key:
shutdown /r /o

4. The previous step will result in your system booting into Safe Mode.
After getting into Safe Mode, press Windows Key + Q, type user accounts, and pick the same from results so appear. You would have now two accounts on your system; first your issued admin account and second the local account which you've created in step 2. Select the local account.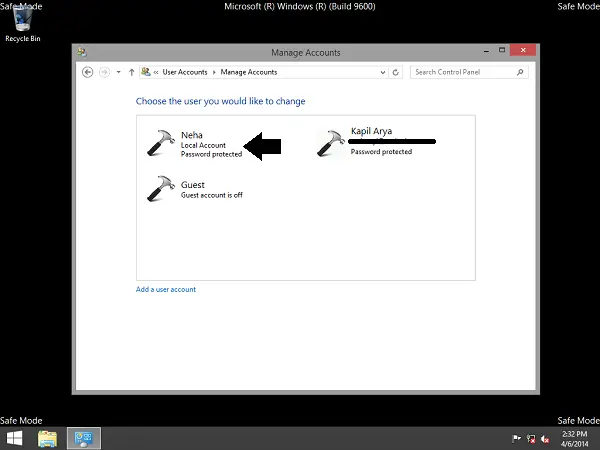 Now click Change the account type link in the following window: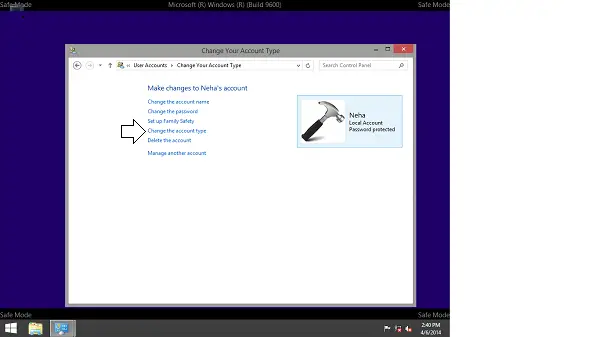 Moving on, change the account status from Standard to Administrator. Click Change Account Type.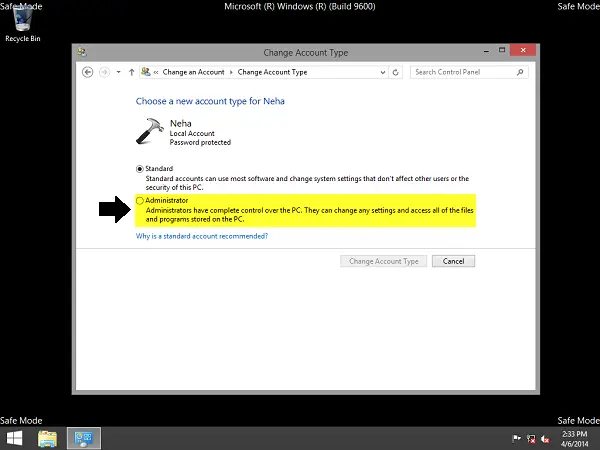 In this way, the new local account we've created has been changed to Administrator. Now you can restart your machine and log in to this account with administrator rights. Since you have administrative privileges now; so you can backup your documents from the old administrator account.
Finally, delete the old admin account and switch to Microsoft account to synchronize your settings with a new administrative account. Your system will now act normally with full admin rights in your hand. 
Additional thoughts by Anand Khanse, Admin:
In an elevated CMD execute this command and see – net localgroup administrators <username> /add
See if you are able to activate the hidden super administrator account. Just in case you are able to, great – it will help you move forward. This is pretty useful if you find that you have locked yourself out of your main account by accident and you want a back door entry.
Run your antivirus software first. Malware is known to sometimes block admin privileges.
Try using Clean Boot. If this makes the problem go away, see if you can identify the culprit.
If it does not help, you could boot into Recovery using Windows DVD or the Recovery partition and run System Restore to restore your computer to a prior point.
In the case of domain computers, check with your system administrator, if it has applied any new restrictions.
This policy setting can be used by Domain Administrators to ensure that only select authorized users are allowed to become members of groups like, say, the Administrators group: Computer Configuration > Windows Settings > Security Settings > Restricted Groups.
Vasudev G, adds:
You can also try to use the iCacls command and see if it helps. This command-line utility can be used to modify security descriptors and NTFS file system permissions.
Press the Shift key and the Power button to restart your Windows PC. You will boot Advanced Menu options. Here click > Troubleshooting > Command prompt. In the CMD window which opens, type the following command to reset permissions.
cd /d c:\ 

icacls

 * /T /Q /C /RESET
If nothing helps, then you may want to consider a System Restore or Refresh or Reset option.
Hope something helps you.