If you have uploaded a file on OneDrive, but it displays an error message saying Hmm… looks like this file doesn't have a preview we can show you, here is how you can fix it. This article elaborates on why this issue occurs and what are the possible ways to solve it. Although there is a 50-50 chance of getting back the preview, you should try out these solutions before deciding on your next step.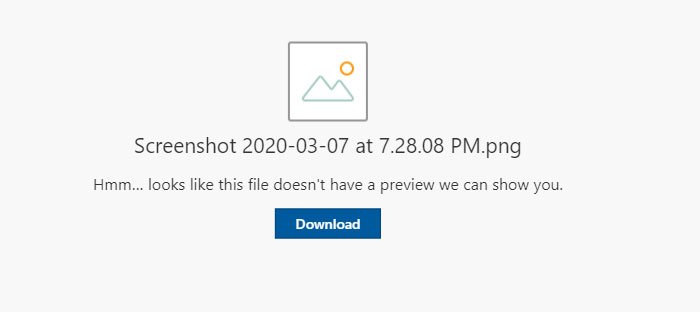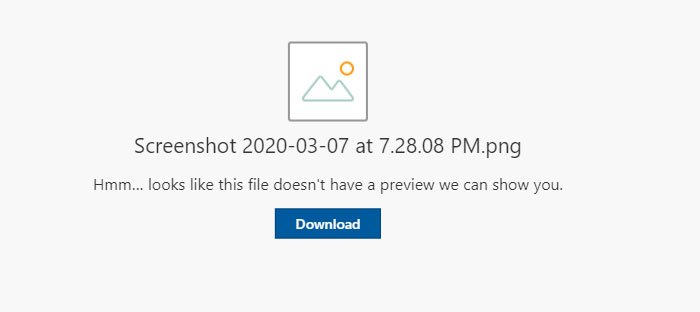 This specific error message can appear for any kind of file, including image, video, document, etc. OneDrive displays this message when users click on the file to check a preview.
Hmm… looks like this file doesn't have a preview we can show you
To fix Hmm… looks like this file doesn't have a preview we can show you error, follow these steps-
Wait for some time and reload the page
Fix the corrupted file
The file is deleted before finishing upload
Clear browser cache.
To know the steps in detail, read on.
1] Wait for some time and reload the page
It sounds silly, but it works. When you upload a file, irrespective of the type or format, some background processes run to render your file before it appears on the screen. If you interrupt the screen by doing something else, you might get the problem. OneDrive requires a minute or two before showing a preview of the file, and the time depends on your file size.
2] Fix the corrupted file
When a file is damaged, you cannot expect OneDrive to show the preview. It is a common problem among Windows users, who use the OneDrive desktop app and have malware in their PC. If malware or adware has corrupted the file on your computer, OneDrive cannot show the preview as it should do. You could use some tools and techniques to get back malware-corrupted files. Before that, you should run an anti-malware scan to disinfect your computer.
3] File is deleted before finishing upload
If you mistakenly deleted the file from the source that you were uploading on OneDrive, you won't find any preview on the OneDrive website. In other words, it is a corrupted incomplete file that you uploaded on OneDrive. You should not delete the file before OneDrive finishes the upload process and shows a preview.
4] Clear the browser cache
Fir tey using a different browser and see. Else, you need to clear the browser cache and disable all the add-ons or extensions. Sometimes, an internal conflict between extensions can cause this issue, and it can be solved by identifying the culprit.
That's it!