Usually, there are dedicated applications to view different types of files. However, if you are looking for a viewer that lets you view files of multiple types, you have landed on the correct article. Here I am going to be mentioning some good free software that act as a universal file viewer for Windows 11/10. These programs let you view over 100 different file formats. You can view various document files, presentations, common images, camera raw images, videos, webpages, subtitle files, and many more.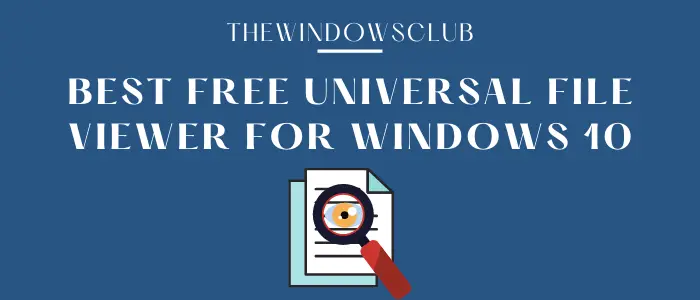 Free Universal File Viewer software for Windows 11/10
Here are the free software that let you view more than 100 file formats:
Universal Viewer
File Viewer Lite
FreeFileViewer
File Viewer Plus
Free Opener.
Let's talk about these universal file viewers in detail.
1] Universal Viewer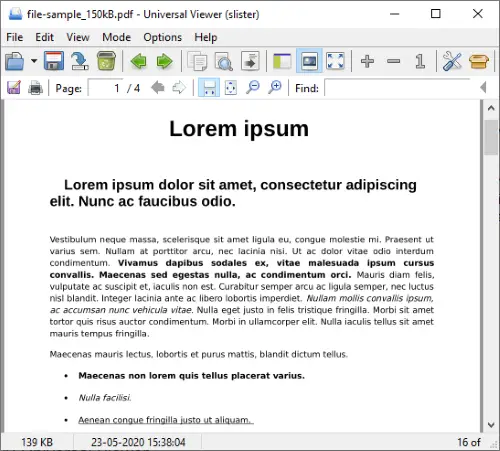 Universal Viewer is a dedicated free universal file viewer that allows you to view several types of files. In this software, you can open and view graphics files, camera raw images, multimedia files (audio/video), MS Office Word and MS Office Excel files, PDF documents, and Internet files. If some format is unknown to it, it shows a text view. In case you want to view even more types of files in this software, you can use respective plugins from uvviewsoft.com. Download the required plugin and configure it by going to the Options menu.
Some of the file formats that you can view in this universal file viewer are DOC, DOCX, XLS, XLSX, PNG, JPG, BMP, PSD, WMF, TIFF, XPS, PDF, DJVU, CBR, CBZ, HTML, MHT, XML, AVI, MP4, MP3, MKV, etc. It even supports files of size as large as 4GB. You can find different view modes to toggle between, like Text, Hex, Binary, Internet, etc.
Different view options are provided for distinct file types. For example, if you want to view an image file, you can use options like Show Exif, Show Info Label, Rotate, Flip, Negative, and Grayscale. It also provides a Save As function which allows you to export a file from one supported format to another, e.g., save PNG in JPG format.
This software comes in a portable package. So, download it, extract the ZIP folder, run its application file, and start viewing a variety of file formats in it.
2] File Viewer Lite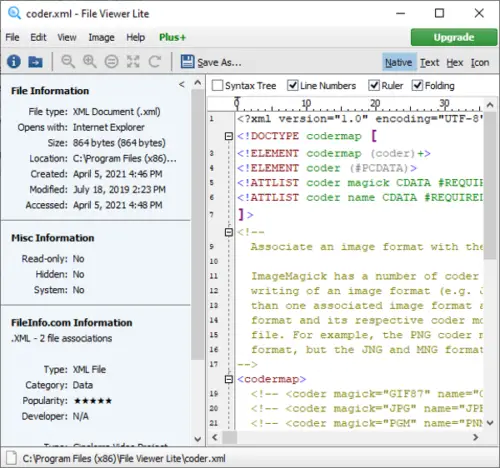 File Viewer Lite is a free universal file viewer software that enables you to view over 150 file formats in one application. It supports text documents (DOC, DOCX, RTF, TXT, etc.), PDFs, spreadsheets (XLS, XLSX, CSV), camera images (RAW, ARW, DNG, etc.), audio (MP3, FLAC, WAV, OGG, etc.), video (MP4, AVI, FLV, etc.), graphic images (PNG, JPG, PSD, SVG, etc.), font files (TTF, DFONT), and web files (CSS, HTML, XHTML).
This software also provides you the flexibility to view a file in its native or any other mode from text, hex, and icon. Along with the actual content of the file, it also displays file metadata information in a side panel. A nice handy feature called Export File Info is also provided to save file metadata in a text file.
To view images, some extra features are available in it, such as brightness/ contrast adjustment, sharpen, remove red eye, rotate image, crop image, adjust image size, etc.
It is a good software to view a wide number of file formats. Plus, it integrates itself with Windows File Explorer so that you can access it easily and quickly. Get it here.
3] FreeFileViewer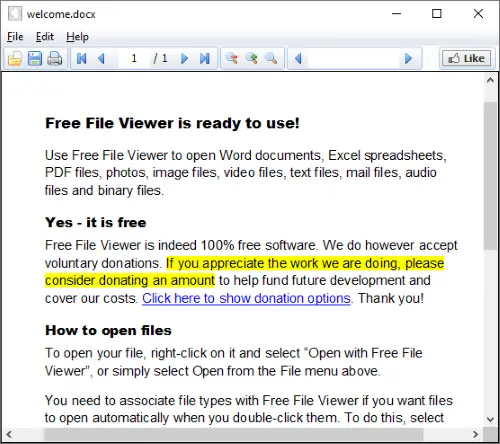 FreeFileViewer is another free universal file viewer software for Windows 10. You can view DOC, DOCX, PDF, TXT, XLS, XLSX, JPG, PNG, GIF, PSD, FLV, MP4, MOV, MPG, FLAC, MP3, OGG, WMA, BIN, CFG, and many more file formats. As per its claims, it supports over 200 file formats. You can also customize file association as per your requirement. For that, go to the Edit menu and use the Preferences option.
To enhance your file viewing experience, some nice options are provided in it, including page navigation, zoom-in, zoom-out, and search text. It also contains a Print function to take a printout of the current file. Get it here.
4] File Viewer Plus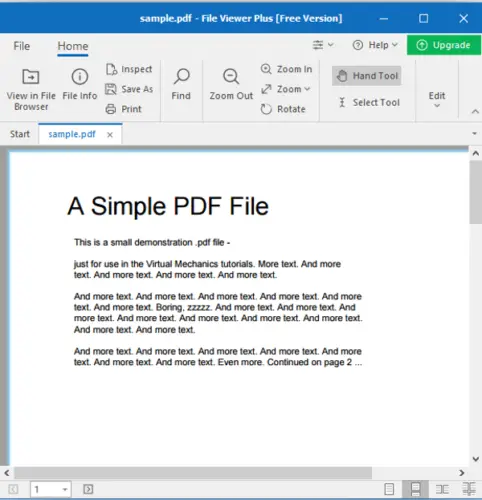 File Viewer Plus is a universal file viewer app for Windows 10. It supports more than 200 file formats that you can import and view in it. You can view images, multimedia files, documents, spreadsheets, presentations, archives, and many more types of files. It comes with its own file explorer using which you can browse and open your files.
It has a multi-tab interface that allows you to open multiple files in different tabs. Zoom-in, zoom-out, rotate, find, select tool, and hand tool are the viewing features that you get in this app. There are also features to view and export file information, inspect a file in text/ hex/ icon view, and print a file.
Related: How to open a file with no extension.
5] Free Opener
Free Opener is a portable freeware tool that opens over 75 file types on Windows operating system. This tool will especially find use on those computers which do not have Microsoft Office installed. You will now be able to easily view Office doc, Excel, and other files.
You can use any of these and view files in more than 100 formats.