Suppose you're having issues or receiving error messages, or the Kaspersky VPN Secure Connection is not working on your Windows 11 or Windows 10 PC. In that case, this post is intended to help you with the most suitable solutions to these problems.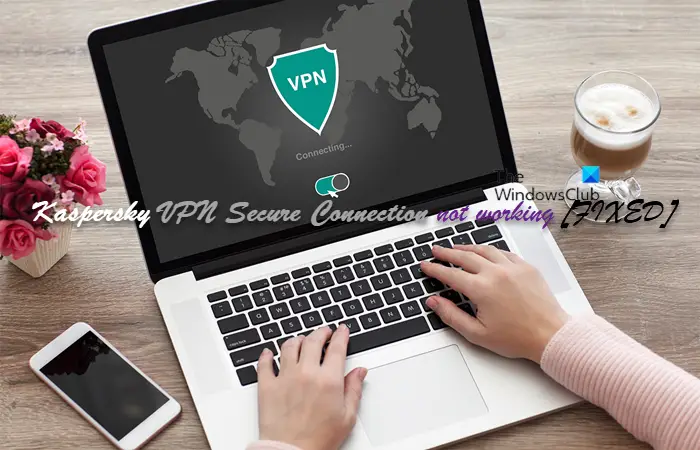 The free version of Secure Connection is available in both the Kaspersky Internet Security entry-level suite and the Kaspersky Total Security mega-suite. For some affected PC users, you may get the following error message when establishing a secure connection.
Cannot connect to the VPN provider. Please try again later.
Read: Fix VPN Connection, Can't connect to VPN connection error
Fix Kaspersky VPN Secure Connection not working or errors
There could be several reasons why your VPN is not working. So, if Kaspersky VPN Secure Connection is not working on your Windows 11/10 device which could be due to any of the following reasons:
Outdated Kaspersky VPN Secure Connection app.
Copyright laws by platforms that offer licensed content block access from any location outside the regions they have broadcasting rights for.
It is a conflicting Internet configuration that doesn't support VPN or some aspects of the Kaspersky VPN service.
The Kaspersky VPN connection is temporarily unavailable as it's likely undergoing maintenance.
Geo-blocks when browsing on a local website if on an international server.
Browser data problems as most websites store information about you based on your IP address, user access may be blocked for security reasons if you suddenly connect from a VPN and appear to browse from an entirely different location.
Read: VPN not changing or hiding Location
The general/specific suggestions provided below should help you resolve these issues on your system so that if you prefer, you can continue to use VPN service or software for your security and privacy. Most reported cases were by Windows 11 users who either upgraded from Windows 10 or cleanly installed Windows 11 on their devices.
Update Windows and Kaspersky VPN
Flush the DNS cache
Switch to the beta build
Additional Troubleshooting
Let's see how these suggestions can be applied! Before we get right to it, it's imperative to point out that the service is not available in the following countries: Belarus, Oman, Pakistan, Qatar, Iran, Saudi Arabia, and China because they impose legal limitations on the use of VPNs.
1] Update Windows and Kaspersky VPN
The Kaspersky VPN is compatible with Windows 11, but make sure that you have the latest version of the app installed and running on your PC. As per system architecture compatibility, only 64-bit versions of Windows 11 work with Kaspersky VPN. Also, Windows 11 Subsystem for Linux is not compatible with Kaspersky VPN.
2] Flush the DNS cache
This solution requires you to flush the DNS cache if Kaspersky VPN Secure Connection is not working on your Windows 11/10 device. For some affected PC users, they reported that in some cases the DNS_PROBE_FINISHED_NO_INTERNET error message is displayed in their browser, and flushing the DNS cache solved the issue.
Read: Fix Internet gets disconnected when VPN connects
3] Switch to the beta build
As reported on Kaspersky support forums, some affected PC users were able to resolve the issue by switching to the Kaspersky VPN Secure Connection beta build on their PC. The reason for this according to a Kaspersky Technical Support Engineer is that it is not possible to test the product on every possible device and network configuration so specific configurations with a problem may appear for some users on their devices (especially Windows 11).
4] Additional Troubleshooting
Restart the VPN app by right-clicking on the Kaspersky VPN Secure connection icon in the notification area. If the application icon is hidden from the notification area, click the Show hidden icons first, then select Exit from the menu. Relaunch Kaspersky VPN Secure Connection. If restarting the application fails to work, restart your computer.
Check whether your device is connected to the Internet. You may be connected to a network that requires authentication.
Make sure that your Internet provider allows VPN connections.
Ensure that your proxy server connection settings are correct, in case you use one. You may turn off the Automatically detect settings option and disable the Use a proxy server option in Windows Settings app on your device and see if that helps.
Use the ethernet (wired) connection instead of Wi-Fi.
Make sure all network drivers are updated, properly installed, and configured.
Check what protocol you are on and switch it up and see if it works. The most secure protocols are IKEv2, OpenVPN, and L2TP.
Set the 'dadtransmits' parameter to zero for the Kaspersky VPN network interface.
Reinstall Kaspersky VPN.
I hope this helps! If not, you can use another VPN service or you can submit a request to Kaspersky Technical Support at support.kaspersky.com by choosing the topic and filling out the form. It is necessary to check reports\logs to analyze the issue on your device.
Read next: VPN connects and then automatically disconnects on Windows
Why can't I connect to VPN?
There are a couple of reasons you can connect to a VPN or your VPN software is not working properly on your Windows 11/10 device. In any case, below are general suggestions that should help you:
Check your network settings
Change your virtual location server
Make sure the right ports are open
Disable the firewall
Reinstall your VPN software
Contact your VPN provider
Read: Firewall or Antivirus is Blocking VPN on Windows 11
Can a firewall block a VPN?
Yes, a firewall can block your VPN. To know if your VPN port is blocked on your computer if you cannot connect to a VPN host server, you can use Telnet to test if the ports are mapped through to the server and the server is listening – if you have connected to a service that is listening on port 809, a blank screen will show.