If your Wi-Fi or Internet connection stops when the mobile hotspot is turned on, then this post may be able to help you. There are several reasons why Windows 11/10 PC stops the internet connection right after turning on the mobile hotspot. This article elaborates on most common situations so you can relate them to your scenario and troubleshoot the issue within moments.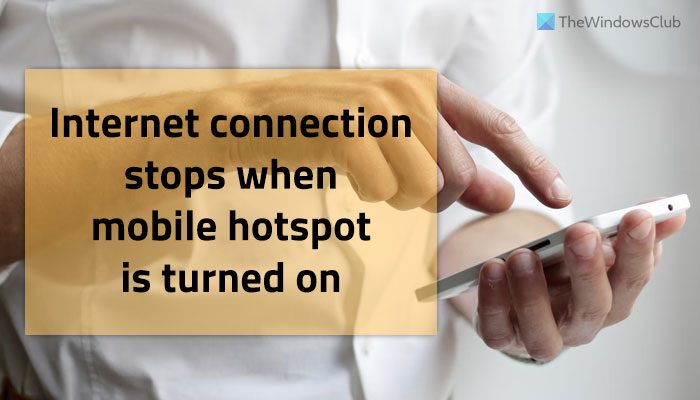 Internet Connection stops when Mobile Hotspot is turned on
If the Wi-Fi or Internet connection stops when the mobile hotspot is turned on on your Windows 11/10 PC, follow these suggestions:
Change band – 2.4 GHz or 5 GHz
Uninstall KB5014699 or KB5014697 update
Turn on Airplane mode and turn it off
Re-install Wi-Fi driver
Disable Firewall software
Run Network Adapter Troubleshooter
Try mobile tethering
Reset Network Protocols
Troubleshoot in Clean Boot
Try System Restore
Before heading towards these solutions, it is recommended to restart your computer once. Many times, a simple restart fixes various issues within seconds.
1] Change band – 2.4 GHz or 5 GHz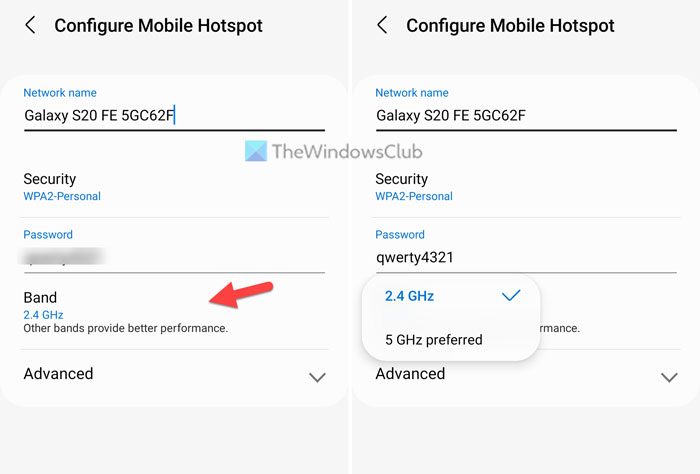 When you set up a mobile hotspot, it asks you to choose the band. You can choose between two bands – 2.4 GHz and 5 GHz. Following that, your computer acts according to the selected band. However, if there is some issue with band selection or your computer's hardware, you might find problems using the internet connection on your computer. That is why it is recommended to toggle the band and check if it resolves the issue or not.
2] Uninstall KB5014699 or KB5014697 update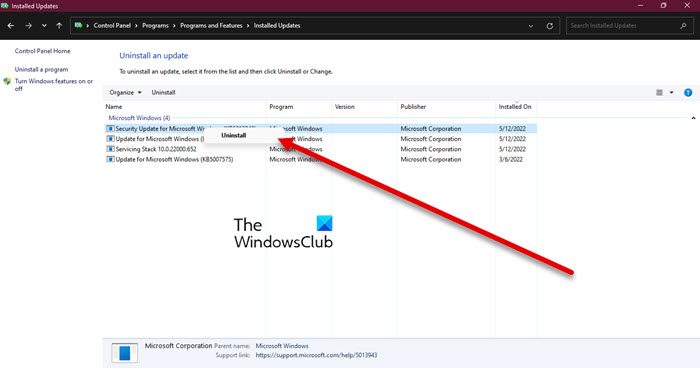 If you get this problem on Windows 10 Version 21H2, it is suggested to check if you have installed the KB5014699 update or not. As per some users, this update can cause an issue on your computer. It is possible to check the update via Windows Settings. If you find this update, follow this guide to uninstall Windows updates. Windows 11 users may want to uninstall KB5014697 and see if that helps.
To do the same, follow the prescribed steps.
Launch Settings
Click on the Windows Update option.
Go to Update History
Now scroll down and visit Uninstall updates from the Related settings section.
Then, the Control Panel will open, right-click on the update you want to remove, and click on Uninstall.
Follow the on-screen instruction to complete the process.
Then, suspend automatic updates for a while. For that, open Settings, go to Windows Updates and click on Pause updates to suspend the updates for a week, which is the default. If you want to extend the suspension, just click on the drop-down menu of Pause updates and select a timespan.
3] Turn on Airplane mode and turn it off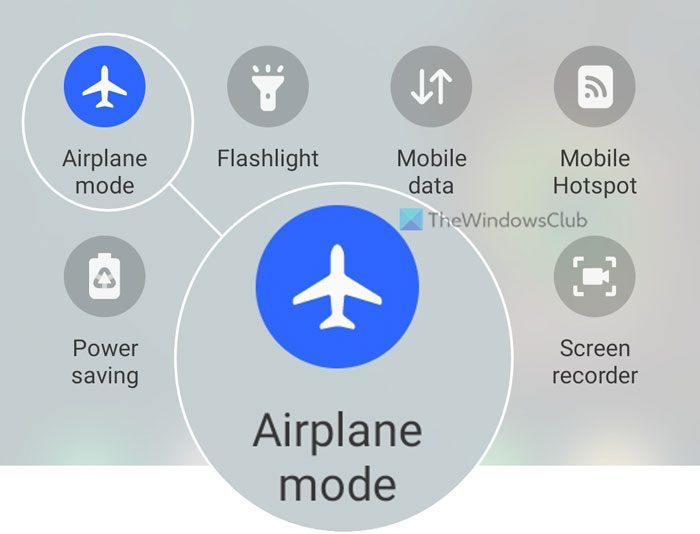 At times, the problem lies in your mobile's cellular network. If so, you cannot fix it by changing the band or uninstalling an update. In such situations, you need to turn on Airplane mode and turn it off after a few seconds. All the mobiles come with this option, and you can find it in the top navigation menu.
4] Re-install Wi-Fi driver
If you are using an external Wi-Fi adapter, it is recommended to download and install the Wi-Fi driver on your computer. Whether it happens on Windows 11 or Windows 10, you can find the compatible driver on the manufacturer's website. Apart from that, you can also find the same in the CD given to you with the Wi-Fi adapter.
5] Disable Firewall software
Firewall software often blocks incoming and outgoing traffic or connection on your computer. If you have set things up incorrectly, it might block you from using the mobile hotspot as well. Although the in-built firewall doesn't have such an option or works like that, third-party advanced firewall programs can cause this issue on Windows 11 or Windows 10 PC.
That is why it is recommended to disable the firewall software temporarily to check if it is the culprit or not. If yes, you need to set things up correctly or uninstall the software.
6] Run Network Adapter Troubleshooter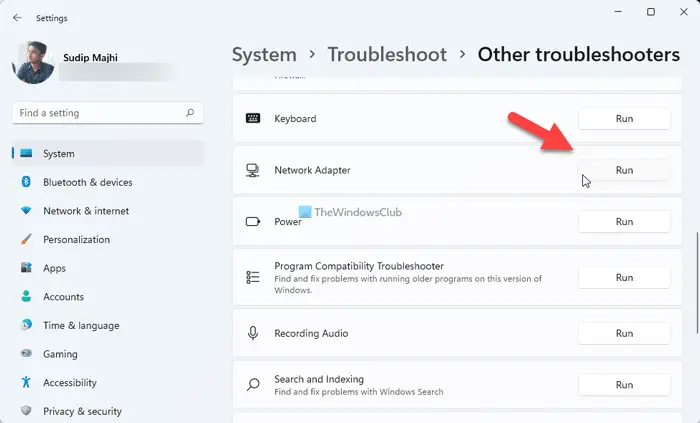 If you get this problem due to the Wi-Fi adapter that is installed on your computer, you may be able to resolve the issue by running the Network Adapter Troubleshooter. For your information, you do not need to download anything since Windows 11 and Windows 10 come with such troubleshooters by default. For that, do the following:
Press Win+I to open Windows Settings.
Go to System > Troubleshoot > Other troubleshooters.
Find the Network Adapter Troubleshooter.
Click the Run button.
Follow screen instructions.
Once done, you may need to restart your computer.
Read: How to stop Mobile Hotspot from Turning off in Windows
7] Try mobile tethering
If none of the solutions has worked for you, you can try mobile tethering. In other words, you can use the USB cable to connect your phone to your computer to use an internet connection. Almost all mobiles have such an option, and you can find it on your phone too.
Read: Fix Mobile Tethering Internet keeps disconnecting on Windows
8] Reset Network Protocols
Next up, we should reset the Network Protocols and see if that helps. The issue can be nothing but a glitch and resetting the protocols should do the job. We are going to release and renew IP, reset Winsock, and flush DNS and hopefully, it will resolve the issue for you. To do that, open Command Prompt and run the following commands.
ipconfig /release
ipconfig /renew
ipconfig /flushdns
ipconfig /registerdns
netsh winsock reset
Hopefully, this will do the job for you.
9] Troubleshoot in Clean Boot
There may be a third-party tool causing this whole conundrum. To know which app is it, we need to perform Clean Boot. This will turn off all the non-Microsoft services and boil down the possibility to one program. Then, you can uninstall that program and fix the issue. In case, the issue continues even in the Clean Boot state, move to the next solution.
10] Try System Restore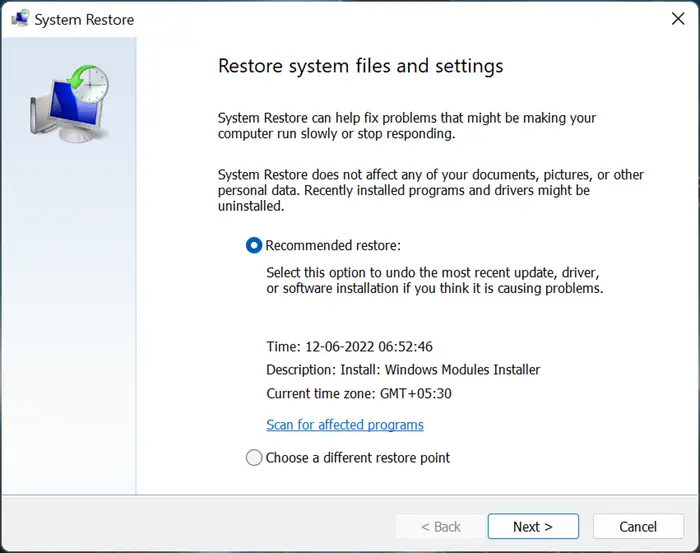 If you have created a System Restore Point, now might be a good time to deploy it. It will put your computer back to the phase when the issue was not there. To restore your system using the System Restore point, you need to follow the prescribed steps.
Search out "System Restore Point" from the Start Menu.
Once you have launched the utility, click on System Restore.
Select the point you want your computer to restore to and follow the on-screen instructions to complete the process.
Once you are done restoring your system, the issue should be gone.
Why does my Wi-Fi keep disconnecting from my hotspot?
There could be different reasons why Wi-Fi keeps disconnecting from your hotspot or Windows 11/10 PC keeps disconnecting from your mobile hotspot. If your network adapter or Wi-Fi adapter has some issues, or your mobile is not keeping the hotspot on, you might find this problem on your computer. That is why it is suggested to follow these tips and tricks to fix the issue on your computer.
Read: Mobile Hotspot not showing up or detected on laptop
If your Wi-Fi disconnects when you enable the hotspot, chances are, there is something wrong with your computer. Usually, the problem, in this case, is a buggy Windows Update. This update is called back by Microsoft but some users have already installed it and might have to remove it for the sake of fixing this issue. Also, one can not rule out the possibility of third-party software, be it antivirus or some other program interfering with your WiFi and causing this issue. There are some other potential solutions mentioned hereinafter. So, go to the troubleshooting guide and fix your problem.
Also read: How to disable Mobile Hotspot in Windows using Registry Editor.