If your Desktop or Explorer file or folder icons turn black or gray in Windows 11/10, then this post is sure to interest you. I rebooted my PC today and was surprised to see such black icons for many of my folders. The only change I had made was installing Windows Updates a day earlier. While it does not cause any functional issues, it is an ugly graphical glitch.
Icons turn black in Windows 11/10
If you are facing this strange situation where your file or folder icons have turned black, try the following suggestions to fix the issue. They helped me and I am sure they will help you too:
Manually reset one folder's icon to default
Run System Restore
Uninstall the latest Windows Update
Run Icon and Cache Rebuilder
Check Display Drivers
Reset PC.
Let us take a look at these suggestions in a bit more detail.
1] Manually reset one folder's icon to default
Right-click on one of the black folder
Select Properties
Open Customize tab
Click Change icon
Choose the correct default yellow folder icon
Click OK, Apply and exit.
This helped me. I checked and found that all the icons had turned to normal.
If this does not help you, here are some other suggestions you could try.
2] Run System Restore
If you recently made any changes to your system, I suggest you restore your computer to a prior good point and see if that makes the problem go away.
3] Uninstall the latest Windows Update
If you recently updated your Windows 10 OS and then this happened, then we suggest that you Uninstall the Update and then either set Windows 10 to Delay Updates by 7 days or Hide the Update. Since the Microsoft tool is no longer available, you may need to use PowerShell to hide the Update.
4] Run Icon and Cache Rebuilder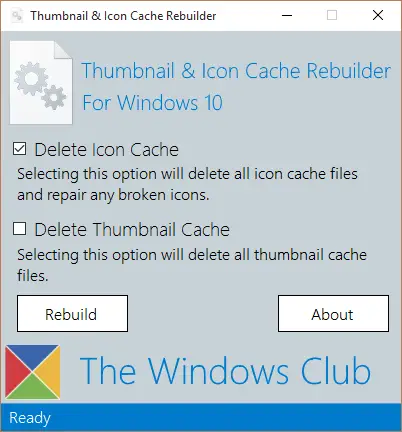 You could use our portable freeware Thumbnail Cache Rebuilder to rebuild the icon cache.
Simply download it, run the exe file as admin, select Delete Icon Cache and press the Rebuild button.
Restart your PC and see.
Fix: Black box on Windows Desktop.
5] Check Display Drivers
If you recently updated your Graphics Driver, I suggest you roll it back using the Device Manager and see.
If you have not updated your Graphics Drivers for a long time, perhaps you could update them, and see if that helps.
All the best.
Related: Black background behind Folder icons in Windows.