Windows Updates are important, but at times, users might not want to update their systems. While Microsoft keeps changing the policies regarding Windows updates, the current policy allows you to easily pause the updates for 7 days. Earlier, they allowed users to download and use the Show Hide Updates Tool after downloading it directly from the Microsoft website. However, now that link is broken:
https://download.microsoft.com/download/f/2/2/f22d5fdb-59cd-4275-8c95-1be17bf70b21/wushowhide.diagcab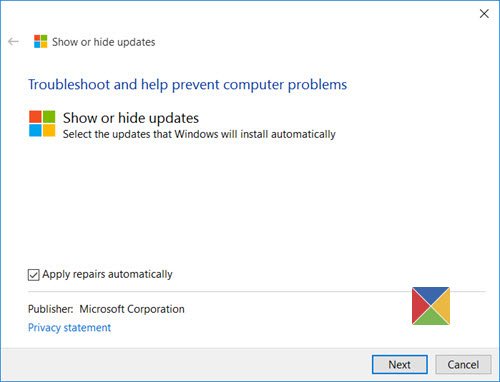 UPDATE: You can now download this tool (wushowhide.diagcab) here from microsoft.com. The link is working again.
Show Hide Updates Tool wushowhide.diagcab download link broken
Microsoft has not given any reasons as to why they have taken the tool down. They must have their own reasons and we respect the same. However, we have a workaround to download the tool and use it.
How to download the wushowhide.diagcab utility
As you might be knowing, Wayback Machine is a website that stores past versions of web pages. This means, even if you remove web pages from the active internet, they will remain with the web archives.
Thanks to this facility, we can download the wushowhide.diagcab utility directly from the Wayback Machine by clicking on this web.archive.org link here.
It should be noted that if Microsoft has removed the link, it must be for some reason. They obviously do not want users to access the utility.
If not the utility, what options do I have?
As of present, the easiest method is to pause Updates. The procedure to do so is as follows:
Click on the Start button and go to Settings > Updates & Security > Windows Update.
You will find the option to Pause updates for 7 days. Click on it to do the needful.
In case you need to block the updates for a longer period, then go to Advanced options.
You will find a drop-down menu to select the date till which you can pause updates. Usually, the latest date is more than a month from the current date. Select the date and you are done.
We hope this resolution was helpful.
Please let us know in the comment section.