How many times, have you wanted to make a call to someone using your PC? In this post, we will show you how to open and use the built-in dialer.exe Phone Dialer tool to make phone calls using your Windows 11/10 PC.
Use Phone Dialer (dialer.exe) to make phone calls using Windows 11/10
If you want to use Phone Dialer (dialer.exe) to make phone calls using Windows 11/10, you need to have a modem configured for this one, which isn't common in most newer computers and laptops. However, if you do, you can quickly make phone calls right from your Windows 11/10 computer.
Follow the given steps to do the same.
Win + R to open the run command, then type "dialer.exe." Press OK.
You will see the Dialer window.
Just enter the number and click on Dial.
This will allow you to make phone calls using your modem.
In case, you don't have a Modem configured, after opening the app or clicking on the Dial button, the following error message will pop up.
Warning
Phone Dialer was unable to find a telephone device or modem to use to dial voice calls.
In Control Panel, double-click the Modem icons to install a modem, or install another telephonic device to use for dialing calls.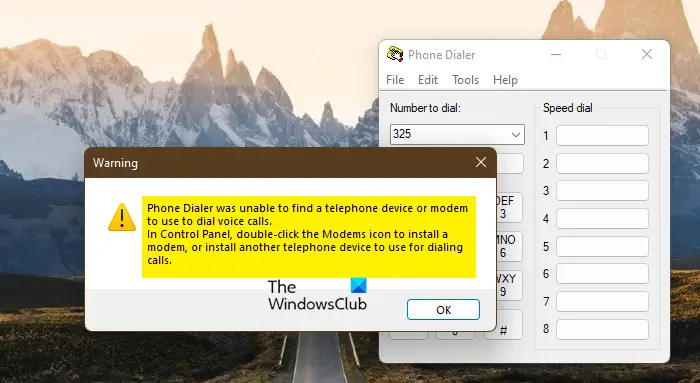 If you are seeing the aforementioned error code, you don't have a modem configured and won't be able to make calls using this app.
Create a Desktop Shortcut of the Phone Dialer (Dialer.exe) app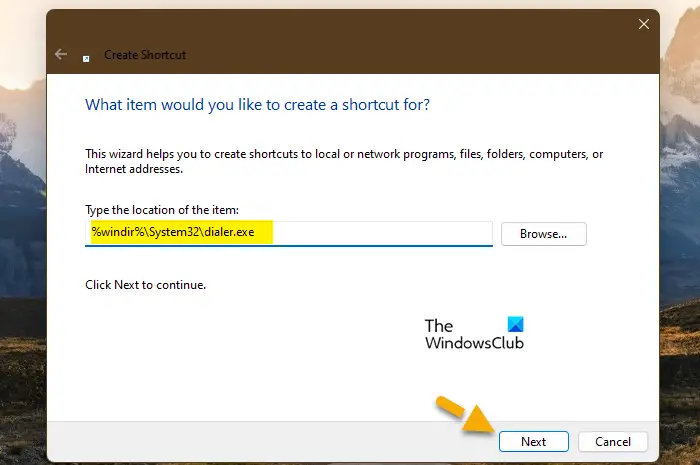 If you like this app and want to use it all the time to make a phone call, it would be a hassle every time to pull out Run and search for Dialer.exe. That is why we are going to show how you can create a Desktop Shortcut of the Phone Dialer app and just double-click on it to open the software.
Follow the prescribed steps to do the same.
Right-click on your Desktop.
Now, select New > Shortcut.
In the "Type the location of the item" field, write %windir%\System32\dialer.exe and click Next.
You will be asked to give it a name, enter any name of your choice and create the shortcut.
You will see a shortcut to the Dialer app on the desktop. Just double-click on it every time you want to use the Phone Dialer.
When using Dialer.exe to make voice phone calls, you can hear the recipient, but they cannot hear you
This is the issue that a lot of users are facing with the Dialer app, where you can hear what the recipient is saying, but they can't hear you. The issue can be nothing but a temporary glitch that can be resolved if you cut the call and dial again. In case that doesn't work, check if your Microphone is working.
If all else fails, then wait for the developers to fix the issue. However, in the meantime, you can dial using the Dialer app and then talk using the device that is connected to your system.
How do I use dialer exe?
It is pretty easy to use the Dialer.exe app. Just open your Run, type "dialer.exe" and you will see the dialing pad. However, you need to make sure that you have a modern configured for the app to work. To know more about this application and how you can use it, read this post from the beginning.
How do I make a phone call on Windows 11?
To make Phone Calls on your Windows 11 computer, you can use the Dialer.exe that we talked about earlier, but that would require you to have a modem connection. If you don't have a Modem connection, the following are the ways to make a Phone call.
So, you don't always have to use the Dialer app to talk to someone via your computer.
Read if needed: