Microsoft's Your Phone App allows you to receive and make calls once it is connected to the computer. However, if you are facing issues that prevent you from calling or receiving calls, then here are the Troubleshooting tips we suggest you do to resolve the issues with Your Phone App.
Your Phone App still doesn't support special symbols "*", "#" for calls. Make sure to use your phone for it, else in certain cases the number "0" may be automatically attached to the number you are typing if you use
Cannot receive or make calls using Your Phone app on Windows
If you are unable to receive or make calls using Your Phone app, follow these tips one by one, and check if it fixed the problem once the steps are complete-
Turn off Focus assist
Enable Bluetooth on your Android Phone
Run Bluetooth troubleshooter
Again set up Calling feature with Your Phone App
Make sure you have tried restarting the computer once, and also have relaunched the Your Phone App once. They will usually clear temporary glitches.
1] Turn off Focus assist
Focus assist makes sure that you can work, and not get spammed by notifications from everywhere. If you have turned on the Focus Assist on the computer or have scheduled it, then you will not receive any notification. You have two options. You can choose to turn it off or add Your Phone App to the exception list.
To turn off: Right-click the Action Center icon on the taskbar, select Focus Assist, then Off.
To add the app to exception:
Right-click on Focus Assist in the action center, click on Go to Settings
In Focus Assist settings, switch to Priority.
Click on Customize Priority list
Under Apps, add Your Phone
Done that, make a call to your number, and check if you are receiving notifications about the call.
2] Enable Bluetooth on your Android Phone
The calling feature works over Bluetooth, if you have DND turned on or Bluetooth is off, then you will get any call notification the computer. To check if Bluetooth is turned on, swipe down or swipe up (depends on which phone you use) to reveal the Android Notification panel.  Tap the Bluetooth icon to turn it off/on. Make a call to your number, and see if that works.
3]  Run Bluetooth troubleshooter on Windows 10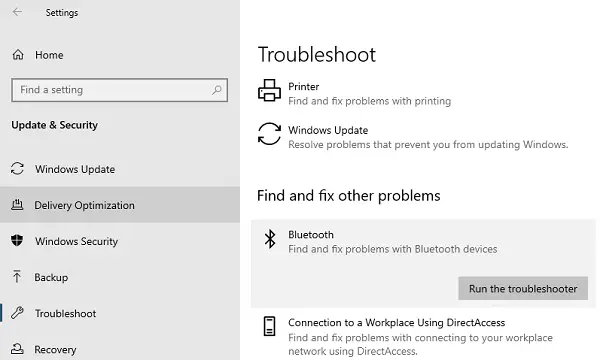 Go to Settings > Update & Security > Troubleshoot
Click on Bluetooth, and then Run the Bluetooth Troubleshooter.
Follow the instructions on the Wizard,
Check at the end if it resolves the issue or offers a solution.
4] Again set up Calling feature with Your Phone App
If you are still not able to get through calls, its best that repair your computer, and the phone. A fresh connection usually irons out Bluetooth issues.
Read: Your Phone app not working or will not open.
On your Android phone:
It may vary a little depending on the phone you use. You need to find a setting where all the connected Bluetooth devices are listed. Usually available at Connection preferences > Bluetooth. Find the list of paired devices, and tap on it. Choose to forget.
On the Windows 10 Computer:
Open Settings, and then navigate to Devices > Bluetooth & other devices.
Select your Android phone from the list, and choose to remove the phone.
Open the Your Phone app and set up Calls again. When setting up the calling feature, make sure to click on the notifications to confirm.
I hope these tips helped you Troubleshooting calls in Your Phone app.
Related read: Troubleshoot Your Phone app problems & issues.