Focus Assist is the revamped "Quiet Hours" feature which instead of just turning off notifications for a particular time of the day lets you choose notification based on pre-defined priority, alarms, levels, or completely turn off everything. In this post, I will help you understand how you can configure Focus Assist on Windows 11/10.
Focus Assist on Windows 11/10
After configuring Focus Assist, you can choose which notifications you would like to see, and hear so you can stay focused. The rest will go straight to the Action Center where you can see them anytime.
To set up Focus Assist on Windows 10 (or Windows 11), go to Settings > System > Focus assist. You have three options here.
Off: This will turn off all notifications from your apps, and contacts.
Priority Only: See notifications from apps you choose.
Alarms only. Hide all notifications, except for alarms.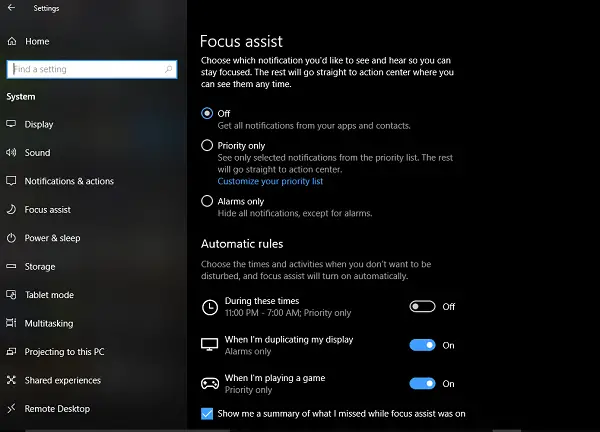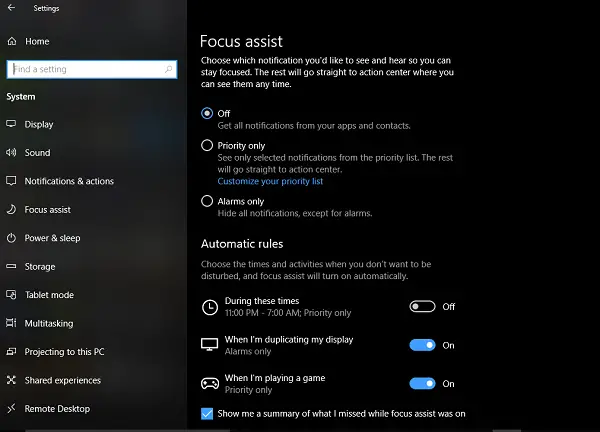 While the 1st and 3rd options are straightforward, Priority Only is what you need to configure. Click on the Customize your priority list link.
Under Priority list, you can manage notifications from three places – Phone, People, and Apps.
1] The Phone part works only if you have Cortana installed on Android, and linked to the same Microsoft account you have on your PC. Every time you miss a call, text or message on your Android Phone, Cortana on PC sends you a reminder. You can further choose to receive all notifications or from one of the following:
VoIP calls, and calls from a linked phone.
Text messages from a linked phone.
Show reminders, regardless of the app used.
2] People will work with any Windows 10 App which is synced with your contact book and can show notifications.  Here you can select a set of contacts for which you want to receive notifications during no matter how busy you are with your work. You can also choose to see notifications from contacts that you had pinned to Taskbar.
3] Apps can be used for any full-screen experience which includes gaming or watching a movie on NetFlix or VLC – you can add those apps here.
This post will help you if you cannot turn off Focus Assist in Windows.
Automatic Rules for Focus Assist

While you can always right-click on the Action Center on the Taskbar, and choose which type of Focus assist you would want to try, there are times when you want Focus Assist to get enabled automatically even if it is not the time you had set on your PC.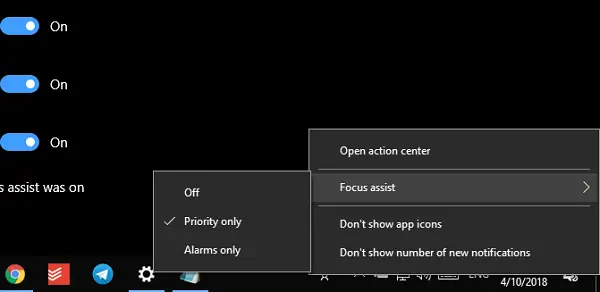 Windows 11/10 now offers three automatic rules:
During a set range of hours.
When you duplicate your screen for presentations.
When you are playing a game.
When setting a range for your Focus assist, you can choose it to get enabled daily or on weekends, and also the level of Focus assist.
Focus Assist offers a summary of what you might have missed during that period when it was active. It is interesting to note that Cortana is integrated with Focus Assist as well. When you click on the Action Center icon, you would see something like this:
Location awareness through Cortana is not found anywhere. Since Cortana already knows my home, and work location, if it can enable Focus Assist based when I am home or whatever I choose, that would be a great add-on to the capability.
This is how you can configure, and use Focus Assist on Windows 11/10. I had used it for over a day now, and I think this is much better than controlling every app notification. However, always choose wisely as you don't want to miss something which is really important.
This post explains how to use Focus assist Automatic rules in Windows 11.