Windows 8.1 introduced a new feature called Quiet Hours. This feature allows users to suppress notifications during those hours. The idea behind introducing this feature is that there may be times when you do not want to be disturbed or interrupted by notifications.
UPDATE: Focus Assist on Windows 10 is the revamped "Quiet Hours" feature which instead of just turning off notifications for a particular time of the day lets you choose notification based on pre-defined priority, alarms, levels, or completely turn off everything.
Quiet Hours in Windows
If you set Quiet Hour on your Windows device, you will not be able to receive app notifications or calendar events, messages, and email alerts – and even take calls on Skype, provided the device is idle. In such situations, you will not hear any sounds, nor see the screen light up due to some notification.
To configure Quiet Hours in Windows 8.1, move your mouse pointer to the bottom-right corner to open the Charms bar and click on Settings and then on Change PC Settings.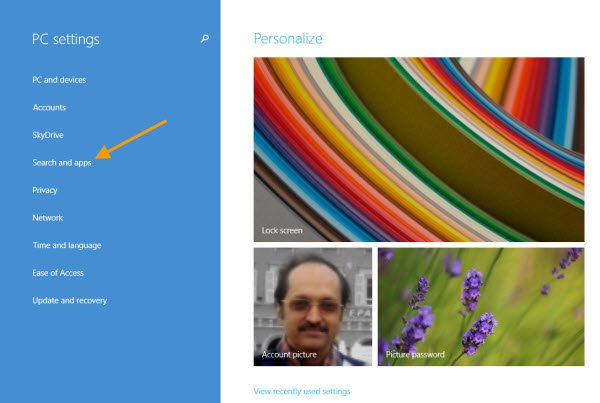 Click on Search and apps and then Notifications. Here, you will see all the settings for configuring your Notifications for all apps or for individual apps, and also for Quiet Hours.
To configure Quiet Hours, move the slider to the right to change its status to On. Next set the From time and the To time. During this time interval, all app notifications will be stopped. The notifications will, however, be automatically restarted when you start using your device or after the Quiet Hours are over
If you configure the Receive calls during quiet hours setting, you will not be able to receive even any calls from apps like Skype.
In Windows 10, Quiet Hours are set from 12.00 am to 6.00 am, and these cannot be changed. But you can manually Turn On or Off Quiet Hours manually whenever you want to.
Configure Quiet Hours using Group Policy
If your edition has the Group Policy Editor, you can also use it to configure Quiet Hours. To do so, Run gpedit.msc and hit Enter to open the Group Policy Editor, and navigate to:
User Configuration > Administrative Templates > Start Menu and Taskbar > Notifications.
In the right-side pane, double-click on Turn off Quiet Hours.
If you enable this policy setting, toast notifications will not be suppressedand some background tasks will not be deferred during the designated Quiet Hours time window each day. If you disable this policy setting, toast notifications will be suppressedand some background task deferred during the designated Quiet Hours time window.  Users will not be able to change this or any other Quiet Hours settings. If you do not configure this policy setting, Quiet Hours are enabled by default but can be turned off or by the administrator or user.
Do check out this feature and let us know if you find it useful.