The Quiet Hours feature in Windows 10 has been really watered down. Unlike in Windows 8.1, you cannot set the time or the hours for which you want your PC to be 'quiet'. You can only turn it On or Off. Let us take a look at this setting.
If you set Quiet Hour on your Windows 10 device, you will not be able to receive app notifications or calendar events, messages, and email alerts. In such situations, you will not hear any sounds, nor see the screen light up due to some notification. This feature is enabled by default on all machines.
By default, Windows 10 client has been configured to stay 'quiet' from 00.00 Midnight to 6.00 AM only, provided Quiet Hours is turned on. So the window of time when Quiet Hours can be engaged is from 00.00 Midnight to 6.00 AM only. You cannot change these times – it is like a take-it or leave-it situation.
UPDATE: Read about Focus assist in Windows 11.
Quiet Hours in Windows 10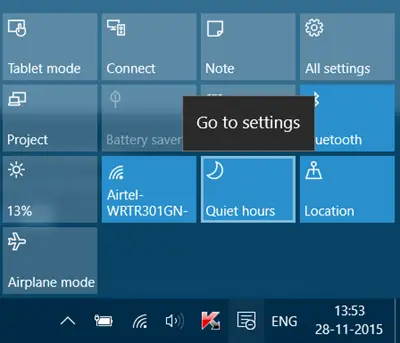 To turn on Quiet Hours, click on the Notification Center icon in the taskbar. Clicking on Quiet hours will turn it on or off. Right-clicking on it will pop up a Go to the Settings option. Clicking on it simply opens the System Settings window.
You have another way. Right-click on the taskbar system tray Notification center icon and the following options appear: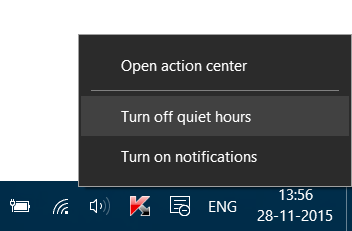 Here you can opt to Turn off quite hours or Turn on quiet hours.
When Quiet Hours is enabled, notifications related to calls from VOIP lock screen call capable apps and Alarms are however allowed to come through.