Focus Assist is an incredible feature in Windows 11 and Windows 10 that allows you to control the distraction from all the app notifications. That said, it is not as same as how it works on a Phone, and hence many would like to turn it off. However, like many other things on Windows, if you cannot turn off Focus Assist in Windows, then this post will help you resolve the problem.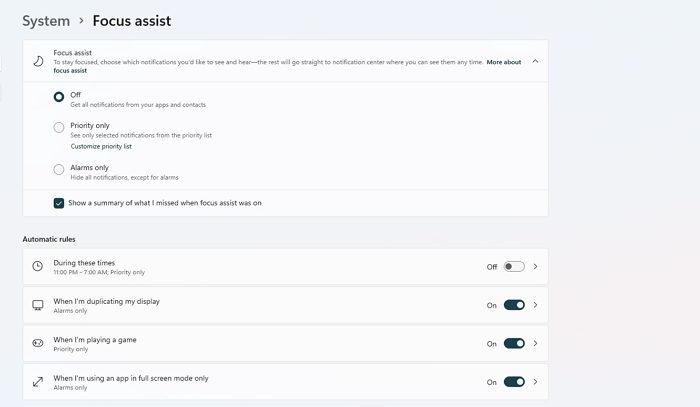 How to disable Focus Assist in Windows?
The usual way to turn off Focus Assist is through the settings.  Go to Settings (Win + I) > System > Focus Assist. Then choose the Off radio button and turn it off.
However, if this option is greyed out or reverting to the last selected state, we need to use other methods to fix this problem.
Cannot turn off Focus Assist in Windows 11/10
If you are not able to switch it off, you can still choose the Alarms-only mode to hide all notifications except for alarms. If you don't have an alarm set, it is as good as Focus Assist turned off. However, it's only a workaround, and here is the possible solution to fix the problem. Make sure you have an admin account to execute the suggestions.
How to turn off Focus assist in Windows permanently using GPEDIT
Group Policy is available in Windows Pro and above version but can also be enabled for the Home version. So if you are using the Home version, follow the link to enable it on your PC.
Open Run prompt using Win + R
Type gpedit.msc and press the Enter key to open Group Policy Editor
Navigate to the following path in the group policy User configuration > Administrative Templates > Start Menu and Taskbar > Notifications
Locate the Turn off Quiet Hours policy and double click to open it.
Choose to Disable it to turn off Focus Assist
Even more interesting is that if you turn off from here, the option to disable from Settings will not be available. The description mentions:
If you disable this policy setting, toast notifications will be suppressed and some background tasks deferred during the designated Quiet Hours time window. Users will not be able to change this or any other Quiet Hours settings.
So, instead of disabling it, you can disable, save, and then set it to the Not Configured option. This should reset the permission, and you should be able to configure Focus Assist as you need it.
Is Focus Assist the same as Do Not Disturb?
Focus Assist and Do Not Disturb are more or less the same thing if they are set correctly. In Windows 11/10, you can use the Focus Assist like you use Do Not Disturb option on your mobile. It is possible to block all notifications, and other distracting functionalities using this option.
Why does Focus assist keep turning on Windows?
If the Focus assist or Focus keeps turning on automatically on Windows 11 or Windows 10 PC, you need to check the Local Group Policy Editor settings. For that, open the Notifications folder in User Configuration. Then, double-click on the Turn off Quiet Hours setting and choose the Not Configured option.
I hope the post was easy to follow, and you were able to turn off the Focus Assist in Windows 11/10, which was not possible earlier.