Streaming services depend on ads to keep prices lower for users and so, is the case with Hulu. While you can upgrade to Hulu's premium plans with no ads for uninterrupted entertainment, there are ways you can skip ads on Hulu without paying.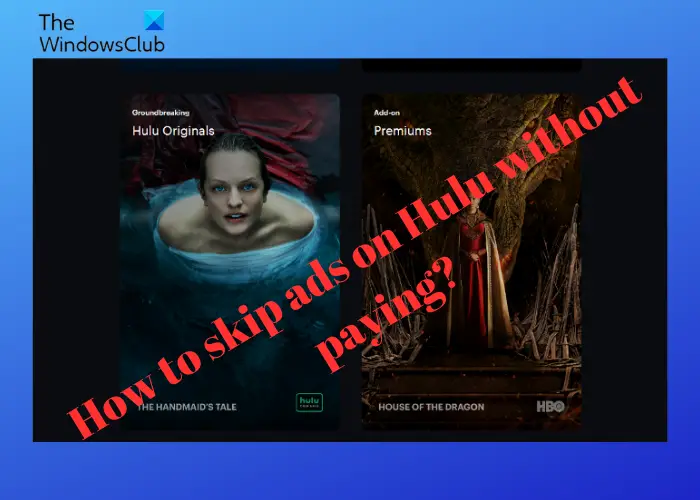 Hulu is a popular streaming service, next to Netflix and Amazon. The platform offers a wide range of exclusive content like Hulu originals, TV shows, movies, and more. However, to start watching content, you must sign up for a plan. If you subscribe to the basic plan (with Ads), the shows and movies will stream with ads.
However, for those who want to view Hulu shows and movies without any interruption, we will explain a few tricks on how to skip ads without paying.
How to skip Ads on Hulu without paying?
Ads on Hulu are usually shown immediately after the streaming starts and for the entire duration of the video. Just like the usual commercials played during a TV show or on other streaming platforms. However, you can skip or block the ads on Hulu without paying. Here's how:
Download content and watch offline
Install a Hulu ad-blocking browser extension.
Add web filtering to your router.
Open Hulu in two browser tabs.
Reload Hulu.
1] Download content and watch offline
To skip or block ads on Hulu without paying, you must at least have the basic plan that streams shows/movies with ads. Once you have that subscription, you can download Hulu shows to watch them offline without ads. Best of all, you do not need to pay anything extra to watch these shows later.
Read: Hulu app not working, loading, or starting on Windows PC
2] Install a Hulu ad-blocking browser extension
Ad-blocking browser extensions are one of the easiest ways to skip ads on Hulu without paying. Chrome or Edge browsers offer some great third-party ad-blockers, for example, Hulu Ad Skipper which you can download here. While it does not block ads on Hulu, you can add or install this popular extension in Chrome or Edge to fast-forward the commercials. Thus, increasing the time of watching your favorite shows on Hulu with fewer interruptions.
Read: Hulu not working on Chrome
3] Add web filtering to your router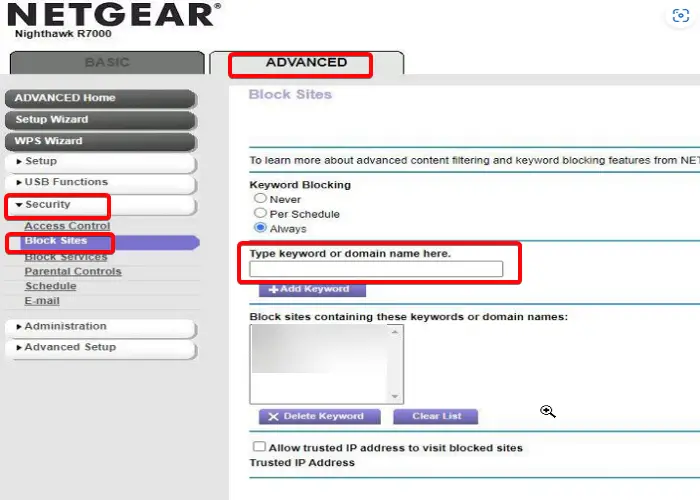 Most routers these days, especially, third-party routers like T-Link, Netgear, etc. support an advanced feature called Web Filtering. This feature helps you to block certain websites and services. However, the option may be found under different sections for different routers based on your local network configuration.
So, for example, if you are using a Netgear router, go to Management > Configuration > Security > URL Filtering/Block Sites. Or, once you're inside the router's settings menu, look for Web Filtering/URL Filtering/Advanced.
It can also be found under the router's Parental Control option. Now enter the below domain to block Hulu ads:
ads-e-darwin.hulustream.com
Once done, save your settings and restart your router for the changes to be applied. Now, most of the ads should skip when playing your favorite content on Hulu. However, this is not a foolproof method, as Hulu may prevent you from blocking this domain in the future. So, if Hulu fails to load in the future after you block this domain, you would need to remove the domain from the web-filtering option, following the same procedure above.
Read: How to setup MAC filtering in Dlink router
4] Open Hulu in two browser tabs
This trick may sound a bit tedious, but it's worth the try to watch Hulu content without ads. Open two tabs on your browser, and open the Hulu video on both tabs. As soon as the ad begins to play on the first tab, mute it, go to the second tab, and continue to watch the video. Then again as the ad starts playing on the second tab, mute it and go back to the first tab, unmute it, and watch the video. This way, you can skip watching the ad on the tab that plays the ad while you watch the Hulu video on the other without paying.
Read: Fix Hulu Errors RUNUNK13, Error playing video OR 406, Not Acceptable
5] Reload Hulu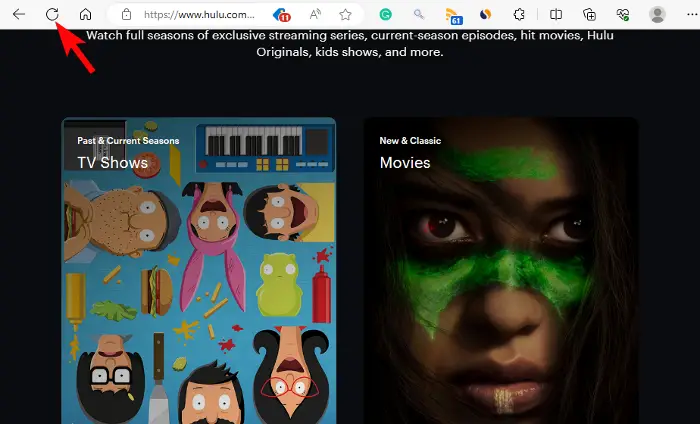 Reloading the Hulu page is a quick trick that may reduce the length of the ad time, if not skip it entirely. All you need to do is to hit the reload button on the left end of the browser's address bar and refresh the page. Once you refresh the page in the browser, it will skip the lengthy ads and will be replaced with only two quick commercials, one of 2 seconds and the other of 30 seconds.
Why does Hulu have ads if you pay for no ads?
The Hulu (No Ads) plan is just for on-demand videos. So, if you have the No Ads plan, you can stream everything in the Hulu streaming library without ad breaks. However, there are a few shows that are excluded from this rule.
For more information on the ad rules, you can refer to the Hulu Help Center page.
Is Hulu free with Amazon Prime?
No. Hulu and Amazon Prime are two different streaming platforms and competitors. Therefore, neither of them can be free with the subscription to the other. Although you can download the Hulu app on Amazon Prime for free, it won't stream unless you subscribe to a Hulu plan. Hulu plans to start from $11.99 per month.
How long are ads on Hulu?
There are usually four commercials for a 23 to 25-minute TV show. Each ad is around 15 to 30 seconds long per campaign. The first ad is usually 30 seconds long, followed by the second ad which is about 2 minutes long. The third and the fourth ads are about 1 minute 30 seconds in length.