There is no denying that Netflix is amongst the most popular option for all those who love to enjoy the latest online shows and its reach and the quality of the content is one of the best. People love to binge-watch their favorites shows on Netflix. There is a wide range of shows available ranging from animation, documentaries, classics and, above all the Netflix Originals.
The reach and popularity of Netflix are unparalleled. But all this comes at a price, and there are many who can't afford this, so they look for an alternate that can offer their favorite shows, movies, documentaries, animation and web series, for free or at a much lower cost.
Best Netflix Alternatives
Below, we will list the top 5 alternates to Netflix where you can enjoy world-class online streaming of many of your favorite shows and movies – and the best part is that some of them are completely free!
Amazon Prime Video
Disney+
Vudu
Sony Crackle
Hulu.
1] Amazon Prime Video
Prime Video is an On-Demand subscription service by Amazon and is the best and top alternate available to Netflix. Amazon Prime offers a wide variety of TV shows, web series, movies, animation, and documentaries. The best part is that they add loads of new movies every month to keep their subscribers engage and provide them with world-class content.
Amazon Prime Video offers some of the top Hollywood blockbuster movies and shows that are produced by top production houses as Amazon holds rights to movies from some of the renowned production houses. For their subscribers who love to watch sports, they offer Live Sports streaming like NFL, ATP and Premier League for which they hold digital rights. Subscribers have the option to choose from various categorize according to genre and languages. There is a lot of regional content available along with Amazon Prime Originals.
2] Disney+ 
Another good alternate, one of the top rivals to Netflix and known to provide some of the best online entertainment is Disney+. It's a relatively new subscription-based video-on-demand that is known to stream some of the top web series, Hollywood movies, TV Shows, Originals and Documentaries. The quality of content that Disney+ offers as par with Netflix. Ok, it doesn't have as much content as Disney has but it has some of the most sought after movies and TV shows available to entertain its subscribers.
Subscribers can enjoy come of the iconic series like Star War and Marvel Movies. Disney+ offers a wide range of movies from Disney, 20th Century Fox, Pixar, Marvel, 20th Century Fox Television and ABC Studios and National Geographic.
3] Vudu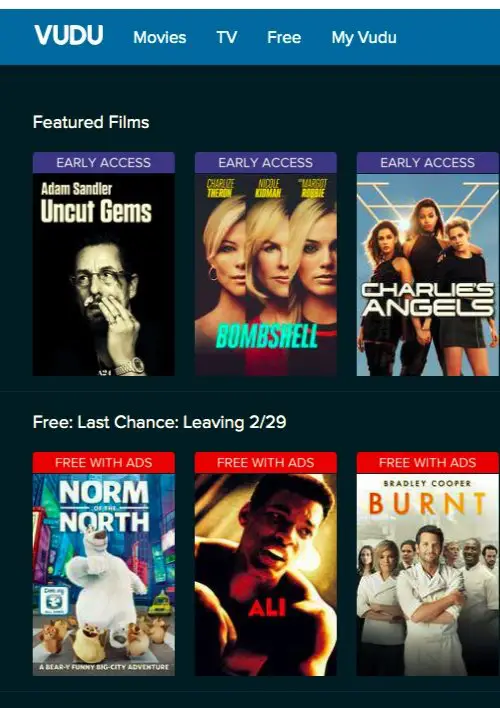 Another popular Netflix alternative is Vudu that offers a good quantity and high quality of content on the same kind of platform. The best thing about Vudu is that it offers a large number of free movies and TV shows for free whereas Netflix charges for most for the content that you watch on it.
Subscribers can choose from various categories like action, Thrillers, Comedy, suspense, crime, action, animation, and family-related content. You can watch 1080p HD full-feature length movies on Vudu. There are a huge amount of movies that are available for free to watch, it also offers a facility for renting movies. You just have to have a User Account if you want to enjoy the movies on Vudu. You can register for free and then enjoy a wide range of free movies available on Vudu along with the best TV shows and Web series.
4] Sony Crackle
Available in around 20 countries, Crackle is a free online streaming service offered by Sony. It allows you to stream TV Shows and Movies online. You can enjoy movies produced by big production houses with which Sony had an agreement. You can enjoy movies from renowned production houses like 20th Century Fox, Lionsgate, MGM, Funimation, Walt Disney, Paramount, WB and Village Roadshow to name a few. The video quality is top-notch and content is high class. You don't need any subscription to stream the movies as Sony allows you to stream the films for free, they run pre-roll and mid-roll ads to support themselves.
5] Hulu
Hulu is another top of the line subscription-based online streaming platform. It's a mix of Free and paid content of high-quality TV Shows and Movies Hulu offers more than 150 movies and TV Shows. Primarily Hulu was known for hosting TV shows and movies. Hulu started their live TV series in the Year 2017 and never looked back. You can choose from low prices subscription which comes with ads or high priced one that let you enjoy the streaming without any ad. Hulu is one of the most popular alternates to Netflix that offer HD Streaming of Online programs.
Let us know if we missed your favorite.