Media Access Control Address aka MAC Address plays a vital role to connect to the internet. To use the internet, you must have a network card and every network card has one unique MAC Address. If you have any MAC Address related issues, you may fail to use the internet.
If you are using a Wi-Fi router to use the internet from all devices at your home and the Wi-Fi router has a weak password, your neighbor can easily steal your data. You will certainly get very low speed if 2-3 devices use your router simultaneously. In simple words, you need to secure your Wi-Fi router using a strong password. When it comes to Wi-Fi security, MAC filtering comes first.
As you cannot use one network card in more than one device, two devices cannot come with the same MAC Address. Therefore, you can easily enable MAC filtering to block unauthorized devices to use your internet. If you enable MAC filtering, your router will check your device's MAC Address and given MAC Address. If those two MAC Addresses do not match together, you cannot connect to the Wi-Fi router.
Setup MAC filtering in Dlink router
At first, you have to find your device's MAC address that you will use to connect to the router. Now, there are two things you can do. First, you can check your own MAC Address and use it further. Second, you can connect your device to the Wi-Fi router once and let it detect the MAC Address automatically. Both of the methods are same and work fine.
Therefore, you can check your MAC Address of your PC so that you can verify it before enabling MAC filtering. This is a good practice. Otherwise, you will get some problems if you enter the wrong MAC address.
Anyway, to check the MAC Address of your PC, open Command Prompt, type cmd, and hit Enter. After that, type ipconfig /all and hit the Enter button. You will get Physical Address like this-
G8-2B-72-EF-D6-8D
Now, open the Dlink router panel and enter your credential to log in. The default Dlink IP address is 192.168.0.1 or 192.168.1.1
Now, go to ADVANCED tab and switch to NETWORK FILTER. Here you will get MAC FILTERING RULES. Just click on the drop-down menu and select "Turn MAC Filtering ON and ALLOW computers listed to access the network".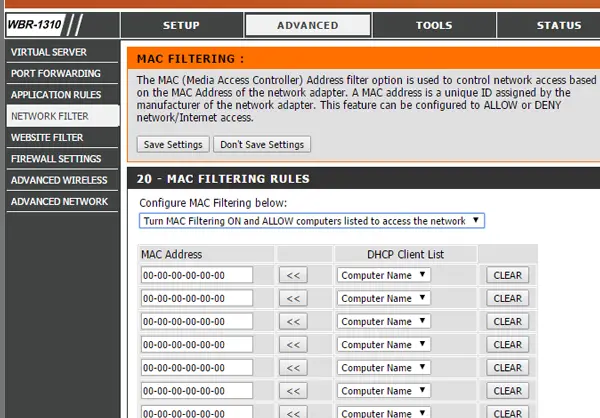 Now, select the device from DHCP Client List and hit the arrow button. MAC Address will be selected automatically. At last, click on Save Settings button. Your router will take a restart to make the change.
After that, you cannot use the internet from any unauthorized devices. To add more devices after setting up everything, you will need to copy the MAC address manually and then enter it here.
What if you forget the Wi-Fi password
If you have set up MAC Filtering and forgot the router's control panel password, all you need to do is to reset your router. There is no other way to open the panel. Some people have claimed that they have successfully logged in by changing the MAC Address, but my personal attempt was failed.
Go here if you want to take a look at some MAC Address Changer Tools.