Have you ever tried to search for a Bluetooth device nearby, or even attempt to identify one or more devices on a network? When you do this, you're actually dealing with a MAC address without knowing it. In this article, we are going to explain what a MAC address is along with how it works.
What is a MAC address on Windows?
The information below will help you better understand the MAC address and all that it entails, so keep reading.
What is a MAC Address
Other names used to describe a MAC address
How does a MAC address work?
How do we use MAC addresses daily?
How can I find the MAC address via Settings?
How to locate the MAC address via the Command Prompt
1] What is a MAC Address
MAC address stands for media access control address. It is basically a unique identifier given to a network interface controller for use as a network address in communications within a network sector. You will find this in IEEE 802 networking technologies, and this includes the likes of Ethernet, Wi-Fi, and Bluetooth.
2] Other names used to describe a MAC address:
Networking hardware address
Burned-in address (BIA)
Physical address
Ethernet hardware address (EHA)
You can tell a MAC address from the 12 digit hexadecimal number, and the colon or hyphen that separates every two digits. This is the case with every MAC address so there is no way you can get confused.
3] How does a MAC address work?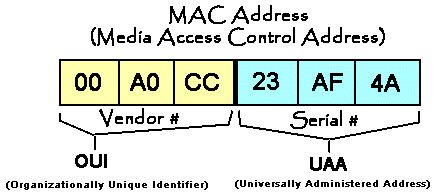 Here's the thing, the internet sends data packets to your router, and that router must have the ability to send such data packets to the correct device on its network. To get this done, it must use one or more MAC addresses that assign a private IP address to each device connected to the network.
Now, your router is capable of tracking outbound data requests so that it can attach the right private IP to the data packets, and from there, send them to the device with the MAC address that aligns with the private IP.
Since a device can connect to more than one Wi-Fi network, it simply means it supports more than a single MAC address. For example, if your laptop supports Wi-Fi and also comes packed with an ethernet port, it will, then, have multiple MAC addresses designed for each.
4] How do we use MAC addresses?
You see, a MAC address has the power to secure your internet connection. It does this by only accepting data requests from devices with addresses that it knows of. What is this called? MAC filtering, that's what.
Additionally, we understand MAC addresses can also be used by computer technicians to troubleshoot a network with ease. Because each MAC address is unique, it's not hard for the technician to tell which device is having problems with sending and receiving internet data.
5] How can I find the MAC address via Settings?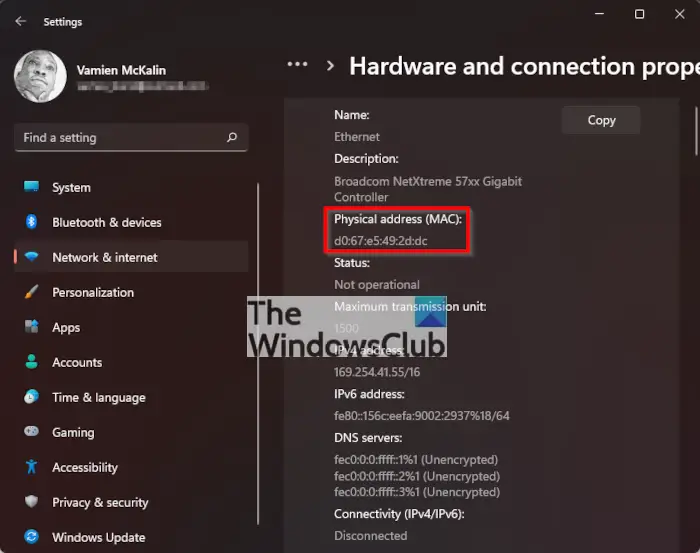 Worry not this is a simple task. Just open the Settings menu by pressing the Windows key + I. From there, go to Network & Internet. Next, navigate to Advanced Network Settings > Hardware and Connection Properties.
You should now see your MAC address in all of its glory. From here, you can highlight it, and press CTRL + C to copy the address if you wish.
Read: How to change MAC Address in Windows.
6] How to locate the MAC address via the Command Prompt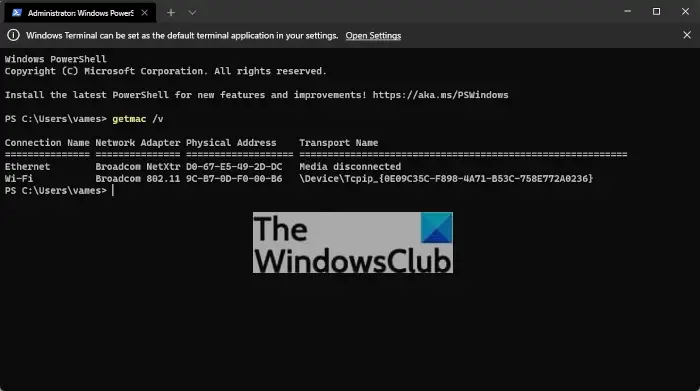 Right-click on the Start button then select Windows Terminal (Admin). After that, type the following command:
getmac /v
Hit the Enter key on your keyboard, and right away your MAC address should appear.
Can I identify a device with a MAC address?
Yes, it is possible to identify a device by using a MAC address. Even without the device in your hand, it is possible to use a MAC address to identify the potential maker and model. This is particular is called OUI (organizationally unique identifier).
What is a MAC address needed for?
When it comes down to computer networking, the MAC address is an important element for uniquely identifying a computer on a Local Area Network (LAN). In order for network protocols like TCP/IP to function properly, a MAC address is an essential component. Furthermore, both a router and Windows support the changing of MAC addresses.