Is Hulu not working on Chrome? We are going to discuss things you can do to resolve it. Hulu is one of the well-known video streaming platforms featuring a lot of TV shows and movies. You can either access the service through a web browser or its application deepening on the one you see fit. However, several users have reported that Hulu is not working on Chrome, with either the website not opening or having issues watching videos on the site.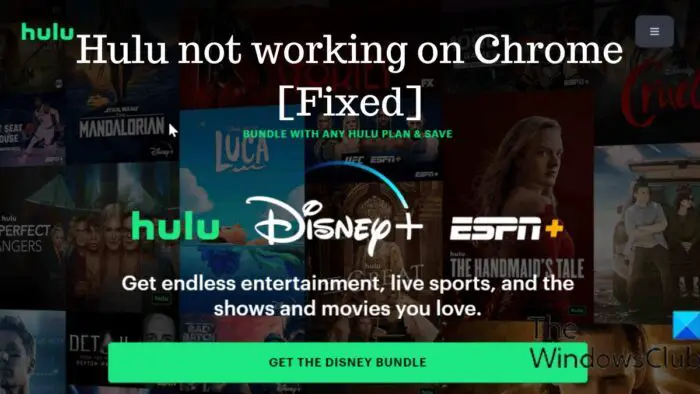 This has been a common problem, mainly brought on by using an outdated Chrome browser, among many other factors. However, we've found some tried-and-true solutions you can apply to fix the Hulu not working on Chrome issue, and we'll walk you through them in this article. Before that, let's go over the common cause of this issue.
Common causes of Hulu not working on Chrome
The issue of Hulu not working on Chrome can show in two ways: either you cannot reach the Hulu website on Chrome, or the website performs poorly when accessed. In the case of the former, the problem is primarily brought on by an extension or an unsupported Chrome browser version. However, if the website loads but you are experiencing issues with the video loading or the site lags, it can be a driver or network issue.
However, the causes for the two cases go hand in hand, so let's list them below.
Outdated Chrome browser
Driver issue
Outdated OS
Wrong Chrome settings
Extension issue
Poor internet connection
Hulu under maintenance
Fix Hulu not working on Chrome issue
If you are having issues with Hulu on Chrome, you should restart your computer and router, and then reload the site. If the issue persists, try the solutions below:
Update your Chrome browser
Clear cookies and cache on Chrome
Restart and move closer to your internet source
Disable Hardware Acceleration in Chrome's Settings
Disable extensions on Chrome
Use a new Chrome profile
Uninstall and reinstall Chrome
Now, let's discuss each of the solutions in full detail
1] Update your Chrome browser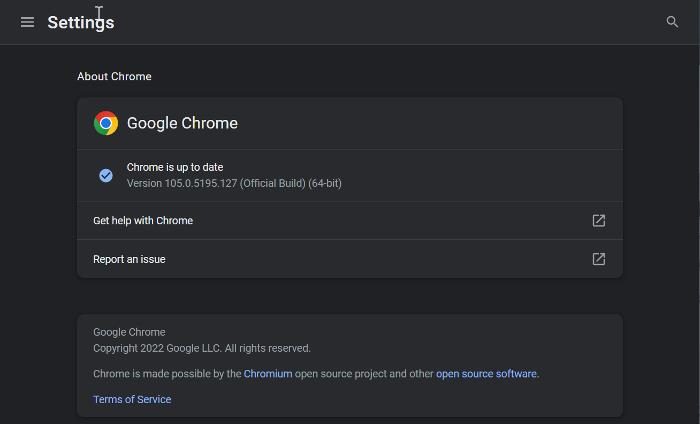 Running the most recent version of the browser is one of the criteria for Hulu to function on Chrome. As a result, running Hulu on an outdated version of the Chrome browser will certainly create issues. The steps listed below should help you update Chrome and fix the Hulu problem you are facing.
Launch Chrome and click the three-dot menu at the top-right corner of the home page.
Tap on Help and select About Google Chrome.
You'll see a menu that checks for Chrome updates on the resulting page. If there is any update, install and if there is none, leave the page.
After the update, restart Chrome and try opening Hulu again.
2] Clear cookies and cache on Chrome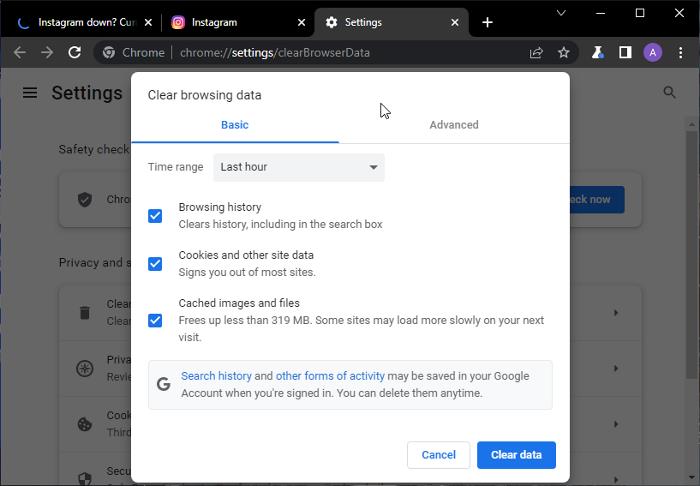 Cache and excessive or corrupted cookies can cause some browser issues, which may be why Hulu is not functioning correctly on Chrome. You should thus erase Chrome's cache and cookies to see if it helps.
Hit the three-dot icon at the top-right corner of Chrome.
Click on More tools and select Clear browsing data.
Set the Time range as All time.
Check Browsing history, Cookies and other site data, and Cached images and files.
Then select Clear data.
3] Restart and move closer to your internet source
For streaming services like Hulu to function properly, you need a stable internet connection, but if your connection is poor, you can have trouble getting on the website. You might get a better internet connection by restarting your internet source and putting your computer near it. You should also make sure you still have an internet plan because it could be the root of the problem.
4] Disable Hardware Acceleration in Chrome's Settings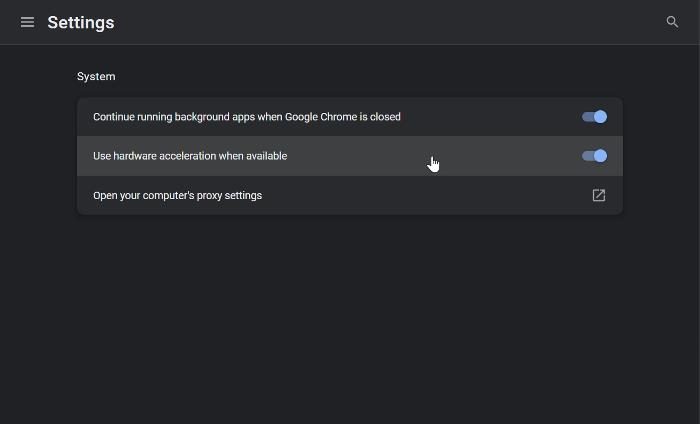 Disabling hardware acceleration in Chrome will be helpful if you are having issues loading videos on Hulu. It has helped some users out and can help you fix the issue too. Here is how to disable hardware acceleration in Chrome:
Go to Chrome and click the three-dot menu at the browser's top-right corner.
Select Settings and tap on the System option.
Then, toggle off the Use hardware acceleration when available option.
5] Disable extensions on Chrome
Extensions are basically to help with extra functionalities on a browser which is why some of them have access to control some functions on your browsers. With this access, some of the extensions (like ad-blocking extensions) you are using on your browser may cause issues which could be the case for the Hulu not working issue.
Also, with extensions like Block Site, if a Hulu site is blocked on Chrome, you won't be able to access the platform until you unblock it. Perhaps someone has messed with your browser and blocked Hulu on it. You should therefore check the extension list on your browser and remove or disable extensions that could block a site.
6] Use a new Chrome profile
Browsers like Chrome allow users to use multiple profiles, which could be helpful in cases like this. If you've tried the previous solutions, but the issue persists, you should create a new Chrome profile and open Hulu through it. Here is how to create a new profile on Chrome:
Click on the profile icon on the Chrome toolbar.
Select Add on the resulting drop-down menu and tap on Continue without an account.
Name the profile and hit Done.
Now, open Hulu on the newly created Chrome profile.
7] Uninstall and reinstall Chrome
Another resort if the issue persists in uninstalling and reinstalling Chrome. This will help eliminate the issue if tampered settings cause it or the browser has been corrupted. Here is how to uninstall Chrome:
Press Windows + R to open the run command box.
Type control panel and hit Enter.
On the Control Panel window, click on Programs.
Then right-click Chrome and select Uninstall.
Select Yes in the next window to confirm the operation.
After the app uninstalls, you can now visit here to download Chrome.
Read: Fix Hulu keeps buffering or freezing
Does Hulu work on Chrome?
On Windows computers, apart from watching videos through the Hulu app, you can watch TV shows and movies on browsers like Chrome as long as you are using an updated version. It's an essential requirement that your Chrome browser must be a recent version before you can stream Hulu on it, so if you have an issue accessing Hulu on Chrome, try to update the browser.
Read: How to fix Hulu Error Code 95
Why isn't Hulu working on my laptop?
As a streaming platform, a very stable Internet connection is required for it to run smoothly. So, if Hulu isn't working on your laptop, you should try to move closer to your internet source or restart it.