You might change several settings in Microsoft Word for some special situations, but when you want to remove the specific configuration, it doesn't work and will affect what you do next, or even you cannot create a new document/presentation smoothly. In this post, we will show you how to reset Word to default settings in Windows 11.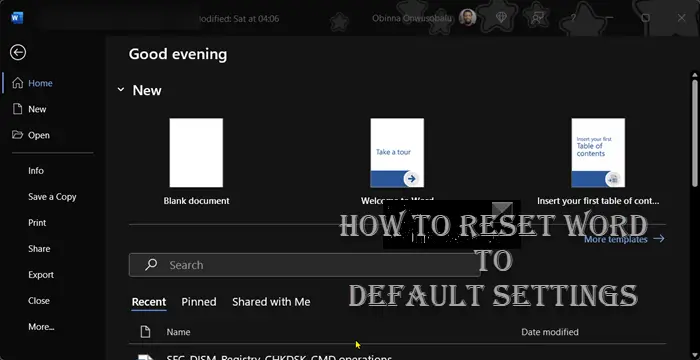 How to reset Word to default settings in Windows 11
Microsoft Word is used by many businesses as its primary word-processing program and it can sometimes develop glitches. If the version of Word on your business computer is displaying grayed-out options, your paragraph styles are changing for unknown reasons, or if all the tab settings are not looking correct, it is time to hit the reset button. Unfortunately, there is no button in Word to reset the program to its default settings. However, you can rename Word's global template to see if that fixes its problems. If Word continues to have issues or it runs very slowly, another option is to delete Word's registry key. This forces Word back to the original default settings.
You can reset some Word settings, such as the Word Data and Options keys in the Windows registry.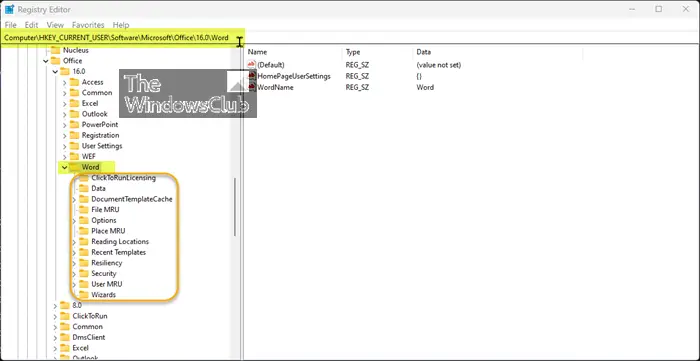 To reset Word to default settings in Windows 11, follow the steps below. Since this is a registry operation, it is recommended that you back up the registry or create a system restore point as necessary precautionary measures. Once done, you can proceed as follows:
HKEY_CURRENT_USER\Software\Microsoft\Office\16.0\Word
At the location, on the left navigation pane, under the Word registry folder, delete the registry key you want to.

Data key: This key contains binary information for "most recently used" lists, including the most recently used file list and the most recently used address book list. This key also contains "Track Changes" settings and "Edit" settings.
Options key: This key stores the options that you can set from Microsoft Word, either by changing menu options or by running the Registry Options Utility. The possibilities are in two groups: default options and optional settings.
Wizards key: All wizard defaults are stored in this key. These settings are created the first time that you run a wizard.

Exit Registry Editor when done.
That's it!
Read: Word cannot save or create this file – Normal.dotm Error
After you delete the registry key, and then you restart the program, Word runs the Setup program to rebuild the registry key correctly. If you want to rebuild the registry key before you run the program, you can repair your Office installation. You can reinstall Office on your Windows 11/10 PC to repair or reset Word files and values.
Read next: How to reset Office Ribbon Customizations to default?
How do I reset Word on Windows 11?
If you want to reset Word on Windows 11 probably due to the Office suite giving you issues, you can follow the instructions we have outlined above in this post to complete the task successfully and easily.
Also read:
How do I reset Word Format to default?
If you want to reset the paragraphs in Word to the default settings for a particular document, pressing Ctrl-Shift-Z will reset any formatting changes made to the text, such as font, size, bold, etc.
Read: 10 Default Microsoft Word settings you need to change.