Canon printers are among the best printers in the world. Even with their popularity, some users have reported some issues, and the best way to fix them is to reset the Canon printer. In this article, we will give you different ways to reset a Canon printer. Resetting a Canon printer is quite easy, but there is a small number of users who don't know how. If you decide to reset your printer, it may resolve many issues and allow you to resume printing immediately. Some of these issues may include things like weird settings that you don't know how to undo.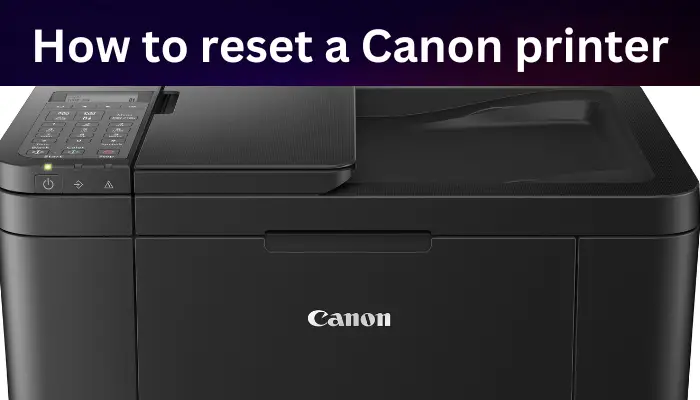 Canon offers a wide range of excellent printers for use at home or in the office, including large and small printers. They are known for their great photo printing quality. These printers are popular for their advanced connectivity and many other great features. However, if you encounter problems with settings or problems for which you know the root cause, the first and best option is to reset them. Let's now go deeper into how to reset a Canon.
How to reset a Canon printer
Resetting your Canon printer takes you back to the original settings. This can fix most printer errors like printing on back pages, an unresponsive printer, or slow printing speeds. But, before you learn how to reset your printer, it's good to understand what you want to reset. Having said that, there are four main types of Canon printer resets, and we will learn about them shortly. Here are the four different methods to reset your Canon printer:
Factory reset Canon printer
Power reset Canon printer
Ink reset Canon printer
Hard reset Canon printer
Let's now see how to perform the above printer resets in detail.
1] Factory reset Canon printer
When you perform a factory reset on your Canon printer, it restores it to its default settings, just like the first time you unboxed it. After that, you will need to reconnect and set your new preferences. Here is how to reset a Canon printer back to its factory settings:
Go to the Setup option on the printer, then head to Device settings using the arrow keys, and press the OK button.
Now, go to Reset settings and press the OK button. Navigate to Reset and then choose the OK option.
Tap Yes. That's it. Your printer is back to the factory settings.
2] Power reset Canon printer
A power reset means completely disconnecting your printer from power. It can also involve disconnecting all the components attached to it, like internet cables or computer cables. It's one of the simplest methods to reset a Canon printer, but it might not restore the default settings. However, it can resolve some simple issues with your printer. Use the following steps to power reset your printer:
Switch off your printer and remove power cables, Ethernet cables, or any other component connected to it.
Wait for about 30 seconds and plug in all cables to the printer including the power cable and switch on your Canon printer.
Do a test print and check if the issues are resolved. If not, you might need to try other solutions.
We recommend starting with this method before moving on to more advanced reset methods.
3] Ink reset Canon printer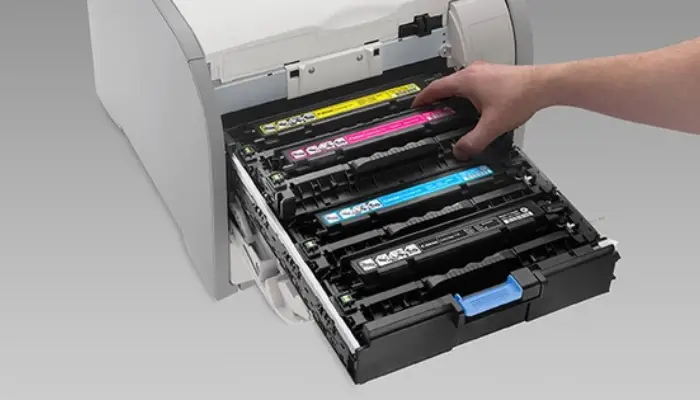 Canon inkjet printers have a chip that notifies you when the printer is running low on ink or needs an ink refill. To restore the chip's normal functioning, you might want to reset it instead of going ahead with the ink refill. To ink reset your Canon printer and resume seamless printing, follow these steps:
Remove the cartridge from the printer and put it in the resetting channel.
Check if the chip is working properly and is in communication with the resetting channel.
Keep holding the cartridge until the LED light in the resetter stops flashing. It should remain steady for a few seconds.
Now, remove the cartridge from the resetter channel and perform the same process on other cartridges that need to reset.
Reinstall your cartridges back to your printer.
Do a test print and see if there are any issues nagging you. If not, you resolved the issue by ink resetting your Canon printer.
Fix: Cannon Printer Error Codes: 5200 | 853 | 5C20 | E05 | B200.
4] Hard reset Canon printer
Hard resetting your Canon printer will restore its settings to default. A hard reset can fix some errors that make it difficult for your printer and computer to communicate. It also clears any current queues – you will have to start the settings process once the hard reset is over. Follow the steps below to hard reset your Canon printer:
Start by pressing and holding on to the Stop button until when you hear an alarm ringing.
Press and release the Start button about 20 times or until when the alarm starts to flash.
Uninstall the printer's drivers from your PC. Reinstall the latest ones from the manufacturer's website.
Your printer is set to default factory settings and you can now test it if the small issues we fixed.
We hope one of the solutions helps you.
TIP: This post will show you how to reset HP, Canon,Brother, Lexmark, Panasonic, Epson, OKI Printers to default factory settings on your Windows computer.
Read: How to clean the Print Head
What happens if I factory reset my Canon printer?
When you factory reset your printer, you restore all the settings back to the manufacturer's default setup. You will need to set it up again if you want to use it. Resetting a Canon printer will resolve issues like the printer not connecting to the network, the printer not functioning even when the network setup is working properly, or the printer not responding to APTLY commands. If the issues have not been resolved, then you might be dealing with a more complex issue that might need an expert's advice.
What causes a Canon printer not to print?
Many printers, including Canon, might stop printing if they run low on toner, ink, or paper. If there is an issue with cartridges, the printer might also stop printing. In case a printer detects a hitch, there will always be an error message or LED light blinking anywhere on your printer. To fix this, you can try to reset your printer or fix the respective error. You can contact the manufacturer or a printer troubleshooting expert if the issue is beyond your control.