In today's article, we will be discussing how you can fix the Canon printer error code 5200. This error's most commonly reported when the ink levels are too low or the cartridge's been corrupted somehow. Canon's printers are some of the most reputed in the market and thus, there are only a handful of errors that most users report. There are some pretty easy solutions in place here and we will be discussing them all. Before we begin, let's have a look at what might've caused this error in the first place:
There could be a fault with your cartridge
Your printer's logic board may be damaged
Low ink in your cartridge
The black ink may not be placed properly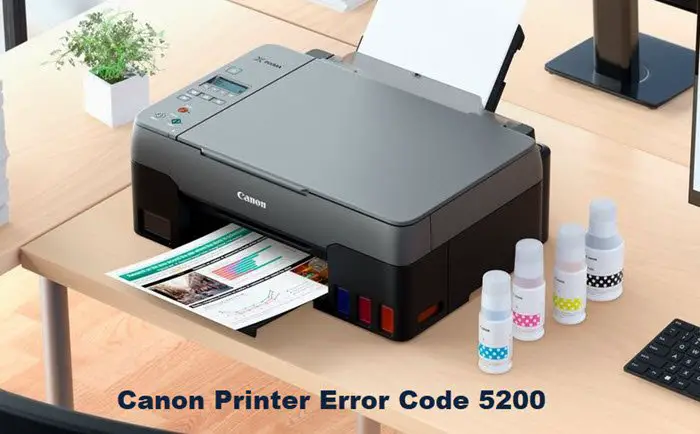 Now that you have an understanding of what might've caused this issue, let's see how it can be rectified:
Fix Canon Printer Error Code 5200
Here are the solutions you can implement to rid yourself of Canon printer's error 5200.
Refill your cartridges/ink tanks
Clean up your print head
Manually reset the printer to its default settings
1] Refill your cartridges/ink tanks
The first thing you should do is take a reading of the black and colored ink levels on your cartridges, and if you feel like the ink's inadequate, fill them up. Make sure that both the black and the colored cartridges are filled, failing which, you may continue to see this error.
2] Clean up your print head
Your print heads or cartridges may be stained at the time of you facing this error. If that's the case, you're advised to clean the Print Head:
First things first, unplug your printer's power cord and leave it like that for some time
Take the cartridges out of the printer and proceed to clean them up
Place them back in the printer and plug the cord back to check if the issue has been resolved
3] Manually reset the printer to its default settings
Another solution to the problem is to reset the printer's settings to their factory stage. Follow the steps below to do so:
Press the 'On' button to turn your printer off, if it's active
Wait till the printer powers off and press the 'Stop' button and the 'On' button simultaneously. Do that for 3 seconds and remove your finger from the 'Stop' button
Continue to press the 'On' button and press the 'Stop' button 5 times 2 seconds apart. You'll see the yellow icon light up every time you press the Stop button
Release all the buttons now. The printer's LCD will turn on but will be blank at this moment. This is the sign of your printer's program being initialized. This will also be accompanied by your 'On' button blinking
Once it stops blinking, press it once and turn your printer off
Remove your printer's cartridges and clean them up. Place them back and turn on your printer. Setting your printer up should probably help resolve the issue.
Related: Fix Canon Printer Error 853.
How to fix my Canon printer not printing in black ink?
Another error, and this runs across printer companies, is when printers aren't able to print on paper using the black ink in their cartridges. The most common reason that happens is that your print head's nozzle is clogged, thereby preventing it from releasing black ink. To fix this issue, you have to use your printer's built-in tools, locate the Maintenance menu and select Deep cleaning.
What is error 5200 on Canon Pixma?
As mentioned in the article, error 5200 appears on Canon printers because of three or four primary reasons. That said, if there are some issues with the cartridge, you can encounter this error. On the other hand, if the logic board of your printer is not working fine, you can get the same problem. Also, there could be some issues with the black ink as well.
Hope we were able to fix the issues you had concerning your printer!