Whenever one has multiple programs running on a computer, it can be a ruckus. With multiple programs playing audio/videos simultaneously, things can get a little annoying. Thus, it is crucial for one to have control over these things. Today, I am going to show you how you can manage the volume of any running program on your Windows 10 computer to either lower or increase it or mute it altogether.
How to mute a Program in Windows 10
The process to do so is very simple and straightforward. Here are the steps that you need to follow:
Go over to the system tray and right-click on the volume icon.
From the list of options, select 'Open Volume Mixer'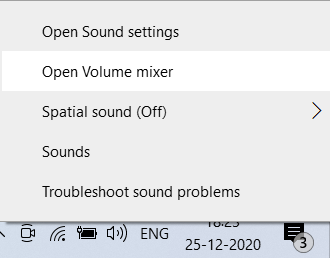 Clicking on the Volume Mixer up will pop open one such video in the bottom-right corner of the screen, displaying the various programs you have running on your computer.
Here, as you can see, I have two running alongside Google Chrome; video editor Filmora and Video-conferencing app Zoom, and I have muted the former.
Bear in mind that when toying around with the volume of Google Chrome, those changes will apply to Chrome as a whole and not any particular window. the functionality to configure the volume of a particular Chrome window isn't available in Windows 10, as of now.
As shown above, in the volume mixer window you get an option to change the volume of the system too.
In case you have an external audio device connected to your computer, via Bluetooth or the headphone jack, you can change the volume for that too. All you have to do is hover over to the 'Device' section in the Volume Mixer window, where you will find a dropdown of all the sound devices you have connected to your PC (a Bluetooth speaker, in this case) and click on the device that you want to mute or change the volume of.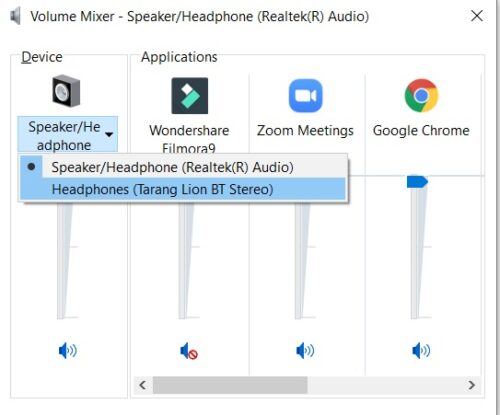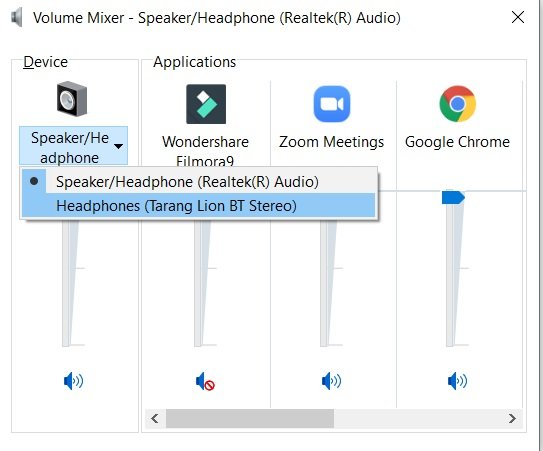 I would suggest you pin the Volume Mixer to the taskbar in case you find yourself availing its facility frequently. If you don't find the volume mixer to be satisfactory for this purpose, there are several free Windows applications that provide this service and some more. Below, I talk about one such tool.
This post will help you if Applications missing from Volume Mixer.
SoundVolumeView lets you control volume
This is a free software from Nirsoft that has a clean and minimalistic UI with very direct functionality. On opening the tool you get a list of the programs running on your PC. You will find a row of options like File, Volume, Edit, etc. on the upper side of the window.
This tool makes it a little easier to mute your device's programs because it offers several keyboard shortcuts to allow you to do that. There is also an option right below the row to do so, in case the shortcuts have slipped out of your mind.
I hope this post was able to help you figure out how you can mute an individual program on your Windows 10 computer with ease.
Now read: