A Local Account and Windows have always gone hand to hand. There are many who would like to have an account that is not connected to the internet at all. Plain old simple local account. However, starting with Windows 10, Microsoft has been pushing hard to use the Microsoft Account only and made it further difficult in Windows 11. However, there is a way. This post will guide you on how you can install Windows 11 Pro with a local account.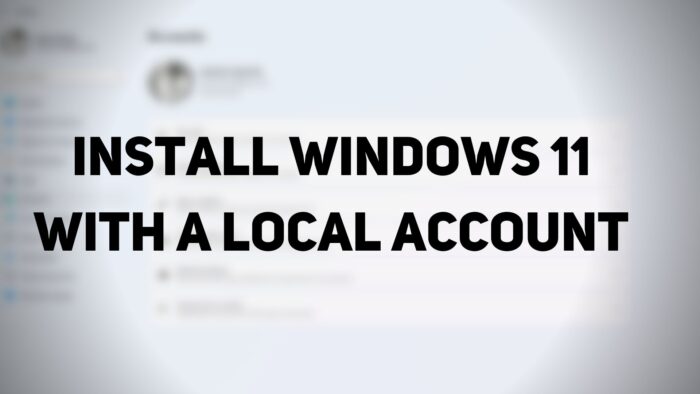 Choose Local Account On The Windows Setup Screen
I am assuming that you have already in the process of installing Windows 11 with a bootable USB flash drive and are on the setup screen. But if not, here is a little guide on how you can install Windows 11 and choose a Local account with it. Just follow these steps:
Boot the PC with the USB flash drive and wait for the setup screen to show up.
When it does, click on the Next button, and click the Install now button.
After completing all the processes, you will finally reach the Account Login screen.
Click on the Sign-in options. Then on the option Offline Account.
Check the option that reads Limited Experience or Skip for now.
Since you're creating a Local account, Windows will ask your name. Put your name in the column.
Create a good password to login into your account and click Next. Confirm password.
Windows will also ask you to choose three security questions in case you forget your password somehow. Click on the Next Button.
Once these steps are completed, Windows will show you privacy options that you can choose according to your preference. After this, Windows will do its initial setup, and the PC will boot.
This method only works for Windows 11 Pro.
TIP: This post will show you to install Windows 11 Home without a Microsoft Account or an Internet connection.
Although it is always recommended to use a Microsoft account because it has its benefits like syncing and integration with other personal devices that you use and numerous other perks, it does enforce a lot of unnecessary things on you as a courtesy of using a Microsoft account.
This is why many people prefer Local Accounts as it provides an out-of-the-box experience to the end-users. Even if you end up using a local account, you can always connect it to Microsoft's account in the account settings.
Pros and Cons of using Local Windows Account
There is always a good and bad side to using a local Windows account. Even if you do not use a local account, keeping an extra account does no harm. You can use it in case you are unable to access the online account, or the profile has gone corrupt.
PROS:
All the data is stored in the local device or storage.
Much secure, as you can create a very complex password that works on your computer.
As mentioned earlier, local accounts are private, data and settings are stored locally.
A local account is also internet-independent as a Microsoft account uses the internet to retrieve all the user data from the internet. Local accounts don't need an internet connection as all the data is already stored in the device itself.
You can choose a custom-made name for your account instead of an email id required on a Microsoft account.
You can still use other limited services.
CONS: 
No Cloud Storage or OneDrive
Syncing across the PCs (settings and the changes you made) is not available.
Find my device feature doesn't work with a local account.
Access to the windows store is restricted.
It is harder to recover an account if you lose the password.
How to change a Local User Account to an Administrator Account in Windows 11?
An administrator account has considerable powers. It can create other local user accounts and install additional software to change a local or standard account to an administrator account. Given below are some simple steps that you can follow to complete this procedure:
Press the Windows key on your keyboard and type the Control Panel, and press Enter key when it appears.
Locate and click on User Accounts.
Select the particular account for which you want to grant permission to administrative rights.
Click on Change your account type.
There will be two options-Standard and Administrator. Select the Administrator option.
How To Switch Your Microsoft Account To A Local Account in Windows 11?
Here are some simple steps that you can follow to switch back to a local account from a Microsft account:
Open Settings and navigate to Accounts > Your Info
Select the option that says Sign in with a local account instead.
Enter the existing password that you use for your Microsoft account to confirm authorization
Enter the Name and password for the new local account that you've just created with hints.
Click on next to sign out of the Microsoft account and start using your new local account.
How to create a Local User Account in Windows 10?
There are two possible ways by which you can use a local account in Windows 10. You can either change your current profile to a local one or create a different local profile.
Open the Settings menu, click on Accounts and go to the option called Family and other users.
Click on the option called Add someone else to this PC
Please choose the option called I don't have this person's sign-in information.
Select Add a user without a Microsoft account.
Create a username and a strong password for that account. And this is it.
There is a different approach too, where you can choose to change. Here are the steps you can follow.
Change existing account to the local profile.
Open the Setting menu (Win + I) > Accounts >  Your info.
There you will see an option called Click sign-in with a local account instead.
Enter the Microsoft account password to confirm your identity.
Once done, the account will be converted to a local account.
By following these specific processes, you can easily create a local account on windows 10.
Hopefully, this article has helped you with all the doubts related to local user accounts. Still, we recommend that a Microsoft account is a much more viable option than a local user account. But still, it depends on your personal preference which one you want to use.
They both have their own advantages and disadvantages in different scenarios. While local accounts grant you more privacy, you left out some of the essential features that Windows offer.
Even though Microsoft is pushing for Online accounts for good reasons, you can use both Microsoft and local accounts simultaneously without any issues. In fact, a local administrator account is always helpful.
We hope this guide helps you create a local account in Windows 11.