When your streaming session is in progress, you may stumble upon Twitch Network error 2000. It may interfere with your video game live streaming or stop it altogether. If you don't want your experience to be ruined by this message, fix it by following the instructions given in the post.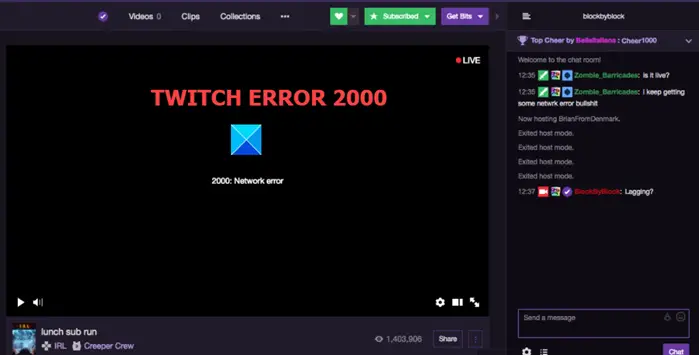 Why does Twitch keep giving me 2000 error?
When Twitch servers are unable to securely establish a connection with your computer it stops live streaming of videos, resulting in the error message. This can occur due to multiple reasons like a poor Internet connection or interference in the network connection by Antivirus apps and Ad Blockers.
How do I fix error 2000 on Twitch?
Twitch is a popular online service for watching and streaming digital video shows. You can stream via multiple browsers like Google Chrome, Microsoft Edge, Firefox, etc. But, when the Twitch 2000 Network Error occurs, your streaming session is abruptly ended and the screen goes blank. Here are the ways to fix it:
Refresh the stream.
Clear browser cache.
Check your network connection.
Check If the Twitch server is down.
Disable ad-blocking or other conflicting plugins.
Run the browser in Incognito Mode.
Disable VPN.
Use another browser.
Use the Twitch Desktop App.
Now let us see these suggestions in detail.
1] Refresh the Stream
Before proceeding with any of the solutions outlined above, the very first thing you must try is to simply refresh the Twitch stream you were watching. It works most of the time. When it fails, try these solutions.
2] Clear browser cache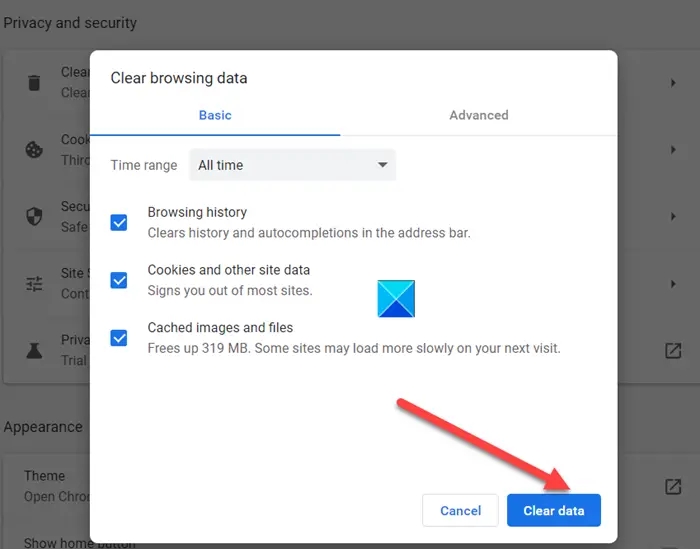 Sometimes, uncleared cache and cookies may result in showing this error. This can be fixed easily by removing them all. Note – You must select All Time from the Time Range drop-down menu and check all the empty boxes (including Cookies and other site data). Here's how to clear the cache in Chrome and Firefox browsers. Refer to this post to delete Cookies, Data, and Cache in the Edge browser.
3] Check your Network connection
If everything is powered up and hooked together but you're still getting the Twitch error 2000 on your system, check your Internet connection. Click the Network icon on the Taskbar to check it's status. If you see 'No Internet Access' message, run the Network troubleshooter to try and fix it. If this doesn't work you may need to reset your Network settings.
4] Check if Twitch Server is down
Twitch is live and running most of the time —except for when it's not. So, if it's having a bit of a rough day, you can't do much about it. Just wait until the service is up and running again. You can visit the Twitch Help portal and check for 'Systems' entries.  If you see All Systems Operational notification, it means the problem lies elsewhere. Then, skip to other solutions.
5] Disable ad-blocking or other conflicting plugins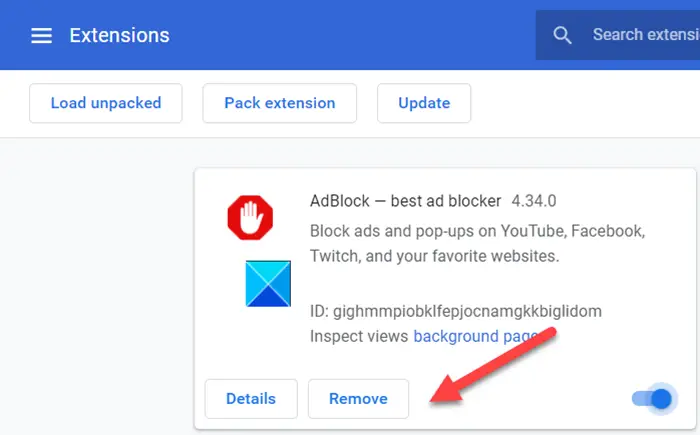 Not all, but some ad-blocking browser extensions cause streaming network error by blocking its links. So, try disabling the conflicting extension and see if it works. Simply click the extension icon and choose Manage extensions.
Then, find and remove the extension.
6] Run the browser in Incognito Mode
When the video fails to load despite clearing cache and disabling extensions and all you see is a black screen, try running the browser in Incognito Mode.
7] Use or disable VPN
If you are using any VPN services, you can try disabling them. VPNs are known to block high-traffic content like video streaming. As such, it can lead to the Twitch Error.
8] Use another browser
Sometimes, merely switching to a different browser can resolve the issue. So, if you have any other browser (apart from the one causing the issue) installed on your system, launch it and try connecting to the service again.
9] Use the Twitch Desktop App
If you find the web version of Twitch is prone to occasional glitches and performance issues, try using the Twitch Desktop app for Windows. It is known to offer better performance.
Hope it helps!
Related: Fix Twitch Error 3000 | Twitch Error 5000.