Microsoft Edge is one of the popular web browsers and a good competitor of Google Chrome and Mozilla Firefox. It not only offers a good browsing speed to the users but also comes with Security features in order to make browsing safe and secure. While browsing the internet by using Microsoft Edge, some users have received a pop-up showing a Critical Error Message. According to the error message, a dangerous attempt has been made to access the personal login and banking information of the users but was blocked by their Firewall. The error message also suggests users block their accounts temporarily and contact Microsoft support by dialing the number displayed on their screen.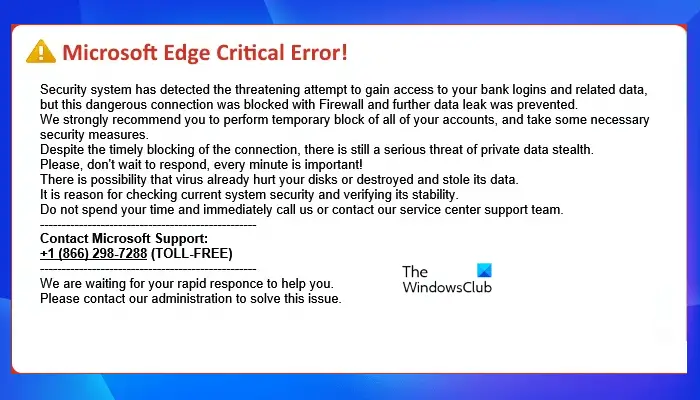 This is a phishing attempt to collect users' sensitive information. It is a fake error message and users are suggested not to contact the number displayed in the error message. If you receive this error message while opening Microsoft Edge or while surfing the internet by using Microsoft Edge, try the fixes described in this article.
How to fix Microsoft Edge Critical Error
When you see a Microsoft Edge Critical Error, your browser or system might have been infected by a virus, malware, or adware. Viruses, malware, and adware can enter a user's computer in different ways, like:
If you download software from a third-party or untrusted website instead of the official website and install that software on your system, your system may be infected by a virus or malware.
When you click on the ads displayed on websites with an insecure connection, i.e., the websites that do not have a green padlock icon, the chances of being infected by adware become high.
Sometimes, viruses or malware enter a system by installing addons or extensions on a web browser.
For some users, this error message appears while surfing the internet. If you see this pop-up on some particular websites, this might be appearing due to malicious advertisements. The purpose of malicious advertisements is to spread malware through the internet and compromise the users' systems. Therefore, you should avoid visiting such websites.
If your Edge browser has been locked due to this error message or if you are getting this error message every time you launch Microsoft Edge, the following troubleshooting guidelines may help you fix the problem.
Run antivirus and antimalware scan
Uninstall the recently installed software
Remove the problematic extension
Reset Microsoft Edge
Below, we have explained all these methods in detail.
1] Run antivirus and antimalware scan
Antivirus software protects a user's computer against threats. Install trusted and reliable antivirus and antimalware software on your system and perform a full system antivirus and antimalware scan. You can also scan your computer with Microsoft Safety Scanner, which is available free on Microsoft's official website.
AdwCleaner is a good tool that scans your computer for PUPs and Browser Hijackers and helps remove them easily. Browser hijacking occurs when you find that your web browser's settings have been changed without your permission. Read more here about Browser Hijacking and Free Browser Hijacker Removal Tool.
2] Uninstall the recently installed software
If the problem has started after installing software, that software might be the culprit. To fix this, you have to uninstall the recently installed software. You can uninstall a program from your computer via the Control Panel and Windows 11/10 Settings app.
3] Remove the problematic extension
You might have installed a malicious Add-on or extension on Edge by mistake due to which you are getting the Critical Error message. To verify this, remove the recently installed extension from Edge and check if this fixes the problem. To remove an extension, simply right-click on it on the Edge toolbar and then select Remove from Edge. If the extension is not showing on the Edge toolbar, follow the below-listed steps to remove the extension: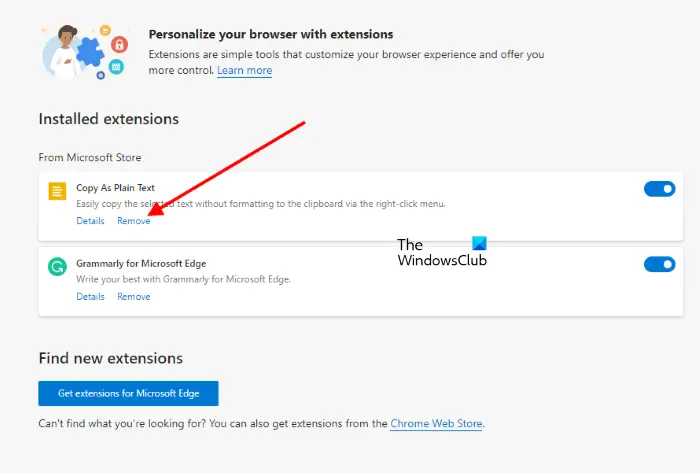 Launch Microsoft Edge.
Click on the three horizontal dots on the top right side and select Extensions.
Select the extension that you want to remove and click Remove.
If your Edge browser has been locked due to the error, you have to reset it. We have explained the process to reset the Edge browser below.
4] Reset Microsoft Edge
If the error is appearing every time you open the Microsoft Edge browser, resetting Edge will fix the problem.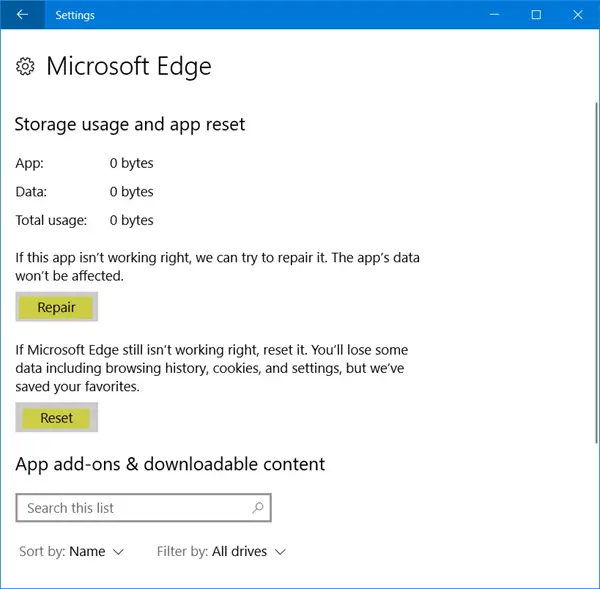 To reset Microsoft Edge, go to the Apps & Features page in Windows 10 Settings and then open Advanced Options of Edge. Now, click Reset.
In Windows 11, the option to reset Edge is not available in Settings. Hence, you can try repairing it. For this, follow the steps written below: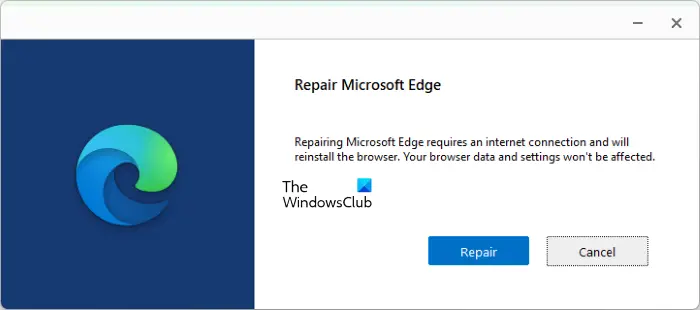 Right-click on Start and select Settings.
Go to "Apps > Installed apps."
Scroll down and locate Microsoft Edge.
Once you find it, click on the three vertical dots next to it and select Modify. After that, you will receive a UAC prompt. Click Yes.
A window will appear asking you to repair Microsoft Edge. Select Repair.
What is Microsoft Edge Critical Error?
Microsoft Edge Critical Error popup is a scam. This error message appears on Edge when your system is infected by a virus, malware, or adware. You will also see a contact number at the bottom of the error popup screen, but we advise you not to contact that number as it is one of the phishing techniques to steal users' sensitive and personal information.
Read: Malware Removal Guide.
How do I fix Microsoft Edge error?
If you receive a Critical Error message on Edge, the first thing that you should do is scan your system with a trusted and reliable antivirus and antimalware software. Apart from that, you can also try uninstalling the recently installed software and removing the recently installed extension from Edge. If nothing works, reset or repair the Edge browser on your computer.
Hope this helps.
Read next: Google Chrome warnings in browser explained.