Some Chrome users have reported experiencing error code 5 while opening some websites in the browser. This error code shows the following error message when triggered:
Aw, Snap!
Something went wrong while displaying this webpage.
Error code: 5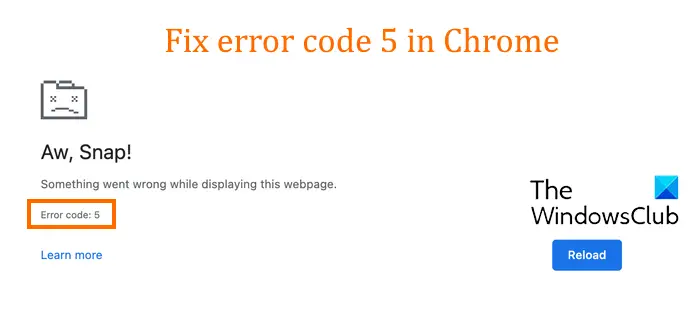 If you are also experiencing this error code, let us find out the solutions to this error in this post.
How to fix Error Code 5 on Chrome
To fix error code 5 in Google Chrome, you can try hard-reloading (CTRL+F5) the problematic website, as it could be a temporary issue causing the error. In case the error remains the same, you can use the below fixes:
Free up memory by closing other tabs.
Delete the browser cache.
Update Chrome.
Remove faulty browser extensions.
Reset Chrome.
Reinstall Chrome.
1] Free up memory by closing other tabs
This error could be very well facilitated if there are too many tabs opened in Chrome, and your device is running out of memory. Hence, if the scenario is applicable, you can free up memory by closing unnecessary Chrome tabs that are opened now. If you are using some extensions, you can also try disabling the extensions and check if it helps.
Besides that, you can also close other software running on your PC. Open Task Manager using CTRL+SHIFT+ESC and use the End task button to terminate background apps. If some downloads are in progress, pause them and then try loading the problematic web page in Chrome to check if error code 5 is fixed.
TIP: How do I know which Chrome tab is using the most memory?
2] Delete the browser cache
Since it has been proven that clearing browsing data like cache, cookies, etc. fixes most browser issues and errors, you can try doing the same in this case also. Delete the browser cache from Chrome and then reload the problematic page to check whether the error is fixed or not. Here's how you can do that:
First, open Chrome and press the three-dot menu button from the top-right corner of the browser. Now, click on the More tools > Clear browsing data option or you can also choose to hit the Ctrl+Shift+Delete hotkey to use the same option.
In the opened dialog, choose the Time range to All time and checkmark the boxes called Cookies and other site data and Cached images and files.
Next, press the Clear data button to delete the browser cache.
Once done, try opening the page you were experiencing error code 5 with and check if it is resolved.
Read: Not enough memory to open this page error in Google Chrome.
3] Update Chrome
If you are using an outdated version of Chrome, you will experience issues and errors like this. So, make sure you have updated Chrome to its latest version.
To update Chrome, click the three-dot menu button and choose the Help > About Google Chrome option. Let Chrome check for available browser updates. If updates are pending, it will download and install them. Once done, you will be asked to relaunch Chrome to complete the update installation. Do that and see if you have stopped receiving the error code 5.
4] Remove faulty browser extensions
This error could also be caused by a faulty extension installed in your Chrome browser. Hence, you can try removing suspicious extensions from your browser and check if the error is fixed. To do that, press the three-dot menu button and click on the Extensions > Manage Extensions option. From here, look for problematic extensions and click on the Remove button to uninstall them. You can also disable the toggle associated with extensions to disable them.
Read: How to reduce Chrome memory usage & make it use less memory?
5] Reset Chrome
If the error is happening with most of the websites you are visiting, reset Chrome to its default settings. Corrupted preferences and user data in Chrome can be a reason for this error. Hence, if the scenario is applicable, restoring the original default settings in Chrome should fix the error for you.
Here's how:
First, press the three-dot menu button and choose the Settings option.
Now, go to the Reset settings tab from the left-side pane.
Next, press the Restore settings to their original defaults button.
After that, tap on the Reset settings button.
Once done, you will be asked to restart the browser; do that and check if the error is fixed.
6] Reinstall Chrome
If resetting Chrome didn't work, the last resort to fix the error is reinstalling Chrome. The browser might be corrupted beyond repair or reset. Hence, you will be required to uninstall Chrome from your PC and download and reinstall the latest browser version on your PC.
How do I fix Google Chrome connection error?
Connection errors in Google Chrome are usually caused due to network issues. Hence, you need to make sure that there are no internet connectivity issues. You can restart or power cycle your router, clear the DNS cache, or switch to a different DNS server. Besides that, your firewall might be causing a connection error while trying to visit specific websites in Chrome. So, if you trust the website, you can temporarily disable your firewall and then see if the error is fixed.
What does it mean when Chrome runs Out of Memory?
The error code Out of Memory in Chrome basically indicates that low memory is preventing you from loading a web page. It can be caused due to bulked browsing data, too many tabs opened at once, faulty browser extensions, and multiple apps running in the background. If you are facing this error, you can close non-essential tabs in Chrome, clear browse cache and cookies, disable the hardware acceleration, and expand your virtual memory to fix the error.