In this post, you will see how to export passwords from the Firefox browser. Like any other modern browsers, Firefox also provides a password manager to store and manage saved logins and passwords and use them whenever needed. It also offers the feature to export logins. This can come in handy later to move your saved passwords from Firefox to another browser. This post has all the steps required to back up the saved passwords from Firefox.
Firefox lets you export passwords as a CSV file. That file includes the list of website address, username, password (in the plain readable text), the time when a password was created, last time when the password was used, etc.
Export Logins and Passwords from Firefox
Follow these steps to export or backup logins and passwords from Firefox on Windows 11/10:
Open Firefox browser
Access Firefox menu
Go to Logins & Passwords settings
Click on the 3 horizontal dots in the top right corner
Select Export Logins
Save them to your desired location.
Launch your Firefox browser and then open the Firefox menu. Click on the Open menu icon (hamburger icon) available on the top right corner of Firefox. After that, select the Logins and Passwords option.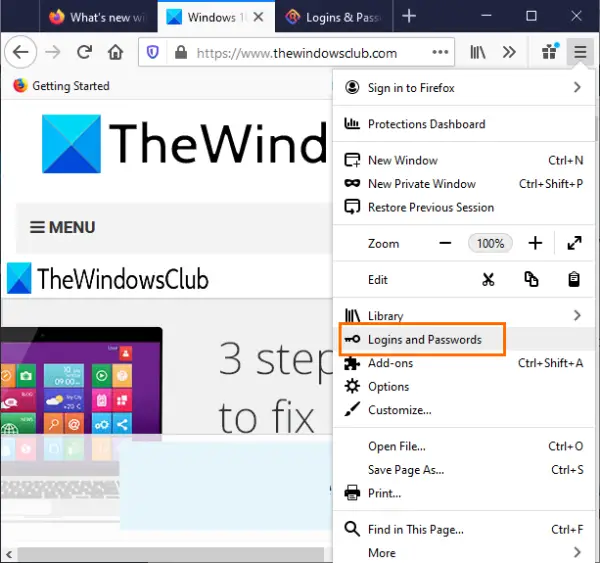 Alternatively, you can also click on the Firefox Profile icon and use the Logins and Passwords option.
Now you can see the list of all the saved passwords and login details on the left section. You can also delete or edit passwords before taking the backup. Click on the three vertical dots icon visible on the right corner and then use the Export Logins option.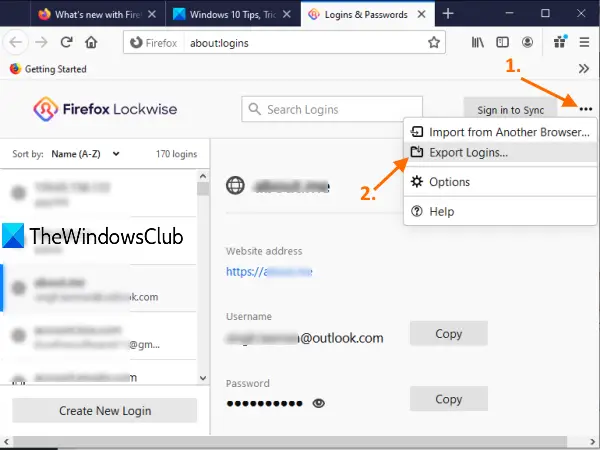 A warning box will visible. Press the Export button in that box. Now Windows Security box will open and it will prompt you to enter your Windows login password for confirmation.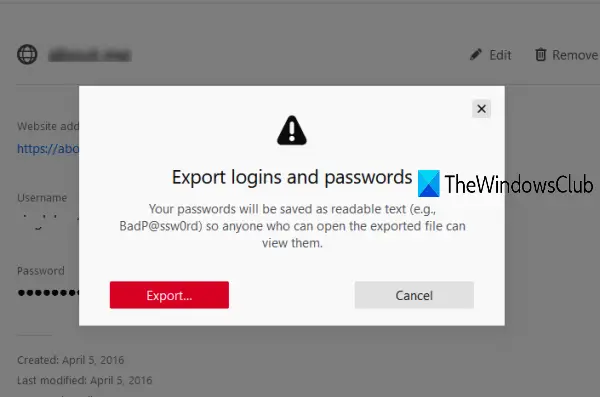 Finally, save as window is opened using which you can export Firefox passwords as CSV file with a custom name.
That's all!
Read: How to restore or backup Firefox Bookmarks or Profile on Windows PC.
It is always good to have a backup of all your saved passwords. While there are some best free password managers already available to use, Firefox also offers the same and lets you backup saved logins and passwords.
Hope this post will help in that.
Related reads: