This post will show you how to export or backup bookmarks from Firefox browser. All the bookmarks available in the Bookmarks toolbar, Bookmarks menu, sub-folders, and Other Bookmarks can be backup up by you. Thus, if some bookmarks are deleted by mistake, you can easily restore deleted Firefox bookmarks.
We have already seen how to Import bookmarks into Firefox, from Chrome or Edge – now today, we will show you how to back up Firefox bookmarks.
Export or backup Bookmarks from Firefox
You can backup Firefox bookmarks as a JSON file or export Firefox bookmarks as an HTML file. The steps are:
Launch Firefox browser
Access Show All Bookmarks window
Use the Import and Backup menu
Use the Backup or Export option.
Open the Firefox browser and then use Ctrl+Shift+B hotkey to open Show All Bookmarks window.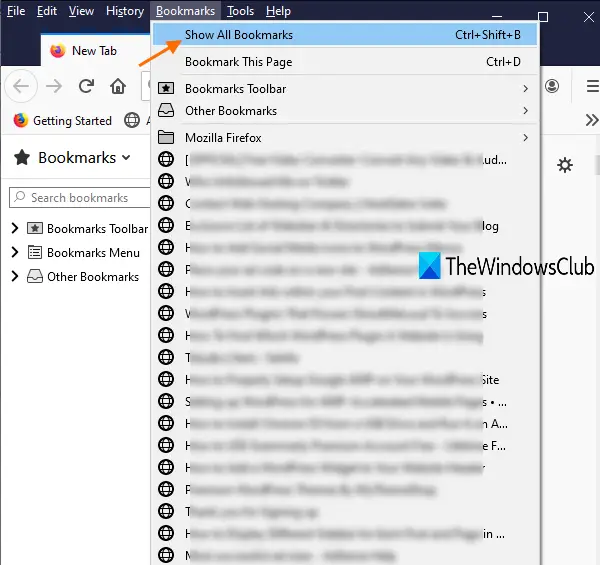 Alternatively, you can press the Alt key to access the Menu bar and then click on Show All Bookmarks option under the Bookmarks menu to open that window.
Click on Import and Backup menu and some options will be visible to you. Now, use the Backup.. option if you want to export bookmarks as a JSON file.
If you want to backup bookmarks from Firefox as an HTML file, then click on Export Bookmarks to HTML option.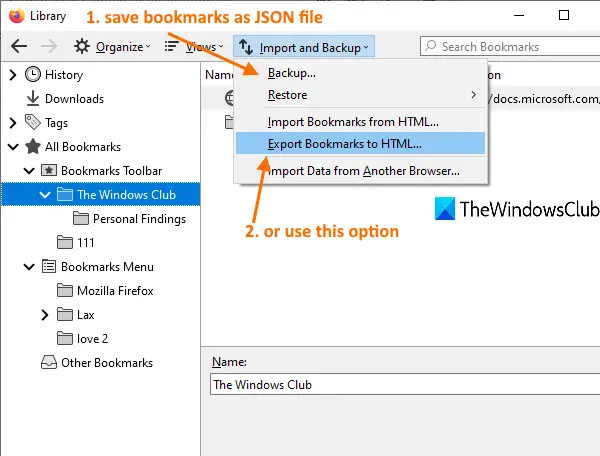 When the Save as window is opened, give a name to the bookmarks file, and save it to the desired folder.
Later, when you have to import or add bookmarks to Firefox from the backup file, you can use the above steps, and access the Import and Backup menu.
TIP: You can also use some free add-on like FEBE to export bookmarks from Firefox.
Keeping a backup of your bookmarks is a good thing.
I hope these steps will help you export or backup your important bookmarks from Firefox with ease.
Read: